10 H2i Ministers  You Need To know in H2i Hall of Fame
as Narrated by Minister Dabira
MOMENT OF HARD TRUTH WITH DABIRA PART TWO
Okay let's tell ourselves the truth when needed. I guess it's actually not done on some people that people succeeding here are ordinary people like every other person with one head and nothing more. Enough of complains, enough of not stretching ourselves. Enough of watching other people succeed and we sit as spectators. Am running a quick review of some successful people among us this morning. This should motivate you to go back to the drawing board and rewrite your story. My team members get ready to shift grounds because it's going to be hot targets without incentives attached. Time to get serious
This is Angela Dominic popularly known as my angel. She's a minister of ministers. She is an ordinary Nigerian who took up this beautiful platform a while ago  that is 2014 and today now an icon to reckon with. Her 11yrs old son collected an SUV in the last warri award. She's has gotten hers 6 times
This is Madam Grace Bassey. A Calabar based housewife who has turned been an ordinary house wife to been an house wife with millions rolling in. She also joined in late 2014 today she's an H2i made Millionaire
Meet oluwaseyi. This is my motivator in H2i. The day i read his story i made up my mind to succeed if he can succeed as an undergraduate in Ibadan. Students in the house what's your complain? You feel you can't move big because you are still in school?
This is best Edward. He is seen the worst thing you could ever imagine from a prospect in helping hands. Imagine this guy travelled all the way from Calabar to Akure to meet a promising prospect. On getting there the prospect changed he's mind and said he's not getting registered. That should have discouraged him. But he made up his mind to prove to that guy that he can make it. You because of a simple strategy that's not money consuming isn't working, you want to give up. Yet you want a success story. Today he's H2i made Millionaire
Cute guys with empty pocket who he epp. Meet Somto a fresh graduate of University of Calabar. Who joined h2i with the crave for success. He got his car while in 300l in school late last year. You are there forming fine boy with empty matrix. Continue if this guy can't motivate you to know fine guy is different from fine broke guy.
She's popularly known as Mama B. She's joined in 2014, today she's a 6times minister and a prime minister in view. She has produced lots of ministers. She still produced one this morning from redeem camp. Full time housewife. turned millionaire. You prefer to go to sit and gossip without one naira been paid to your account. You prefer to buy latest women's lace instead of building a beautiful future. You prefer to cause fight among people in the compound because you are full time housewife instead of building future investment.
Twale for the double minister. Obakachi. She joined in May 2015 just last year. 2 cars already down. Regular job with h2i work and you say you are extremely busy at work keep building other people's future and not think of yours.
This is glitz. She joined 2014. She sacked her boss 2015. She's one iron lady goal getter. Your own you say you are iron lady. Yet your matrix is in stage 1 for four  months. She's a leader of leaders. She just got qualified for her third car in helping hands. She's an h2i made millionaire. She had days of no prospects. Days of non active team members. Today she can boldly say i have made it.
This is Idara. She joined H2i last year. She is an ordinary Nigeria who decided to take a bold step after a facebook advert. She came in with fire and dint let the fire die till she got result. Some of you come in very hot and because of little obstacles seen with success you just give up and go cold.
Later you complain of no results. Keep doing your good work. Your success story will announce you.
In conclusion, i noticed everyone above have one head yes one head. came in as normal people but decided to go to the extra ordinary. You don't have any reason not to make it in helping hands.
Guys that said it's only ladies that makes it in H2i. How market? see fellow guys. Housewives that says is only office people how market? see fellow housewives. office workers that says my job is too demanding how market?see your colleagues. students that complains of no more for people to register? see your course mate riding tear rubber in 300l. fine girl no pimples too sweet to market h2i. welldone ehnn. Don't feel intimidated when you meet me and discover am just a young girl not one big madam. Thanks for your time.
Written by THE ONLY DABIPET IN H2I NATION
Become A Millionaire in 5months with donation of N6,600 through Helping Hands International in Nigeria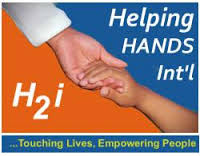 To join My team where we will training you to get your laptop in Helping hands international in six (6) weeks and also get your car in six (6) months maximum. Click here and put your detail,  your name and email.
For me to register you and to join my Fastest Growing Team in Helping Hands International
Call or/Whatsaap any of the following leaders who have received more than 2-3 Laptops in H2i in less than 1 year to Join my fastest growing team today.
Tell them you are from President Dayo.
Our Team's Strategy is Minimum of 7 Account Registration, We don't Register one account.
We strongly advise you do 15 Account when you call us.
If you contact me, it might take 2 to 3 days before i attend to you as i have a lot of people on the waiting list. Thanks
North Central/North East/North West Nigeria
Alile Tosin Osaze, Abuja, 08035381137
Ayobami Obawura, Abuja Nigeria, 08035868571
Fatima Hamman, kaduna, 08069655390
Tunde Olatunji, Katsina 08039515252
Josiah , 08036120571, Lokoja, Kogi State
SouthWest, Nigeria
Leke Olutoye, Lagos, 08088000639
Ndidi Uche, Lagos 08034254040
Bolanle Aderamo, Ibadan, Oyo state, 08025151577
Honaan Andrea, Lagos 08066053107
Akinyemi Femi, Ile-Ife, Osun state 07030450130,
Aneke Chinaza, Lagos 09038996349,
Gbenga, Ibadan 08120528950
Abiodun Odeyemi, Ilesha, Osun state, 08164713876
Oyeronke, Akure, Ondo state 08061633120,
Folake Owolabi, Akute Ogun state, 08098943474
Ayodeji, Ado-Ekiti, 08030609917
Olaomi Oladotun , Abeokuta, Obantoko 08134737412,
South East/South South Nigeria
Thompson Ife Momodu, Benin city, 08169739598
Collins , Port Harcourt , Stadium Road 08063813082,
Jesse Bram, Akwa Ibom, Imo state 07065839997,
Nkere Chinyere, Calabar 07065273439
Ijeoma Chris Timothy, Umuahia, 08027324307
Ochije Stephen Sirwyte, Owerri, 08067252567
Peter Solomom, Akwan Ibom State, 08082470242
Chinenye Aniefiok, Calabar 08061535774
Other African Countries
Mariana Michelo, Zambia Livingston +260 976538907
After contacting them, Request to be added to my whatsapp training Group where I coach people to get their laptop in H2i in six weeks and also raise capital to start their business from a lot of Dollars they will make in Helping Hands International.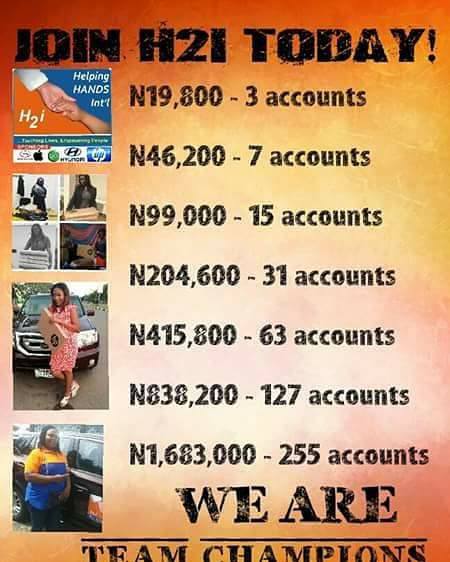 I recommend that you start this business with 15 accounts if you have the money which is N99,000 and you have N23,000 back and your first 3 account will be in stage 2. But if you don't have money , do your one account which is N6,600 and just go home with one laptop instead of 15 laptops and lots of dollars.
Call any of the numbers close to you now!
After your registration, when you become a leader, we also help you with advert, like I am helping my team leaders now.
H2i Rocks!!!
Also Read: Everything You Need To know to Join Helping Hands International Today
Contact any of my leaders to Join H2i today.
Our Team's Strategy is Minimum of 7 Account Registration, We don't Register one account.
We strongly advise you do 15 Account when you call us.

If you contact me, it might take 2 to 3 days before i attend to you as i have a lot of people on the waiting list. Thanks
PSS: Here is H2i Warri Car Award November 2016. Click here http://dayoadetiloye.com/warri-h2i-car-award-november-2016/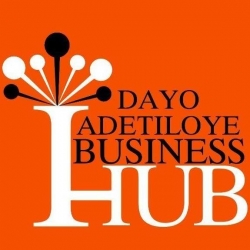 Latest posts by Dayo Adetiloye Business Hub
(see all)