25 Things I learnt As H2i Becomes My Major Streams of Income In 2016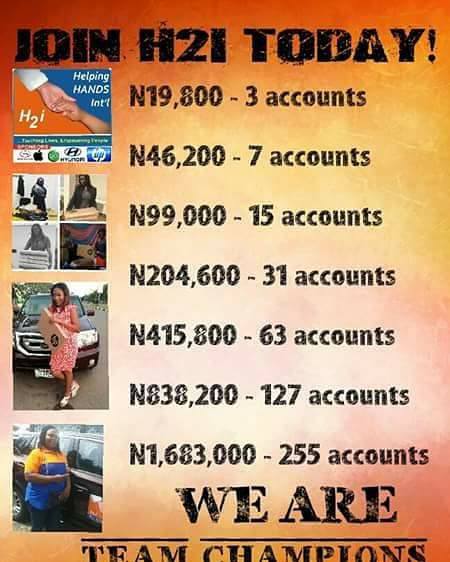 I Have These 25 Things To Share With You, For Your Learning And For You To Put them To Use When You Join Helping Hands International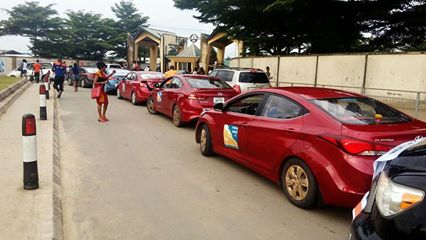 25 Things I learnt As H2i Becomes My Major Streams of Income In 2016
In H2i, any time you join, you can still make your mark. H2i is now 3 years in Nigeria, and they have given out close to 200 cars. I thought I joined very late.

In H2i, people follow leaders.

If you want to succeed in H2i, then you have to become a leader, period!

People do not join companies, they join people. People are always attracted to people that give out value.

H2i is a Charity Organization that rewards their active members that follow the business plan through different compensation plan like free skill acquisition, business loans, Dollars, laptops and cars.

You must believe in H2i or else you will not make any meaningful thing out of it.

Don't take financial and success advise from broke people.

Follow your leader's advice. I will advise anytime you join H2i, Do 15 account. Today, I have qualified for 11 laptops in less than 10 months, and I am still expecting more.

Quit hanging with broke people with broke mindset who will tell you that everything under the sun is a scam.

Believe in H2i vision of helping less privilege and empowering lives.

You must believe that there is abundance of prospects to talk to about H2i.

List the people you will like to introduce H2i to and note that your family will not join you first.

Talk to intelligent, confident, ambitious, and driven people about H2i from your contact list.

Friends and family will not believe your H2i Business. It is normal. If you have been adding value to people before, people will believe in you.

If you are one-man squad living your life in your own circle, it is going to be a bit harder.

A lot of people are looking for opportunity to earn extra income in this economic recession. Take advantage of H2i.

Have a picture of the exact kind of people you want in your H2i business.

Have abundance mentality. There are too many people waiting for you and your opportunity. Don't waste too much time on the wrong people.

Avoid fighting with your prospects because they did not join or come to your seminar, always leave communication gap open.

Like my MLM coach use to say, Mr Adewale Adebusoye of adebusoye.com, Give Value consistently and you will get people who will follow you.

Success leaves clue. Follow the footsteps of success and eventually you will have success.

People development is the core of this business.

If you are into teaching, training, pastoring, sales, recruitment, educationist, public speaking, or you have one influence or the other somewhere, or you want to develop your business skills around sales, marketing, negotiation etc. Robert Kiyosaki and Donald Trump recommend this business of the 21t century for you.
God bless the day I joined H2i. I have been able to learn through it.
It is not too late for you to join today with multiple accounts. If whatever you are doing now cannot atleast make you a million richer in the next 2 years, I will advise you make H2i your side Hustle. Learn the business and give it your best shot. Bringing people is the easiest activity in H2i if you learn from the best and join a team like my own. One thing I will tell you, be ready to leave your comfort zone and unleash the entrepreneurial potential inside you!.
25 Things I learnt As H2i Becomes My Major Streams of Income In 2016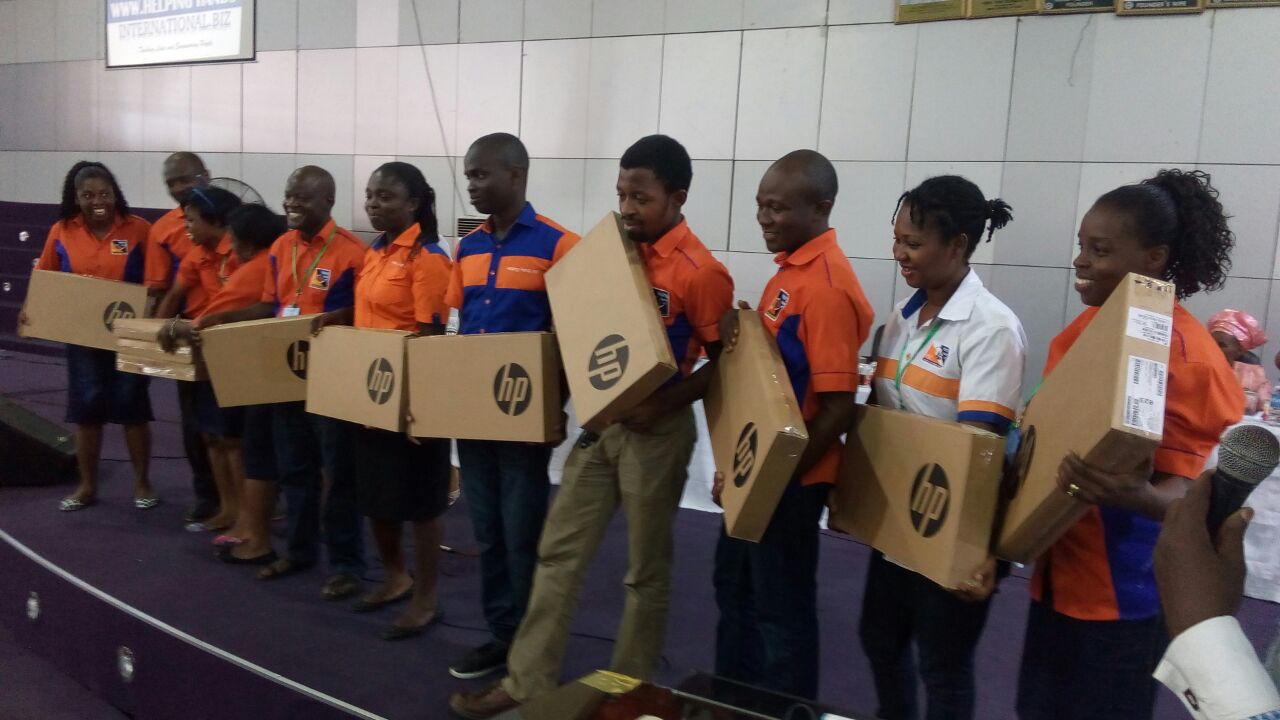 Seeing is Believing
Click below to see how 6 under 30 H2i Millionaires were rewarded with H2i SUV Jeep worth over N7Million @ Calabar on Saturday 8th of October 2016. They were not given, they work and earned it.
If you start today, with commitment, with in minimum of 2 years, you can drive this car if you do the work of bringing people.
http://dayoadetiloye.com/h2i-calabar-car-award-october-8-2016/
To Join My Fastest Growing Team,
Call or/Whatsaap any of the following leaders who have received more than 2-3 Laptops in H2i in less than 1 year to Join my fastest growing team today.
Tell them you are from President Dayo.
If you contact me, it might take 2 to 3 days before i attend to you as i have a lot of people on the waiting list. Thanks
25 Things I learnt As H2i Becomes My Major Streams of Income In 2016
Northern Nigeria
Ayobami Obawura, Abuja Nigeria, 08035868571, 08185318435
Muhammad Bello, Northern Nigeria, 08054298395
Fatima Hamman, kaduna, 08069655390
Tunde Olatunji, Katsina 08039515252
SouthWest, Nigeria
Ndidi Uche, Lagos 08034254040
Bolanle Aderamo, Ibadan, Oyo state, 08025151577
Honaan Andrea, Lagos 08066053107
Akinyemi Femi, Ile-Ife, Osun state 07030450130,
Aneke Chinaza, Lagos 09038996349,
Gbenga, Ibadan 08120528950
Abiodun Odeyemi, Ilesha, Osun state, 08164713876
Oyeronke, Akure, Ondo state 08061633120,
Folake Owolabi, Akute Ogun state, 08098943474
Ayodeji, Ado-Ekiti, 08030609917
Olaomi Oladotun , Abeokuta, Obantoko 08134737412,
South East/South South Nigeria
Thompson Ife Momodu, Benin city, 08169739598
Collins , Port Harcourt , Stadium Road 08063813082,
Jesse Bram, Akwa Ibom, Imo state 07065839997,
Nkere Chinyere, Calabar 07065273439
Ijeoma Chris Timothy, Umuahia, 08027324307
Ochije Stephen Sirwyte, Owerri, 08067252567
Peter Solomom, Akwan Ibom State, 08082470242
Chinenye Aniefiok, Calabar 08061535774
Other African Countries
Mariana Michelo, Zambia Livingston +260 976538907
 COWARDS NEVER START
THE WEAK NEVER FINISH
WINNERS NEVER GIVE UP
_YOUNG_MINDS
Friend, I will like to hear from you!
Reply my mail or call me on 08105636015, 08076359735, or send me a whatsapp chat on the same number. My BB PIN is 58ECE9AC
Till I hear from you Friend.
Keep succeeding!
Dayo Adetiloye (B.Agric, MBA)-
AUTHOR – CONSULTANT – SPEAKER – ENTREPRENEUR – BUSINESS ANGEL
Helping men to discover, develop and fulfil their business potential.
…Raising 100 Young Millionaire Entrepreneurs in Five Years… since July 2012
08105636015, 08076359735
25 Things I learnt As H2i Becomes My Major Streams of Income In 2016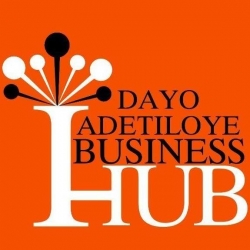 Latest posts by Dayo Adetiloye Business Hub
(see all)