Helping Hands International August 25th Car Award 2017
An Helping Hands Member Wrote this:
I WILL START NEXT WEEK.
I WILL JOIN BY THE END OF THE MONTH
When will you stop saying I will start next week, I will start next year, I will start after my university education and I will start when the time is right ETC?  
The time can never be right, because you have to start now, do not allow Analysis Paralysis and procrastination to destroy you.
 I am not saying you shouldn't plan but don't analyze too much. Many of us have great ideas that can turn us to a multi billionaire but we kept procrastinating and we kept saying I will start next week. Take a look at your life, how many Monday's have passed you by? Start counting. 
How many years have passed you by? Oh…I am too YOUNG to start, I will start when I am forty(40). Friend, it's time to wake up from your sleep and stop dreaming.
The best things in life normally lies in where there is risk, so you just have to start moving. The moment you start, there is no going back. Fall down at 7 get up at eight(8) and there would come a time where everything will be easy and you start feeling amazing about the person you are becoming.
Throughout your primaries, you were busy dreaming, we say we want to become medical doctor, lawyers and likes. We would say we can't wait to be admitted into secondary school. After secondary school, we kept dreaming about course to study at the university and after university… There is no dreaming again, its now real…
You have to start acting and stop saying I will start next week. Many have lost many opportunities as a result of this…I have done that in the past too but I wouldn't make such mistakes again.
I will start now, not next week.
Be inspired
It's getting more closer and hotter…
The event of a lifetime..
It's 11 more days to go!!!
2017 MEGA CAR AWARD LOADING SERIOUSLY!!!!
TO KNOW MORE ABOUT H2I,
VISIT OUR WEBSITE:
www.helpinghandsinternational.biz
SERVICES:
https://www.helpinghandsinternational.biz/services.php
HOW IT WORKS:
https://www.helpinghandsinternational.biz/how-it-works.php
OPPORTUNITY:
https://www.helpinghandsinternational.biz/opportunity.php
ABOUT US:
https://www.helpinghandsinternational.biz/about-us.php
Welcome!
Before you read further  about Helping Hands International, we have packaged all the strategies to excel in H2i into an e-book. The price is N5000 or $35 H2i . Click the link below to Buy it.
Click Here to buy
Our Team's Strategy is Minimum of 7 Account Registration, We don't Register one account.
We strongly advise you do 15 Account when you call us.

If you want to speak with me on Helping Hands International and join my team, Call me on /whatsApp me on +2348185318435
Call any of my Team Leaders to Join my fastest Growing Team today
To Work With My Team,

I have two options for you.
1. New Member
If you are new and you have not joined any team and you will like to join my team, send me a whatsApp message on +2348060779290 and i will register you with minimum of one account N6,600 before adding  you to our training whatsApp group for grounded knowledge of how to start strong and get all your rewards like laptops and cars faster with my 14 months experience in H2i. With that knowledge, you can increase your account to 3, 5,7,9, 15, 30, 100, 255. You can do this business from any where around the world. I have downline in Zambia and Tanzania is currently loading. If you don't have whatsaap, call me on +2348185318435.
2. Old Member
If you are already Joined but you are looking for more knowledge and strategy to do the business well, you are welcome and you are in a good place.
I will encourage you to buy my e-book on H2i strategy especially on managing multiple accounts and getting prospects. Price: N2000 or $15 of H2i through your e-wallet. After buying the book, i will add you to my whatsApp training group i created for people that are not in my team but are undergoing training through the e-book. Trust me, people are getting results.
CLICK the link below to buy it.
http://dayoadetiloye.com/mastering-business-helping-hands-international/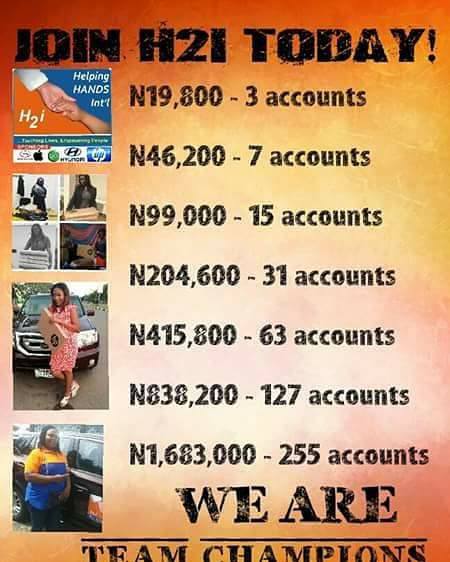 H2i is operated in teams, don't be left alone
North West/ North East/ North Central
Ayobami Obawura, Abuja Nigeria, 08035868571, 08185318435
Tunde Olatunji, Katsina 08039515252
SouthWest, Nigeria
Oyeronke, Akure, Ondo state 08061633120,
Ayodeji, Ado-Ekiti, 08030609917
South East/SouthSouth Nigeria
Chinenye Aniefiok, Calabar 08061535774
Other African Countries
Mariana Michelo, Zambia Livingston +260 976538907
Also Read: Everything You Need To know to Join Helping Hands International Today
How To Earn Money In Helping Hands International (H2i) in Nigeria
If you want to speak with me on Helping Hands International and join my team immediately, Call me on /whatsApp me on +2348185318435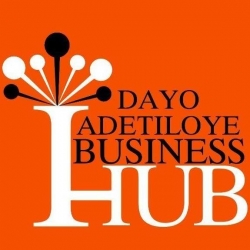 Latest posts by Dayo Adetiloye Business Hub
(see all)