IBADAN AND KADUNA H2I CAR AWARD ON 7TH OF MAY, 2016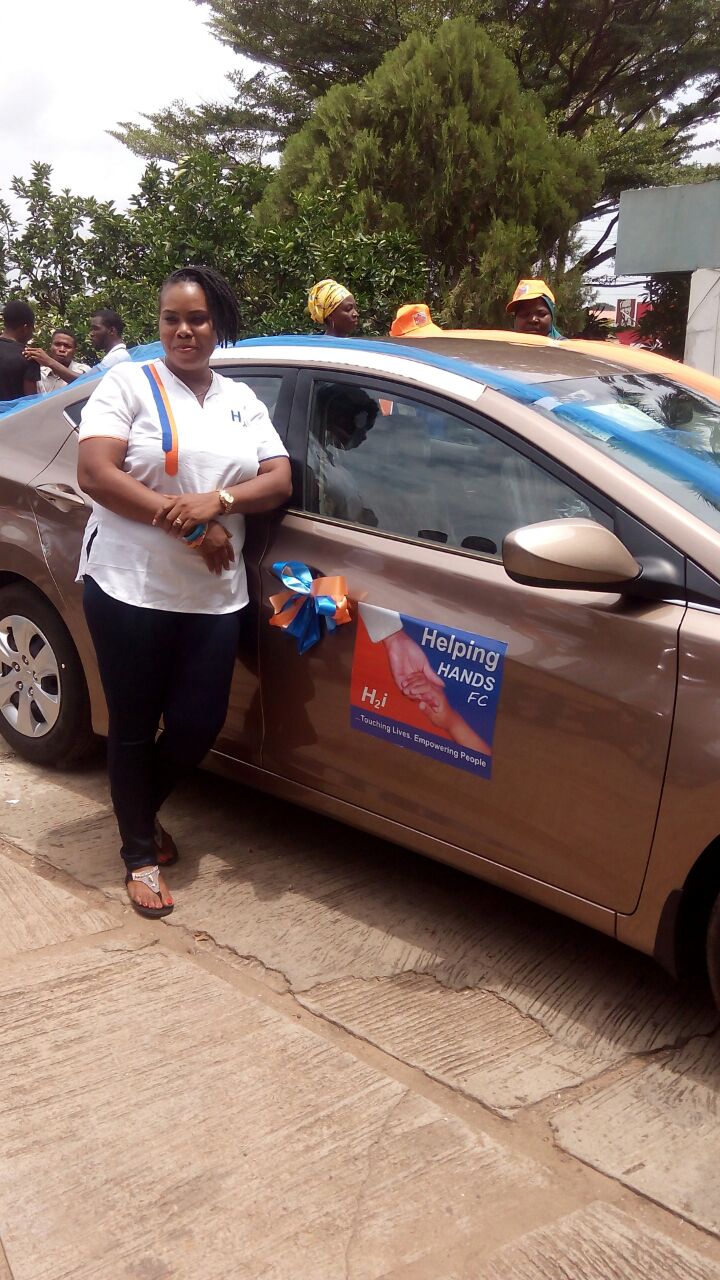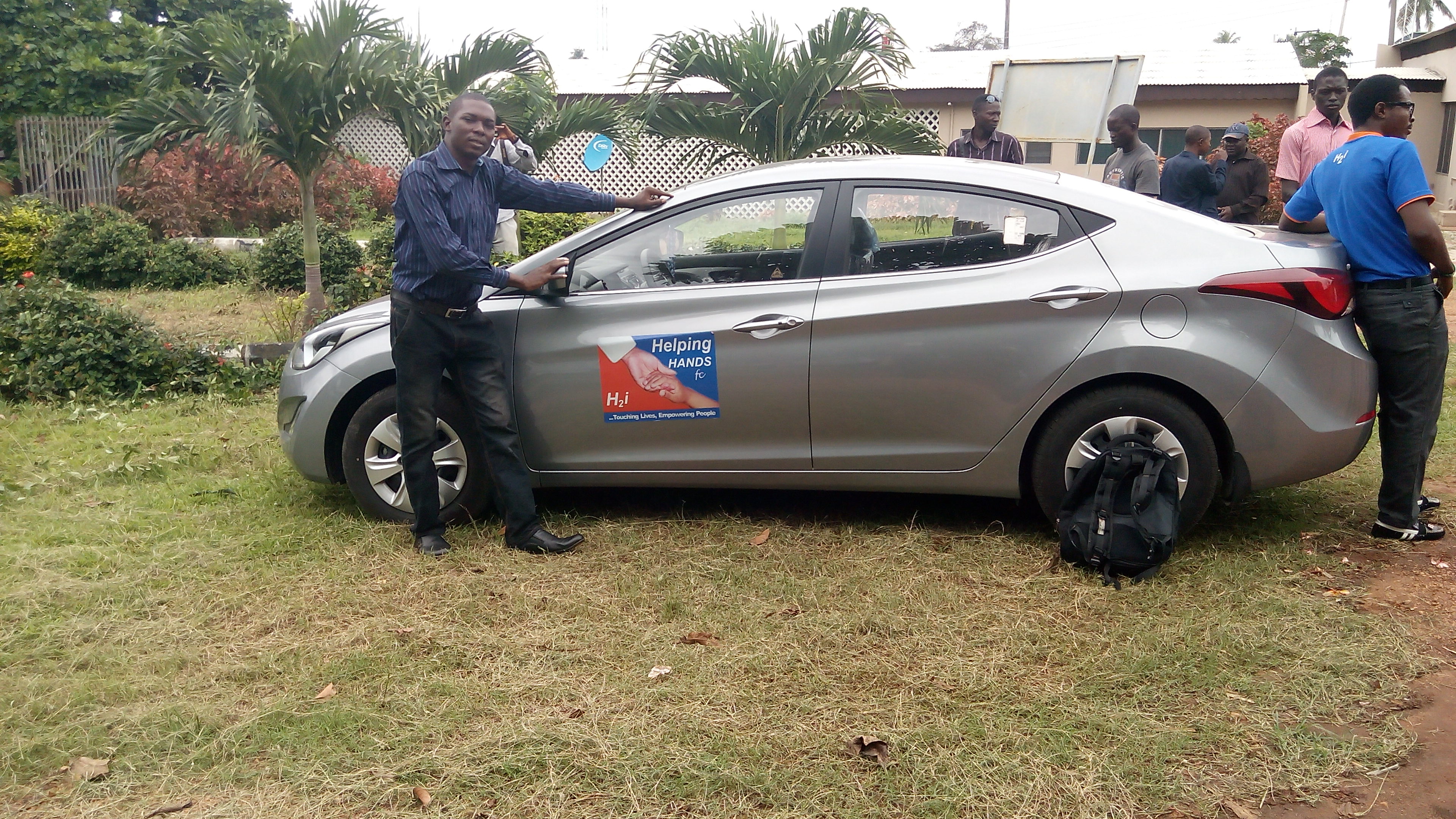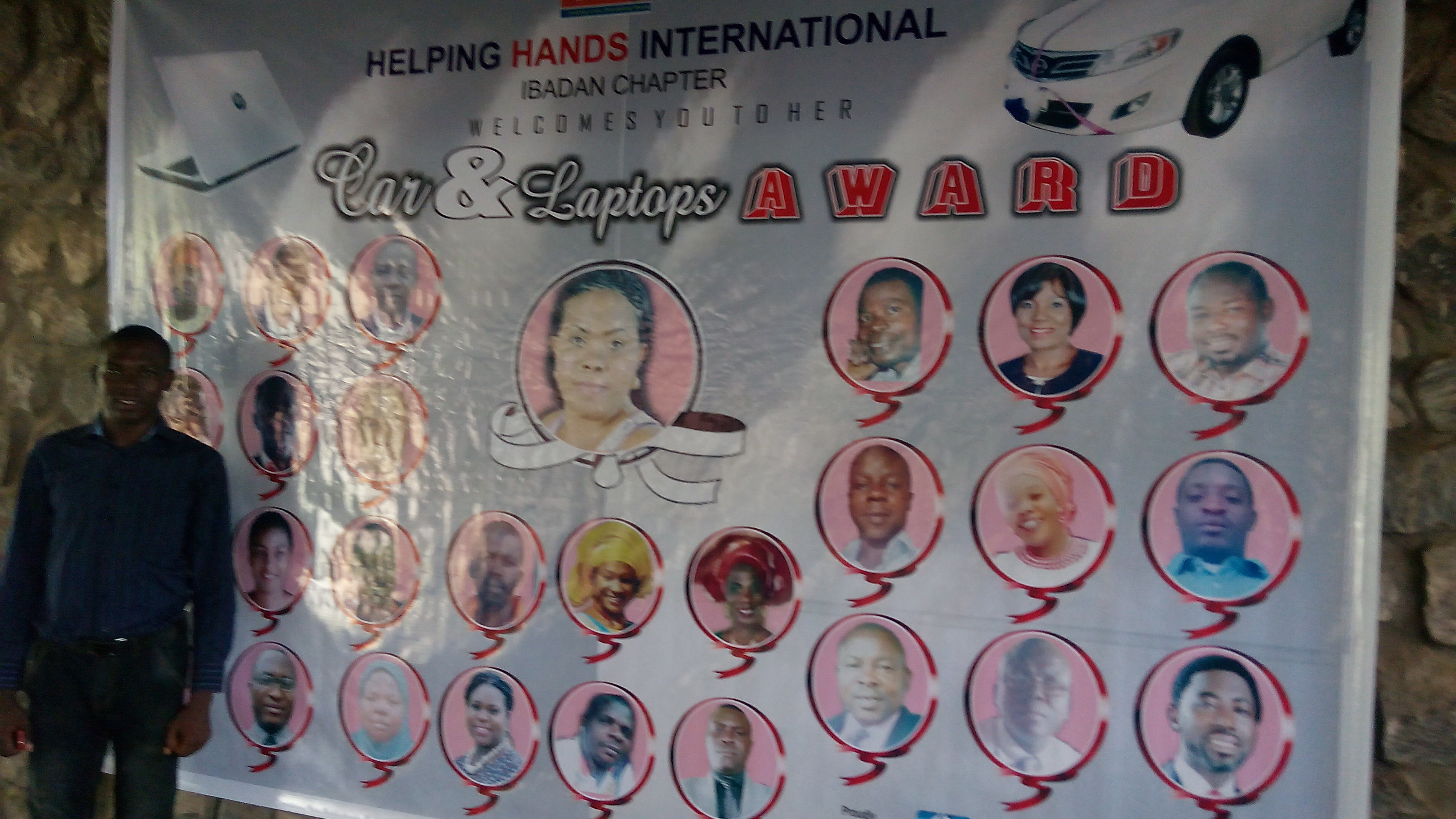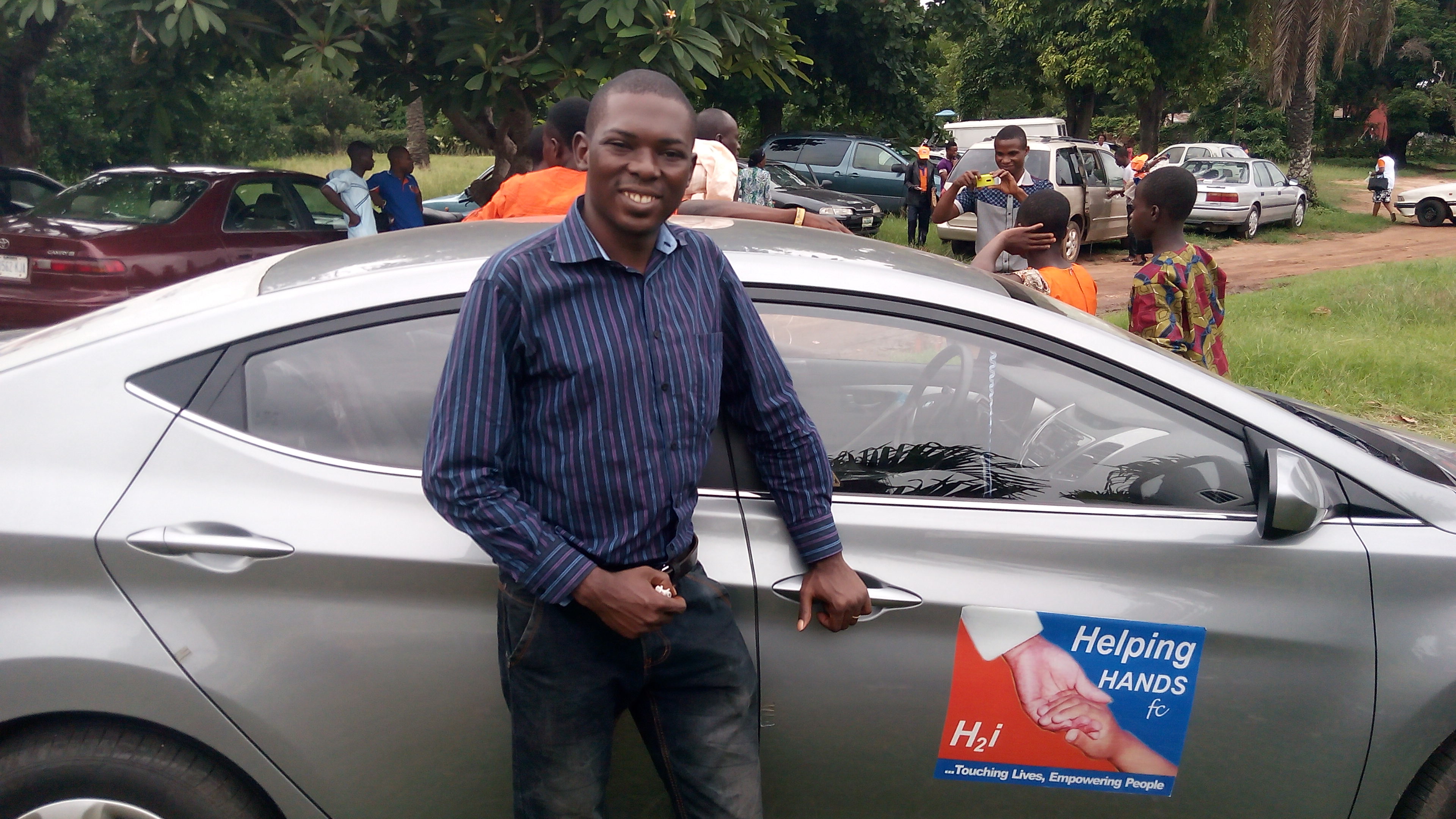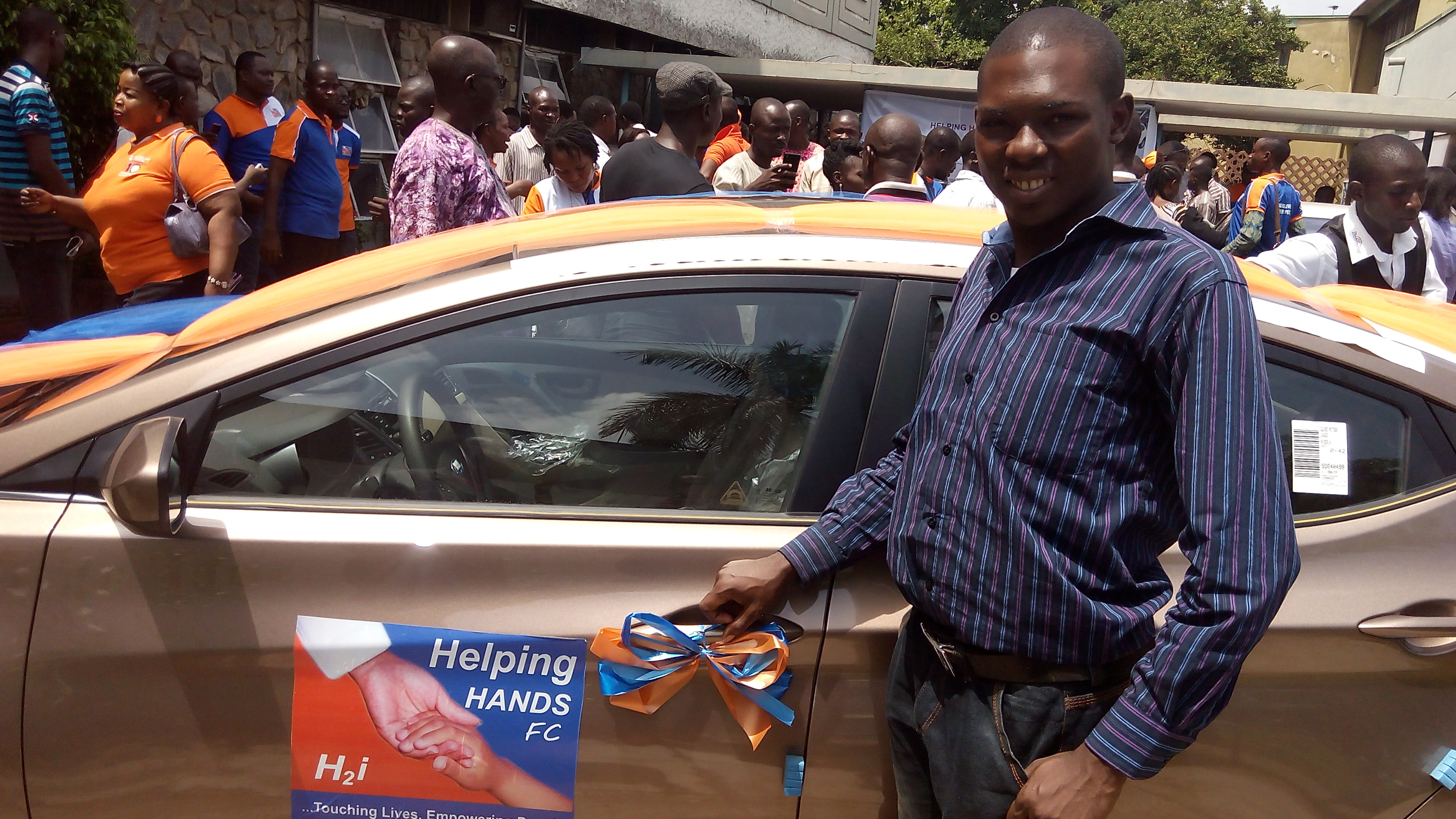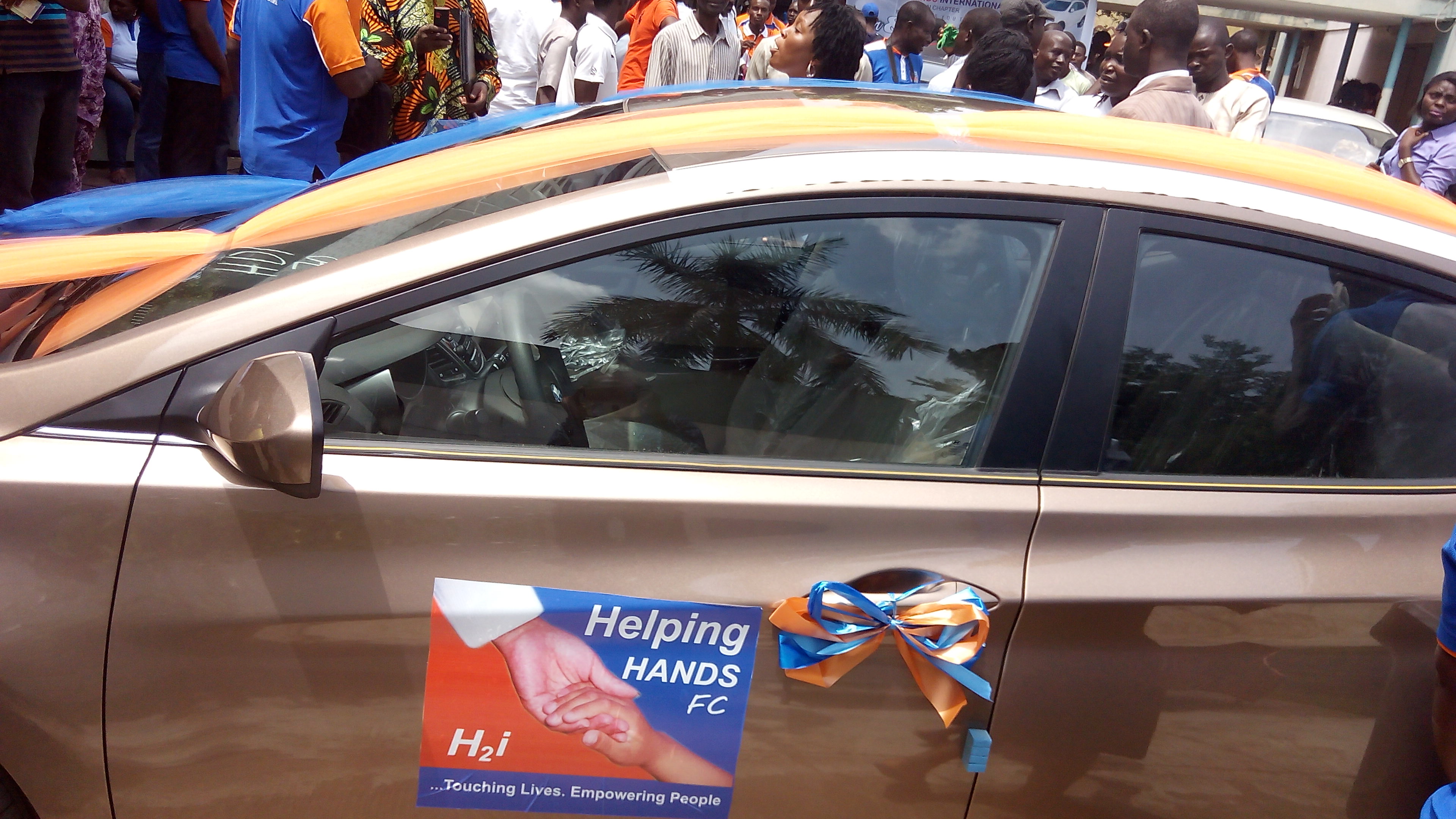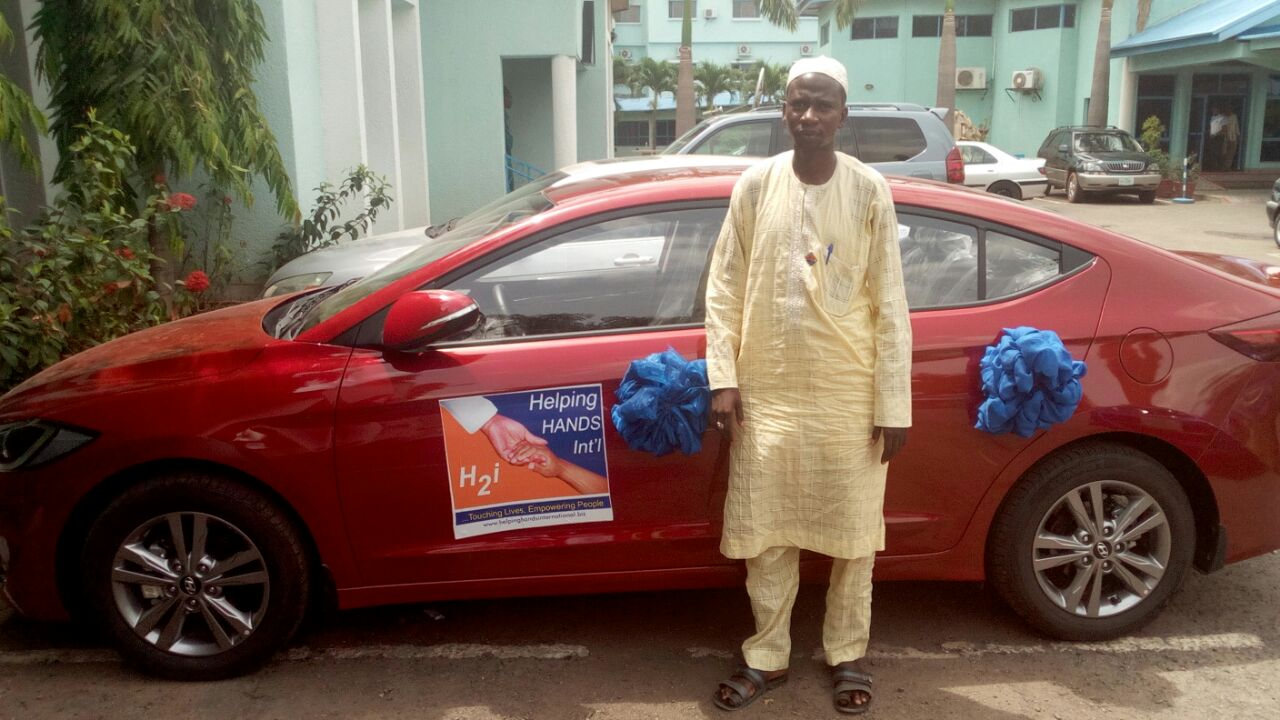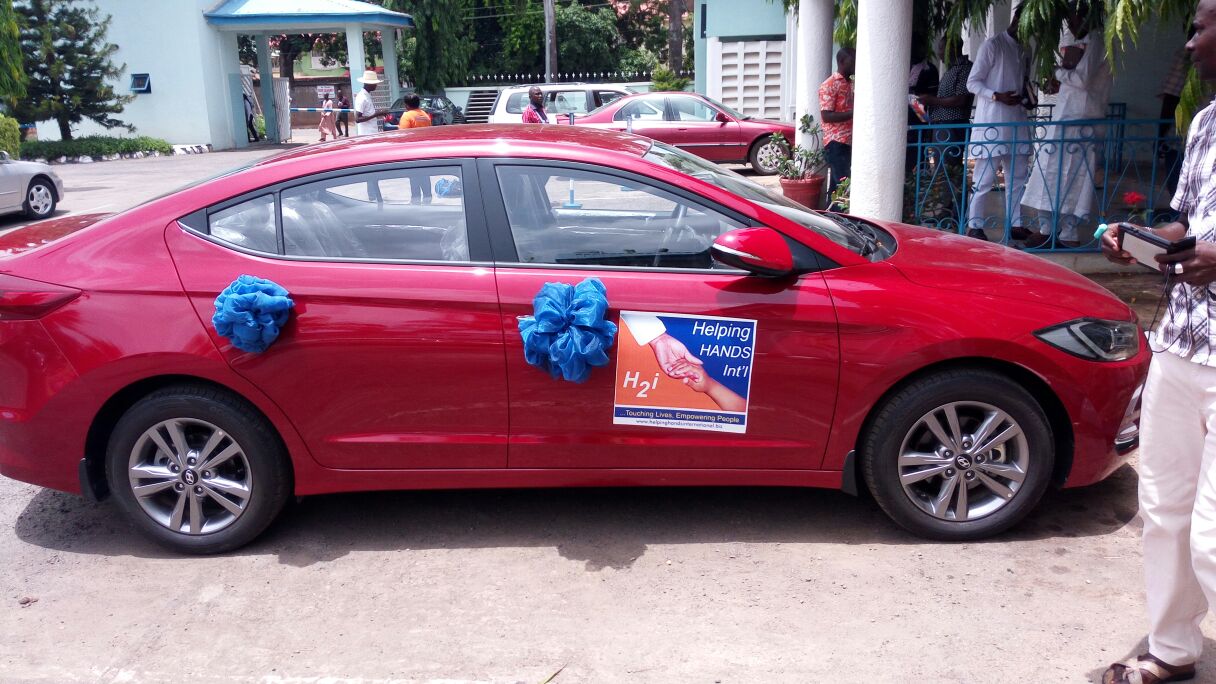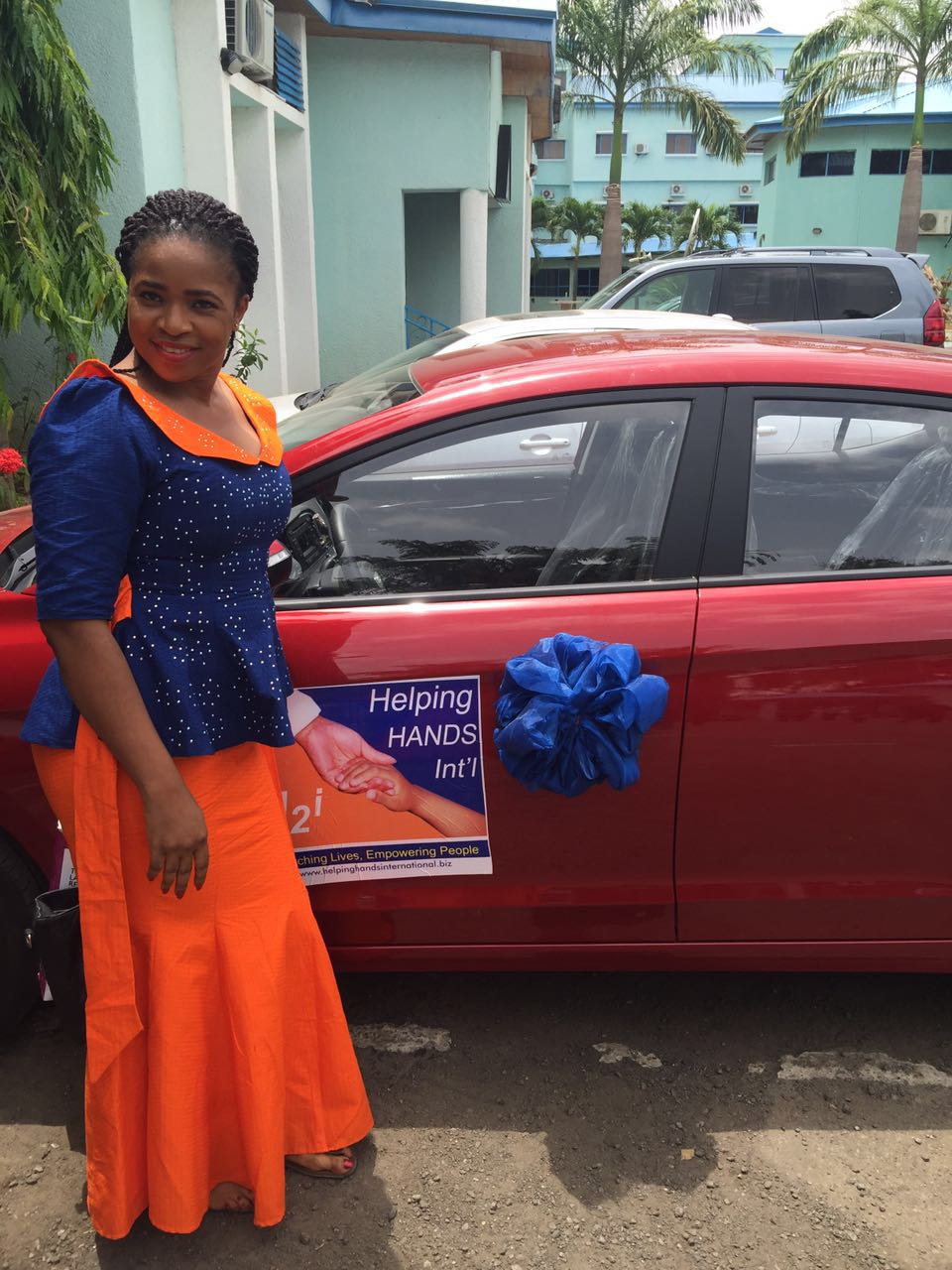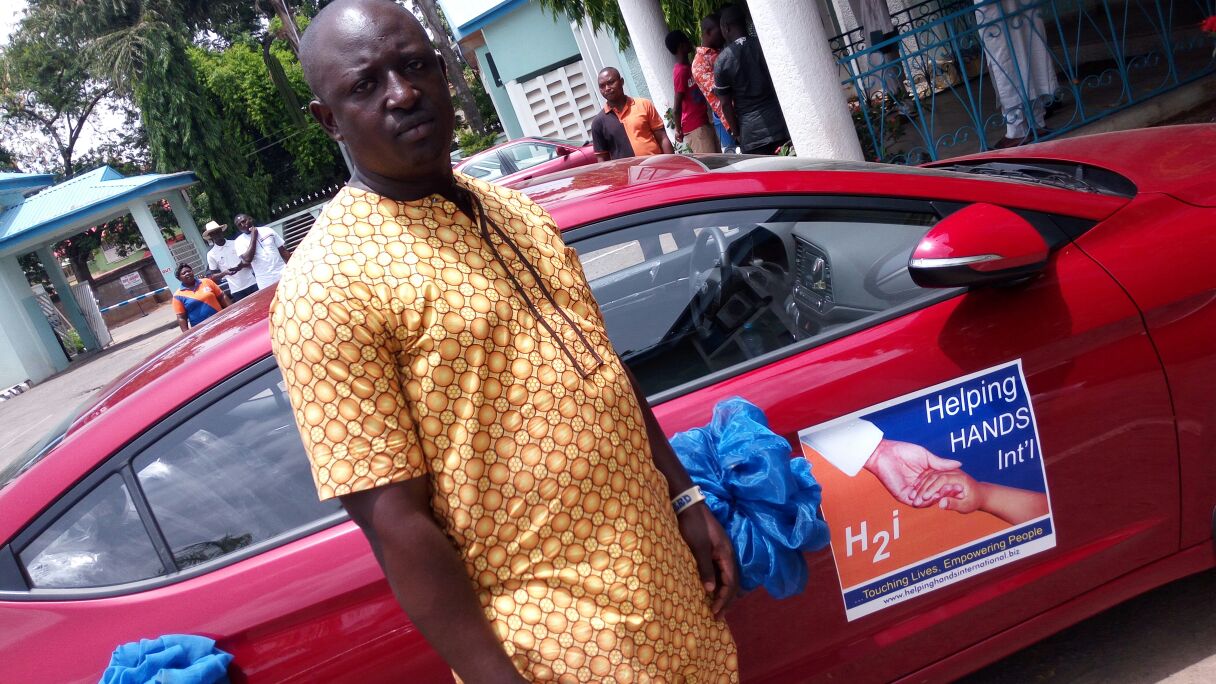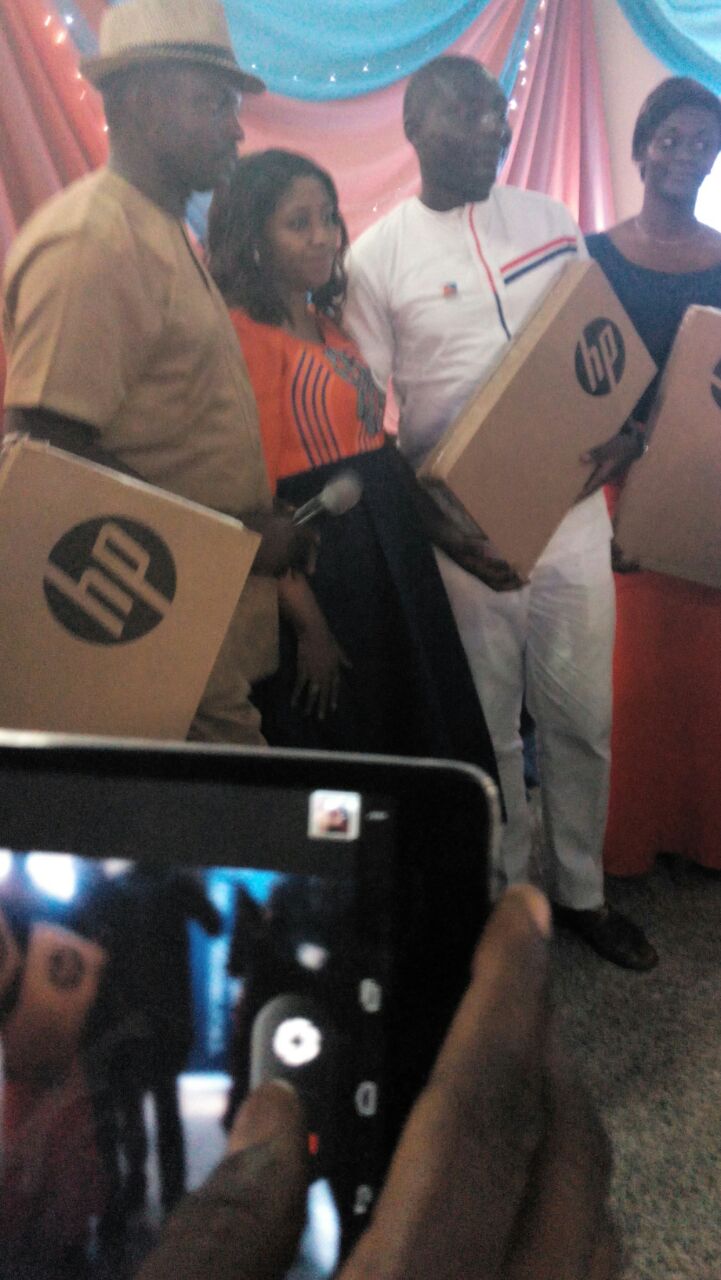 MORE ABOUT H2i.
Helping Hands international is an NGO and a charity organization based in Philippine. They came into Nigeria about two years ago. Since then, they have done a lot of charity works.
They have donated a lot to charity homes, motherless babies home. Over 200 students are on their scholarships, they do humanitarian services and free skill acquisition, etc.
What they need people to do is to donate to charity.
 There are two (2) forms of donation to charity
1.       Donate and you don't expect anything back like you do to other charity
2.     Donate and actively help them to refer others that will donate to charity too.
If you pick the second option, they have a compensation plan for you. There is a stage you get to, they give you a laptop, there is another stage you get to and they give you a car and earn dollars.
The minimum donation for one account registration is $40. The exchange rate is N165 per dollar whether dollar increase or decrease.  So $40 is N6,600.
For people that want to make the business another stream of income for them. The business allows you to register up to 15 accounts in your name.
These are the implication of doing 15 accounts
1.       You need N6,600 in 15 places, a total of N99,000.
2.     Instantly you get $142 (N23,430) back.
3.     You have opened 15 streams of income in h2i, so you will be expecting 15 laptops and 15 cars.
Before you get the laptop, you must have received $1000 (N165 000)
So if you do 15 accounts, you will be expecting N165 000 in 15 places.
H2i business is purely a team work. If you join our team, we register people regularly and we can put people under you easily.
What is the work to be done in h2i?
The work is to refer other people to donate to charity. The donation they would do can be 1, 3, 7 or 15 accounts like you did.
To join my team, follow this procedure:
-Do multiple registrations depending on your capacity.
-We recommend 15, 12, 9, 7,5, 3, or do 1 registration if you don't have money.
-We add you to our H2i Whatsapp Training Platform
-We set you on a target of bringing 1000 people in 2 years, with our team strategy.
– You enjoy in the team, spill over and spill under.
This strategy helps the system to move faster and when you are getting
rewards, you get it on the multiples of REG you do.
There is also a great benefit when you register early because it is a team
work.
You need N6,600 to register one account.
Fill in the following details and send it to me.
First and last names, Phone number, date of birth Contact address; city; state. Username; email; bank name; account number; branch name; account name; next of kin name; relationship;  date of birth and phone number.
Send Your Name and Location; let me add you to the training whatsapp group.
www.helpinghandsinternational.biz. Meet my H2i Leaders in Nigeria and Register Under them to Grow Your H2i Business Very Fast.
For me to register you and to join my Fastest Growing Team in Helping Hands International
Call or/Whatsaap any of the following leaders to Join.
1. , Miss Lola. Lagos, Whatsapp num: 0817 935 5986
2. Mr Akut Solomon, Adamawa State Whatsapp num: 07037695580
3. Mrs Chinenye Ukpong, Calabar Whatsapp num: 08061535774
4. Mrs Debby Overcomer, Lagos, Whatsapp num: 0803 868 7347
5. Mr Victor Okeke. Enugu, Whatsapp num: 0803 805 3587
6. Mr Okey Calabar, Whatsapp num: 0805 632 2125
7. Miss Mercy Amah, Calabar Whatsapp num: 0803 918 9915
8. Mrs Ekanem. Calabar. Whatsapp num: 0 802 355 8999
9. Miss Goodness Omenyinma Uyo.Whatsapp num: 0 802 355 8999
10. Mr Nnamdi Amadikwa. Uyo. Whatsapp num: ,
11. Mrs Aritnma Amadikwa. Calabar. Whatsapp num: . 08064620660
12. Mr Asen Luper, Benue state. Whatsapp num: 07064955495
13. Mrs Oluchi Ategwu. Calabar. Whatsapp num: 08065193028,
14. Mr Godwin Christopher I. Enugu state/Calabar C.R.S. Whatsapp num: 08067486116
15. Mr Uguru Chuks, Lagos State. Whatsapp num: 08184483858,
16. Mr Njikome Nestor , Abia State. Whatsapp num: 08111521430.
17. Mr Olamiji Misiliu, Lagos state. Whatsapp num: 08038675277
18. Ogu Juliet , Enugu Whatsapp num: 08038675277
19. Misiliyu Blessing, Enugu. Whatsapp num: 08038675277
20. Mr Fred Amanze, Awka/Enugu. Whatsapp num: 08052433762
21. Promise Ezekueme, PH. Whatsapp num: 07031395696
22. Miss Oluchi Okwara. Enugu. Whatsapp num: 07064351996
23. Miss Felicia Solanke. 9th Mile/Enugu, Whatsapp num: 08037425021
After contacting them, Request to be added to my whatsapp training Group where I coach people to get their laptop in H2i in six weeks and also raise capital to start their business from a lot of Dollars they will make in Helping Hands International.
I recommend that you start this business with 15 accounts if you have the money which is N99,000 and you have N23,000 back. But if you don't have money , do your one ,two,three, or more accounts which is N6,600 x hw many. Accounts u wish,and just go home with one laptop or 2,3 , instead of 15 laptops and lots of dollars.
Call any of the numbers close to you now!
After your registration, when you become a leader, we also help you with advert, like I am helping my team leaders now.
H2i Rocks………..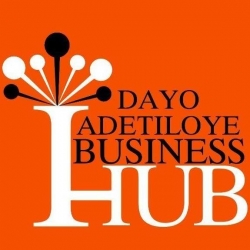 Latest posts by Dayo Adetiloye Business Hub
(see all)