"Download FREE Updated 2021 Version of The Tony Elumelu Foundation $5000 Entrepreneurship Grant WorkBook – It Explains the Questions and How to Answer them."
Hi, My name is Dayo Adetiloye, the founder and CEO of Dayo Adetiloye Business Hub.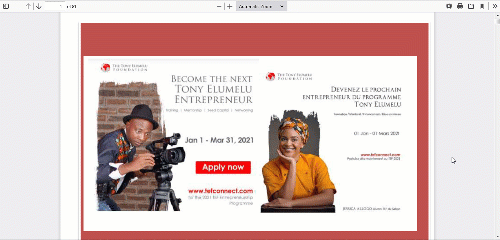 When I discovered The Tony Elumelu Foundation Entrepreneurship programme (TEF) which was the first edition, I applied but I wasn't selected.
But this FREE workbook you're about to download produced 25 winners.
When the 2nd edition was opened, I applied again and I was selected and more than 50 people who utilized this FREE workbook were also selected.
Dear friend, either you're new to the Tony Elumelu Foundation Entrepreneurship programme or you have applied twice or thrice, DON'T GIVE UP.
Remember, that's the spirit of an entrepreneur.
As you apply for this 7th edition, perform your jobs very well by presenting quality answers, be optimistic and faithful you will be selected.
With this same FREE workbook, 100 people were selected in the 3rd edition.
In 4th edition, a lot of people selected used this workbook. In fact, I received testimony from someone who based in South-West Nigeria, who had utilized this free Workbook to train many people and 10 became winners of the grant.
Dear Friend, remain positive and consistent, as you utilize this workbook for 7th edition,
You will see the new way of applying for the application
Fill the form