15 Important Things to Note as You Start Your 125T OFADA RICE Distribution Business in Nigeria.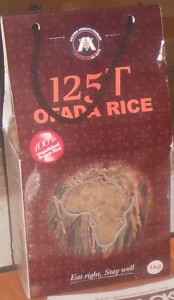 Hello My Dear Friend,
Thanks for your interest in 125T Ofada Rice Distribution Business.
These are 15 Things you should Note as You Start
There are two types of Registration
N2,100 for Active income
N10,500 for Residual income
A pack of 1kg 125T Ofada Rice when you order for it is N800, then you sell for minimum of N1000 and above.You can order between 10-50 packs and it will be delivered to you by the company in anywhere in South-west Nigeria.
For the company to deliver to you outside South-west, you must order for 100 packs and above.
If you are outside south-west and you want to order for as low as 10 packs. If you have anybody coming from south-west especially from Lagos or Ibadan, they can help you pick it up.
Send your registration payment and your Product order payment to my GTB account to facilitate easy registration and processing of your request. (You can do online transfer or pay cash to the bank)
Bank: GT BANK
Account Name: Adetiloye Adedayo Patrick
Account Number: 0037218392
Account Type: Savings
Once your payment is confirmed, I will send you these 2 things for your online registration at 1two5ten.net (that is your virtual office)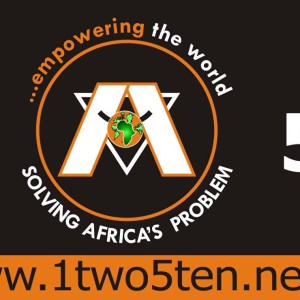 Your referral code
Your N2,100 e-card or N10,500 e-card
Afterwards, the company will call you and tell you exactly when your Ofada Rice and any other product you order for will get to you.
Note: N10,500 registration gives you access to 2 free Ofada Rice Pack and 2 radiation shield. While N2,100 registration will not give you anything except access to buy the company products.
The Radiation shield is another of the company's product. You buy it @ N1,600 and sell at N3,000. If you have market for it, it is a good business.
The radiation shield serve two purposes:
Reduce the radiation emitting from your phone when you call.
It makes the battery of your phone last longer. The shield is like a small paper, you place it on the top of your phone battery.
The company pays you commission every Monday through your virtual office at 1two5ten.net. You have to register with N10,500 and you get at least 5 other distributor to register under you with N10,500. Then you get commission of their Total Product Purchased Volume up to your six generation.
The %commission is listed here:
Your 1st Generation that register through you- 9% of TPPV
2nd Generation- 19% of TPPV
3rd Generation- 13% of TPPV
4th Generation- 7% of TPPV
5th Generation- 5% of TPPV
6th Generation- 3% of TPPV
Note: There is no limit to the number of people that can register directly under you. You can register 1000 people directly and you earn commission to their 6th generation.
To make a very good residual income from 125T Ofada Rice, I will advise you register with N10,500. Then, buy additional Rice @ N800 per pack.
The company 125T will be celebrating one year anniversary on Thursday October 1st 2015 @ IVD Event Centre, Obasanjo Hill Top, Opposite Governor's office, Oke-Mosan, Abeokuta, Ogun state.
Theme: Africa Re-Alive.
Focus: Entrepreneurship, Infopreneurship, Agripreneurship, Retailing, Distribution, Sales, and E-commerce.
Guest Speakers: Debo Onafowora MD/Host
Prof. Olajumoke Familoni
Engr. Abiodun Fijabi
Admission: Free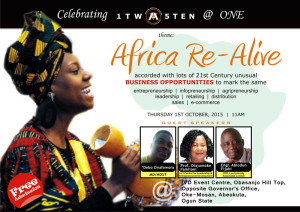 For the Anniversary, there is a Paid specialized session on the evening of first day and second day. To participate is N7,500. Including Accommodation, and Training materials. If you need the anniversary Shirt and Bag, you pay total of N12,000.
Start this business on time and see if you can make extra N500,000 before the end of the year. The Ofada Rice is a product that people will eat and request for more. So you are in constant business throughout the year.
As I conclude, they ask a millionaire that how did you become so rich. He said he buys a product for $3 and sell for $5. That is how he became a millionaire in Dollar.
For you to make money, you must sell something either goods or services. If you fall in love with this Ofada Rice Distribution Business Idea and you will like to start today, call me now 09090613801
My dear Friend,
Thank you for your time in reading this information. And your interest to add to your streams of income through the 125T Ofada Rice Distribution Business. Action is the blood of Vision.
Reply my mail or call me on 08060779290, or send me a whatsaap chat on the same number. My BB PIN is 58ECE9AC
Till I hear from you my dear friend,
Keep succeeding!
Dayo Adetiloye (B.Agric, MBA)-
AUTHOR – CONSULTANT – SPEAKER – ENTREPRENEUR – BUSINESS COACH
Helping men to discover, develop and fulfil their business potential.
…Raising 100 Young Millionaire Entrepreneurs in Five Years… since July 2012
08060779290, 08174584556
PS: I changed my phone so my new BB PIN is 58ECE9AC. You can add me if you have not added me before. Thanks.
To see the pictures of the 125T Ofada Rice and Radiation Shield, Click here
http://dayoadetiloye.com/make-extra-n500000-from-125t-ofada-rice-before-the-end-of-2015/
Those are the 15 Important Things to Note as You Start Your 125T OFADA RICE Distribution Business In Nigeria. I believe it was helpful.