2017 Book Review: 30 Laws of Money by Dr Abib Olamitoye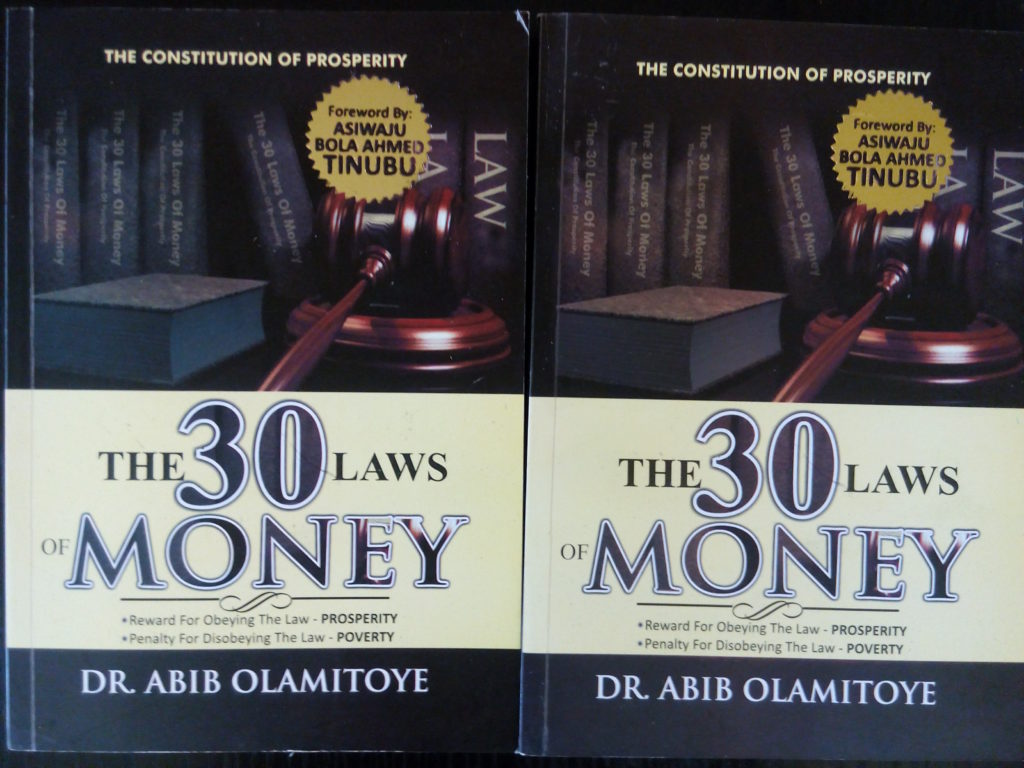 My Dear Millionaire Friend,
The book I want to review is compulsory for all my online subscribers that want to become Multi-Millionaire and even Billionaires in 2017 and beyond.
If you want to become a billionaire, read what billionaires are writing and reading.
My vision on this platform is to raise 100 millionaires in every 5 years.
We achieved this in less than 5years of starting this vision in 2012 by accessing grant opportunities for my subscribers especially the YouWiN Programme by federal government of Nigeria. Many received N10 Million, N 8 million, N 5 million but after 3 years of managing this money only 2% can really boast of N1million Cash in their bank account. Some are now very broke.
They have disobeyed the laws of money.
They did not know how to make, manage and multiply money. The millions of money they got through grant opportunity flew away from them.
They don't have that capacity to retain it.
God has sent the book for the moment,
God has sent the financial book for our 2017.
It is titled: The 30 Laws of Money by the Billionaire Dr Abib OLamitoye.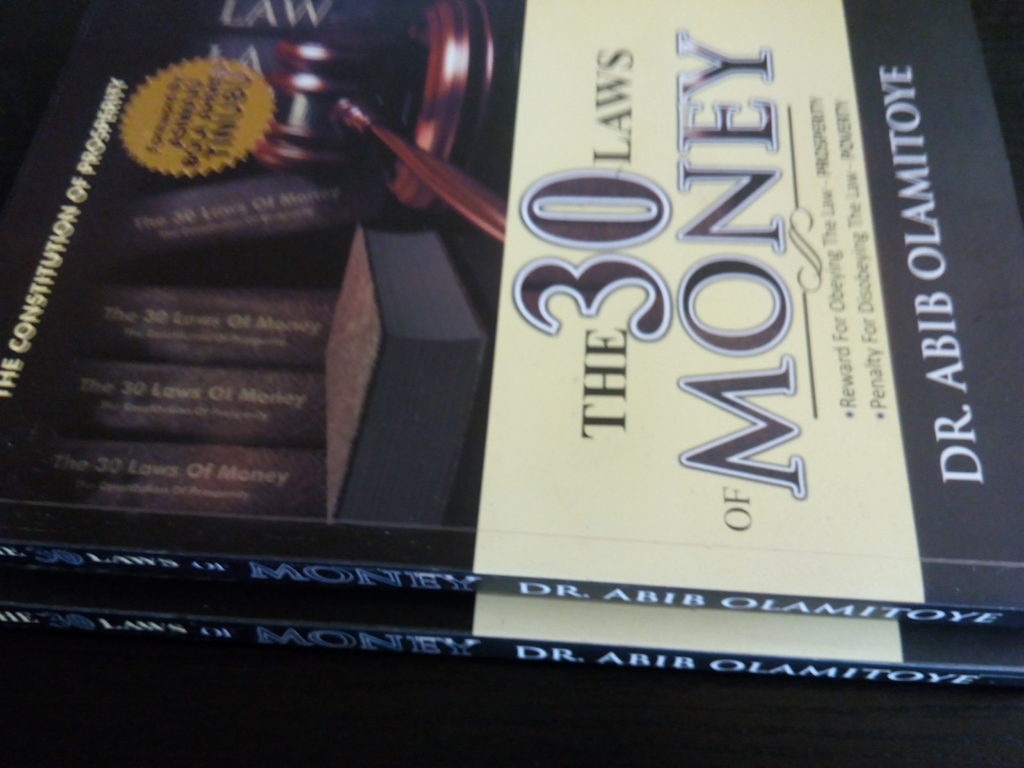 ''The reward for obeying the law is prosperity
The penalty for disobeying the law is poverty''
The 30 laws of money is the constitution of prosperity that must be embraced by any individual keen on defeating poverty.
The book is foreword by Asiwaju Bola Ahmed Tinubu, one time action Governor of Lagos State and also a political leader of our present time.
The summary of what Tinubu said is this. The penalty of violating the laws of prosperity contained in this piece is abject poverty.
''The most essential ingredient in the journey towards success is never to give up aiming for success. When the load of success become heavy, the weight only strengthens you.''
Dr. Abib Olamitoye has created a great piece by adding to the body of knowledge on wealth creation. The onus befalls on us to add to our knowledge of poverty eradication.
Let me quickly tell us about Dr. Abib Olamitoye
He is a billionaire that has a vision to raise 100 billionaires in every 10years. That is where I got my own vision of 100 Millionaire in every 5 years.

I met him 5 years ago, during my NYSC and my life has never remain the same. He was the first person to sponsor my book titled: (Unleashing Your Entrepreneur Potential for African Students) with a sum of  N50,000 and bought copies and distributed it to young people around.

He started his private hospital immediately after NYSC

He has four hospitals and travels around the world and the business run in his absence.

He is the founder of 100/10 Academy that run a free business class to liberate people from poverty to prosperity

He also has experience ln running businesses in UK.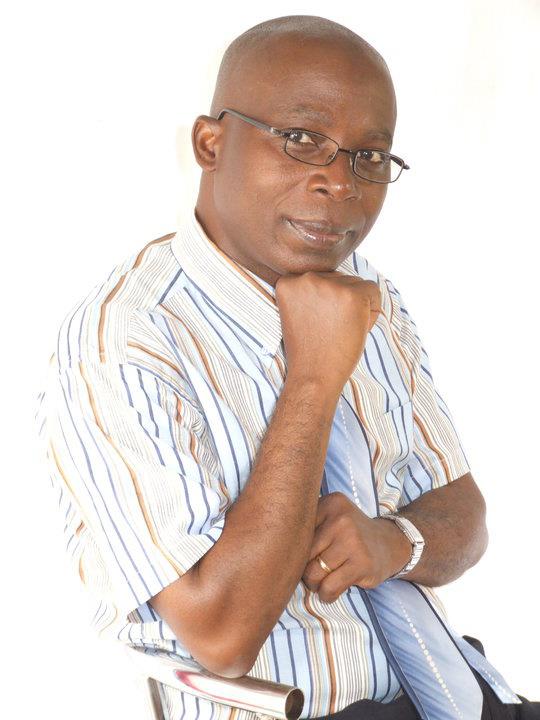 About the Author as Written on the book
Dr. Abib Olamitoye is a purpose driven and self-motivated Medical Practitioner and a business leader. He is the Chairman and Chief Executive Officer of Ibadan Central Hospitals, Ibadan, Tolu medical Centres, Lagos and Academy Suites, Ibadan.
He is an author of International repute. He was a former special adviser to the governor of Oyo state on Health.
He is the president of Ibadan College of Medicine Alumni Association World Wide (ICOMAA).
He is happily married with two children.
Let's Talk About My Mentor's Book
 "THE 30 LAWS OF MONEY."
This book worth a fortune.
The 30 laws of money is a collection of tries, tested and proven fortunate laws that govern the acquisition of money. It is written in a baby test approach, for beginners and for all who want to escape from financial woes.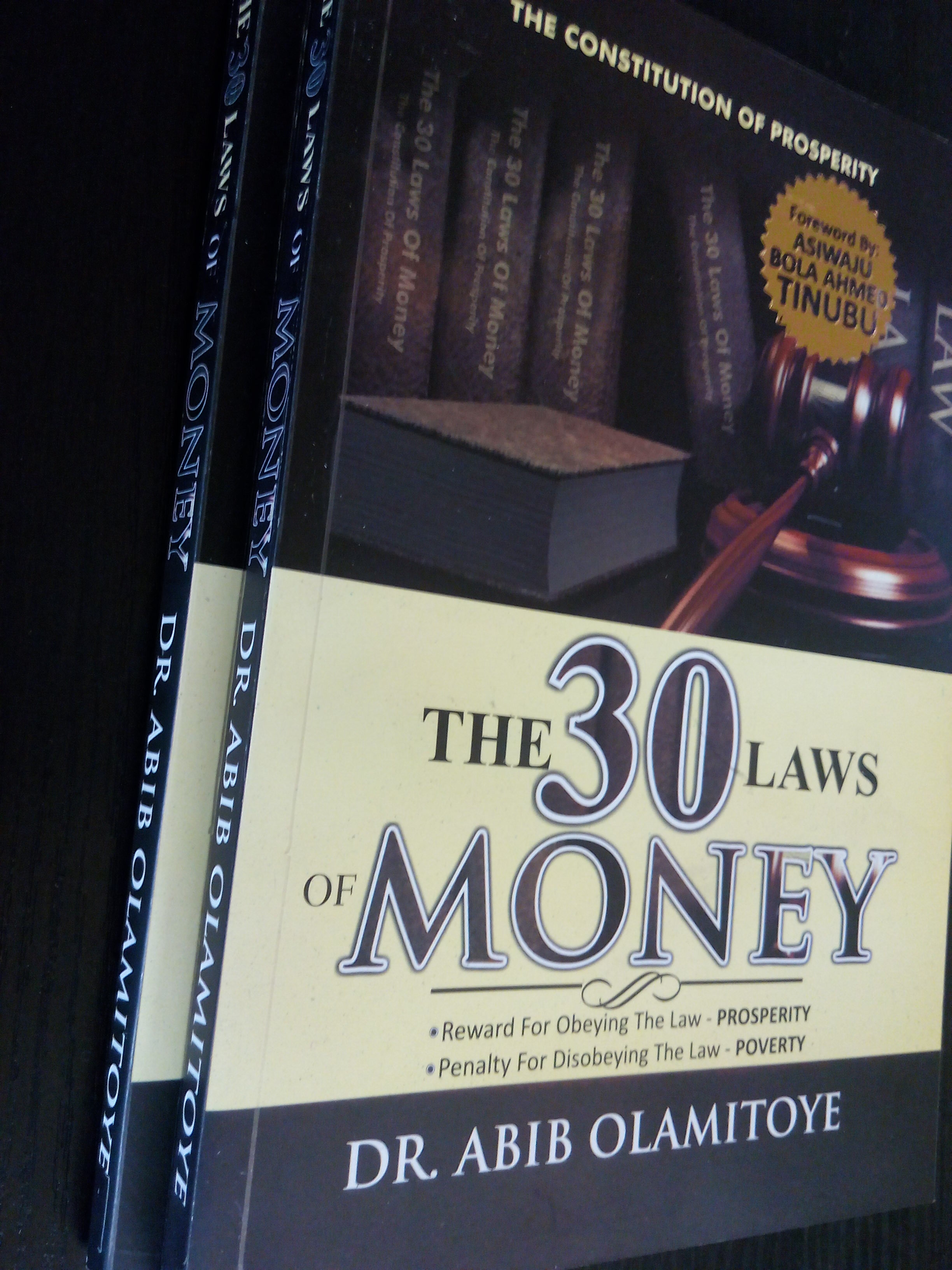 How to read it as Prescribed by the Author:
It is recommended that you read a law a day for the next 30 days in other to achieve maximum results.

It takes gradual, daily, unrelenting reading and contemplation for periods beyond twenty-one day to accomplish a paradigm change.

You should generate a to-do-list from each law you read and work on your list.

Don't read for knowledge, read for actions.
Law Number One:
The Babylonian law– You shall save at least 10% from every income, profit, salary or wage in a secured bank account, you pay yourself first.
Law Number Two
The law of Time perspective – Savings remain the seed that must be sown that will grow and multiply and salvage the owner from the jaw of poverty.
Law Number Three
Law of Abundance: This law states that there is abundance in the universe in which there is sufficient money for all who really want it and are willing to obey the laws governing its acquisition.
Law Number Four
The Law of Capital: This law states that the start- up capital and the running capital, in all shades of business intercourse, is knowledge, not money.
Law Number Five
The law of Exchange: This law state that money is a medium of exchange of goods and services.
Law Number Six
The Law of Conservation: This law states that it is not how much you make that guarantees your financial independence, it's how much you keep. When you save, ensure that it grows. Watch it grow. Make it grow.
Law Number Seven
The Parkinson's Law of Money: This law states that expenses tend to rise to meet income. Every billionaires and Mega billionaires tamed their expenses.
Law Number Eight
The law of Investing: The first rule is that "you investigate before you invest". The second rule is that" if you are in doubt ,you refer to rule number one"
You must never waste your meagre love, money, passion and your time on any unprofitable venture.
Law Number Nine
The law of Compound Interest: This law state that the compound interest is one of the most powerful, easy and sure ways to prosper, needing minimal specialized skills. Money generated from the saving account every month is loaded into the matured fixed deposit account for rollover instructions.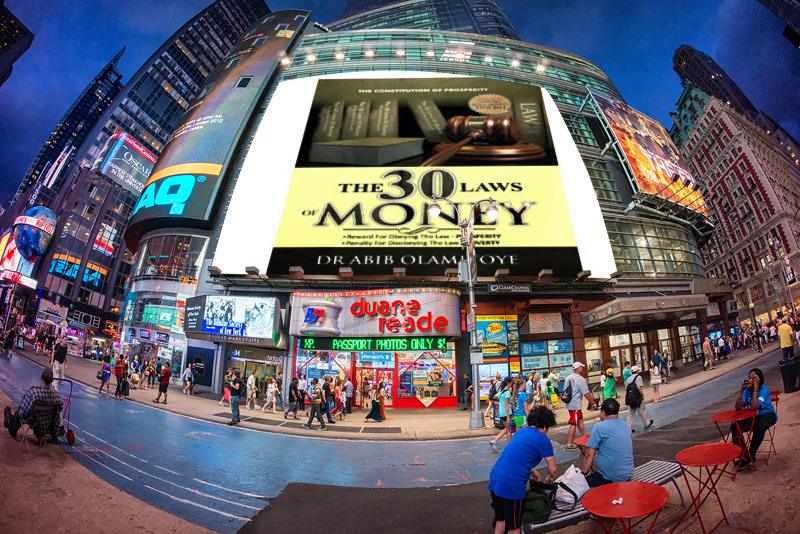 Law Number Ten.
The law of Accumulation– This law states that every great financial accomplishment is an accumulation of hundreds, of thousands, of small efforts and sacrifices that no one ever sees or appreciates.
Luck favors the mind that is prepared- Louis Pasteur.
Law Number Eleven
The Law of Acceleration– this law states that the faster you move towards your financial freedom, the faster the financial freedom moves towards you, focus is the key factor in success achievement.
Law Number Twelve
Murchison's Law of Money– The law states that money is like manure. If you spread it around, it does a lot of good, but if you pile it up in one place, it stinks like hell.
Law Number Thirteen.
The Carson's Law of Money– It states that everyone on the path to personal progress and happiness must know that it's better to be rich than to be poor, better to be healthy than to be sick.
Law Number Fourteen
The law of Timing- It states that money sooner is better than money later. If you have the option of getting money now or getting it tomorrow, always choose to take possession of money immediately.
Law Number Fifteen
The law of Form– It states that money comes in many forms, therefore, you must ensure that you secure the best form of money at all times and in all situations. E.g Cash is better than Cheque.
Law Number sixteen
The Pareto Law of Money– It states that 80% of reward flows from 20% of Activities
Law Number Seventeen
The Law of Giving– States that giving is an investment; That giving is Investing.
Law Number Eighteen
The Nightingale Law of Income– It states that what you earn as an individual, as a group, company, state or nation is directly proportional to the demand for what you do, how well you do it and the difficulty of replacing you.
Law Number Nineteen
The Tracy's Law of Scope– It states that every individual engaged in the art of saving tends to have a top limit of their saving capacity within which they stay and feel comfortable.
Law Number Twenty
The law of Need– It states that money is a deficiency need, that the desire and motivation to get it arrive when you feel that you don't have enough of it.
Law Number Twenty-One
The Ben-franklin Law– It States that frugality is the key to financial success. Don't lose money.
Law Number Twenty-Two
Feather's Law of Money– It States that when you make up your mind to take the first step in the direction of your goal, factors that tends to challenge your actions spring up.
Law Number Twenty-Three
The Exponential Law of Money– It states that when the laws of money are followed meticulously, when all the rules are kept, money begins to arrive in arithmetical progressions, and if the drive is sustained for a long stretch  of time, a period will come when further growth of wealth will become unstoppable, geometrical or exponential
Law Number Twenty-Four
The Law of Momentum– It States that the money you have, the more you tend to have, the more debts you have, the more you tend to have.
Law Number Twenty-Five
The Law of Earning Ability– It state that the more you learn, the more you earn.
**************************************************************************************
This is a very brief introduction about this book. You will get the rest of the laws and detailed explanation inside the book.
At the end of each law, there is a recommendation that you write 5 actions you will take today as a result of the awareness you derived from this laws.
I will encourage you to increased it to 10 things you derived / Action point to take and do.
This is the money management book I recommend for you for 2017. If you don't read anything at all on money, read this book.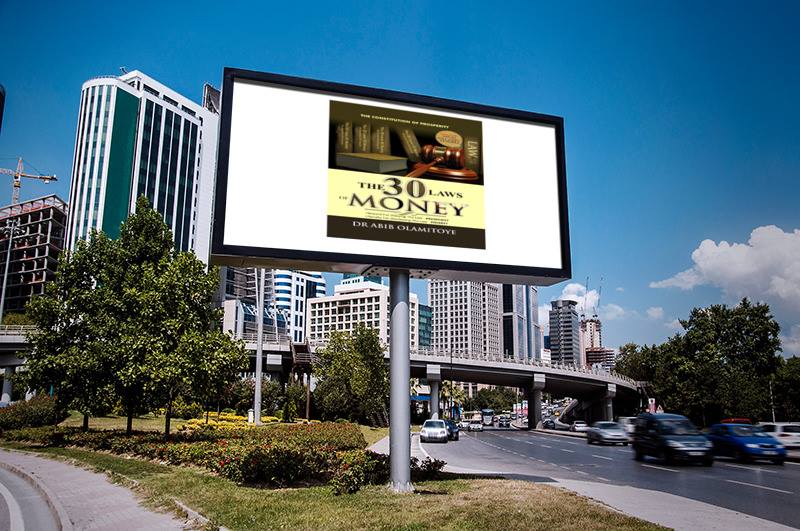 Let's Look More Into The Book:
Category: Motivational/Self-Improvement
Publisher: HundredTen Publications
Website: www.hundredtenacademy.org
Location/Date: Nigeria, 2016
Foreword: Asiwaju Bola Ahmed Tinubu
Dedication: To the cause: Entrenching Prosperity and Eradicating Poverty
No of Pages: 177 pages
No of chapters: 30 chapters
I personally recommend this book to anybody reading this book now.
HOW TO GET THE BOOK TO YOUR DOOR STEP
Price: N2,500
Delivery Money anywhere in Nigeria – Between N1500-N3000
We use DHL, Public Transport, and Personal Delivery to your homes, offices and any location in Nigeria. And you can Send Someone to pick it up for you in Lagos or Ibadan.
Call me on: 08105636015, 08076359735 or Send me an email at : dayohub@gmail.com. We will work on your payment and door step delivery.
With all thy getting, get the wisdom in this book.
I am focusing on 1000 people that will buy this book and make it a companion in 2017.
N:B You get the book delivered to you with 5 working days depending on your location.
Till I hear from you friend,
Keep succeeding!
Dayo Adetiloye (B.Agric, MBA)-
AUTHOR – CONSULTANT – SPEAKER – ENTREPRENEUR – BUSINESS ANGEL
Helping men to discover, develop and fulfil their business potential.
…Raising 100 Young Millionaire Entrepreneurs in Five Years… since July 2012
08105636015, 08076359735