21 Things to Take Note of as You Receive Your $5000 Tony Elumelu Foundation Grant for 2017
My name is Dayo Adetiloye of www.dayoadetiloye.com. I am class 2016 TEF Alumnus. I have been in the business consulting industry since the last 7 years. I won TEF in 2016 in the consulting sector and I manage Dayo Adetiloye Business Hub where we do business consultation, mentoring and business structuring for entrepreneurs.
I have worked with a lot of past TEF winners in accessing the grant and also structuring their business for accelerated start, growth and expansion.
Recently, My organization's blog that you are reading now receives the an Award as No11 out of 100 business coaching blogs in the world, Click here to see the list http://blog.feedspot.com/business_coach_blogs/
I have also worked with a lots of grant winners at application stage and allocation of the funds when they receive their grants. We have success stories from YOUWIN 1-3, YOUWIN connect, BET, Kickstart, Etisalat Grant, Zambia Grant and other local and international grants and our TEF, we have supported over 100 people in accessing funds, business structuring and growth.
So here are the 25 things to note as you receive your TEF $5000 grant.
These 25 things are what will help you structure your business and set you on a pedestal of growth so that you can access more funds for your business but most importantly multiply what you have already been given.
1. Ensure you do your documentation on time. Upload your business plan, corporate account number, notarize your documents and ensure everything is set so that you can be part of the first set of people to be paid. People will be paid in different batches depending on how early you meet the criteria
2. Your business is different from others, so you have to be deliberate in how you allocate your funds as you start the business.
3. The money given to you is for your business and sector. You are to multiply this money by doing business within your sector judiciously. Do not divert funds into other sectors that are not necessarily your business. But you can do other businesses within your sector to multiply this money especially buying and selling.
4. For example, if you want to setup a poultry farm, buying battery cage and renting a farming space is a wrong move but opening an outlet in the market and partnering with an existing farm to resell their eggs is the right move. You will start making and multiplying your money that way. Latter you can now build your farm. $5000 is not a lot of money like that. If you blow all your money on machines and no money for operations, you are on your own. For some of you, you can be leasing your machines for now instead of buying it.
5. When you receive the money, you are on your own. If you fail with the money, you reap the shame. You succeed? You reap the fame!
6. As you receive the money, you will note that the money is not much, that is why it is called seed capital, so you have to manage it well.
7. Don't spend all your money to buy machines, rent offices, etc. Ensure you focus your attention on money generating activities.
8. Cash flow is the blood of every business, ensure you do not run out of cash. Note this, especially when having to decide payment terms.
9. You must save a certain percentage of the money as sunk fund for your business that you must not touch because money attracts more money.
10. Ensure you master your selling skills very well because you are your company No 1 Chief Marketing Officer.
11. Ensure you generate enough products and services to sell, that is the only way money comes back to your business.
12. If you are building something like software and you think the money will not be enough, please don't just spend all the money and later be looking for additional money. I know a TEF 2015 winner that made that mistake, he later went to look for job now as an employee.
13. Again, I say this to you, never run out of cash.
14. Don't employ staff you don't need and don't promise a salary that you can't afford to pay. For my own type of business, generally, we start you small on the payroll and increase it after the third month. What you would do in your own business might be different because businesses have peculiarities.
15. In the same vein, don't hire somebody that you cannot fire.
16. Ensure that you pass all your transactions through the bank. That is No 1 documentation for your business. You will need it for many purposes.
17. Ensure you leverage on your TEF Award to access more funds for your business. You can see example of Mamamoni, Keexs shoes etc.
18. Also use your TEF Award for more visibility for your business and ensure you network with other TEF alumni.
19. You should set a goal for yourself that after 1 year of your business I would have made a profit of minimum additional $5000 sitting in your bank account as cash. That was the goal I set for myself and I achieved it.
20. At any time, you need consultation or help in your business, perhaps the business is not selling sufficiently, ensure you seek professional help.
21. Always seek for alternative source of income for yourself, place yourself on a salary and ensure you separate your income and the business revenue. This will help you to grow your own personal wealth e.g. I recently received a brand-new Hyundai Elantra car 2015 model from a network marketing company. The worth of the car is $30,ooo. If I rely on TEF money alone to build my personal wealth, I am sure, I will not have the car by now. After 1 year, I can sell the car again to do further businesses.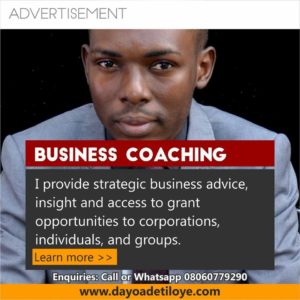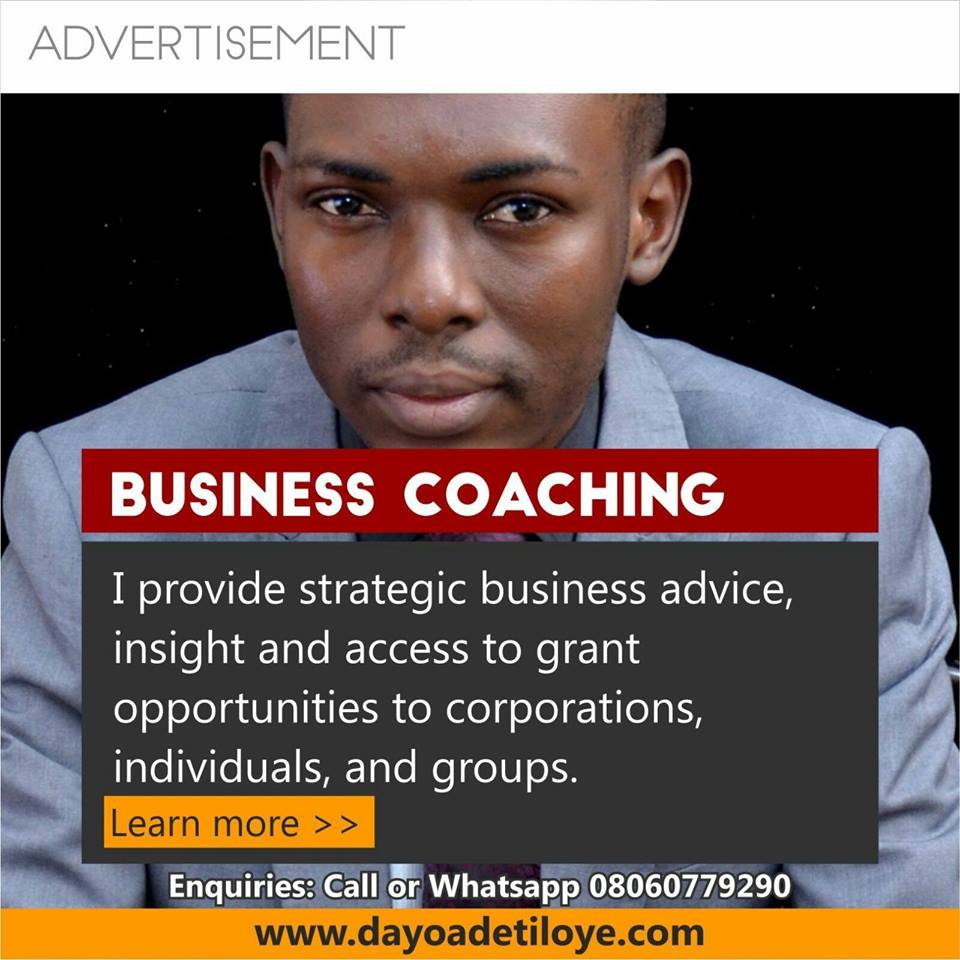 I have a lot to tell you, but business consultation is personal and it cannot be generalized. You, and all the other people reading this, have different businesses, different locations, different experiences and different propensity to learn.
From my company, Dayo Adetiloye Business Hub, we have a package to consult for just 20 TEF businesses basically to help you structure your business.
What does it entail.
How to allocate your TEF grant funds.

Cost reduction and operation structuring for your business.

How to maximize your TEF funds.

1-year business consulting retainership. That means you can call us to solve any of your business problem at any time of the year.

How to access more funds for your business and also leverage on your TEF Awards.
This consultation is just N50,000. We have slot for 20 people and 5 is already taken. 3 from Nigeria, 1 from Zambia and 1 from Ghana.
To engage us on the above consultation and reserve your slot, call or WhatsApp me on +2348060779290 or send an official email to dayoadetiloye@gmail.com.
We will use every medium to communicate with you because we have different client in different African countries especially Ghana and Zambia. We are based in Nigeria, but operate primarily from this website platform www.dayoadetiloye.com.
So, we can visit your business, have one-on-one conversations with you for the business structuring activities, we will do a lot through phone, email, skype, WhatsApp, etc.
We will be glad to work with interest, remaining 15 people.
To work with you,
Call / WhatsApp me on any of the following numbers
+2348076359735
+2348105636015
Or send me an email to: dayohub@gmail.com
Best regards!
Dayo Adetiloye,
CEO/Founder, Dayo Adetiloye Business Hub