7 Things to Note as You Attend my Billionaire Mentor Business Summit on Oct 1st 2019 @ Ibadan.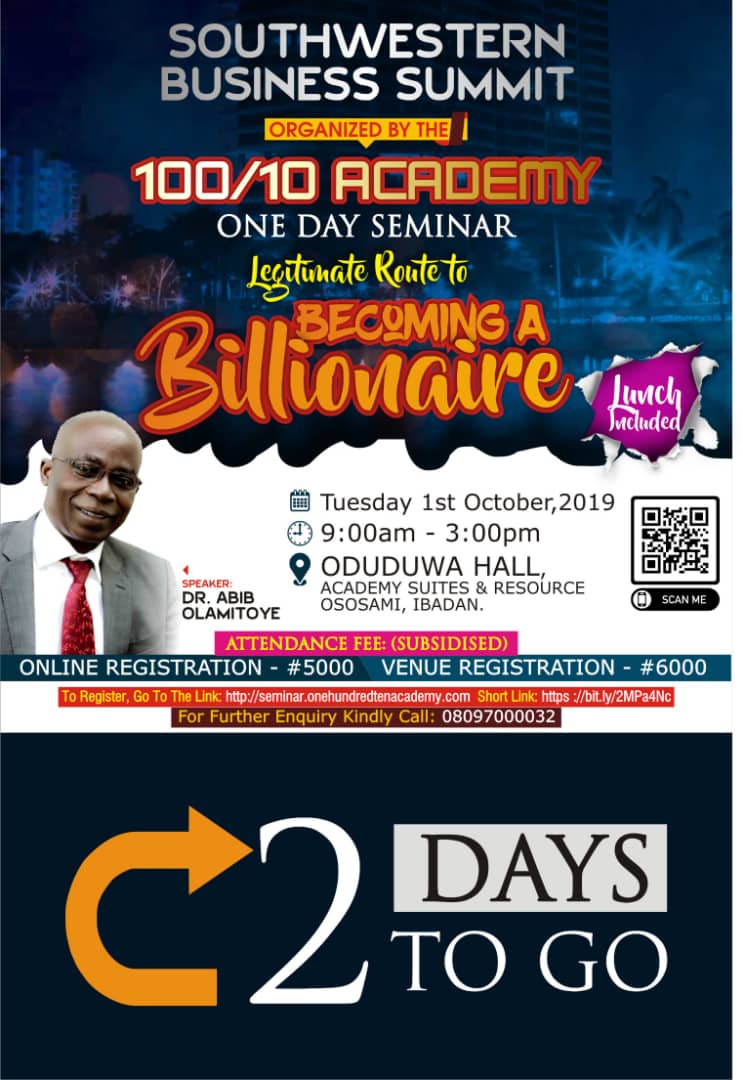 Hello My Dear Millionaire Friend,
Have you registered for the event?
I want to appreciate all the people who have chatted me up and registered for the event.
Here are 7 Things to Note as you Attend my Billionaire Mentor's
Business Summit on Oct 1st @ Ibadan.
For hotel reservation, call the Local organising Committee on The Academy Suite which is the venue of the programme is a Hotel with hall for events. It is owned by my billionaire Mentor. He has arranged Discounted Room Tariff.
70% of people coming to this even are coming from outside Ibadan. All the people I know that have chatted me up are coming from Abuja and Lagos. I myself will be coming from Lagos. I know someone who has arrived from England just because of this Business summit. Distance is not a barrier if you want to change your financial level.
Bring your products and services, your business cards and network with other entrepreneurs.
Come with money to buy my Billionaire Mentor's Books. He has written over 20 business books that have transformed my life and business personally. Just bring between N10,000 to N15,000 to buy books. If you get to meet me, I will recommend the books you should buy and read.
If you cannot make it to the event but you will like to buy books and you have up N10,000 to N15,000. I can pick some of the books and send to you through waybill. But you will have to send the money to me so that I can buy it at the event. Chat me up if you are interested on 08060779290.
Apart from the general business summit, there would be a closed Breakfast Meeting for seminar participant on Wednesday, the 2nd of October, 2019. Between the hours of 9 and 11am. Participation is open only to 20 people on a first come, first served basis.
If you have been stuck in one position for some time in your business,  I would advise you to avail yourself of this opportunity to brainstorm with great minds. The cost of the breakfast meeting is N10,000 flat. To register and pay for that, call the local organizing committee on 08097000032.
For your registration,
Registration is currently ongoing online at  https://bit.ly/2MPa4Nc Payment can be made online through our integrated means of online payment. However, if you are unable to pay online for one reason or the other, you can either effect a transfer or make a deposit into the designated summit account:
Call the Local organizing committee on 08097000032.  To request for the account details to pay to .
Once you have made payment, scan or screenshot evidence of your payment to 08097000032. This is to allow us make adequate preparation for your participation, most especially for your seminar materials and refreshments.
Please note that online registration is compulsory irrespective of your means of payment.
You can chat me up on whatsapp 08060779290 to book appointment with me, I will be there live at the Southwest Business Summit.
If you are already a billionaire, you don't need to come, but if you are not yet. If you can cancel other appointments to be there, please do. It's worth it. I tell you, you will thank me latter.
My billionaire mentor is not organizing any seminar this year again. You know what that means.
South Western Business Summit comes up on October 1st, 2019.
Theme: Legitimate Route to Becoming a Billionaire
Time: 9:00am – 3:00pm
Venue: Oduduwa Hall,
Academy Suites & Resource
Ososami Ibadan, Oyo state.
Attendance fee: Subsidized
Online registration and payment: #5,000
Registration and Payment at the Venue: #6,000
Till I hear from you,
Keep succeeding!
In 2019
"Success will never lower it's standard to accommodate you.
You have to raise your standard to achieve it.
God provides food for every bird but not in it's nest.
Rise up to the challenges ahead of you and conquer your fears!
Do not be ashamed of your hustle in 2019, nobody will feed you when you go broke…
*|FNAME|*, I will like to hear from you!
Till I hear from you *|FNAME|*.
Keep succeeding!
For: DayoAdetiloye Business Hub
DayoAdetiloye (B.Agric, MBA)-
AUTHOR – CONSULTANT – SPEAKER – ENTREPRENEUR – BUSINESS ANGEL
Helping men to discover, develop and fulfil their business potential.
…Raising 100 Young Millionaire Entrepreneurs in Five Years… since July 2012
08105636015, 08076359735