Apply for N1.2 million – N5 million Agric Loan and Processing Loan from BOA and SMEDAN for businesses in FCT, Kaduna and Oyo states.
BANK OF AGRICULTURE LTD. (BOA) / SMALL AND MEDIUM
ENTERPRISES DEVELOPMENT AGENCY OF NIGERIA (SMEDAN)
MATCHING FUND PROGRAMME FOR MICRO
AND SMALL ENTERPRISES (MSEs)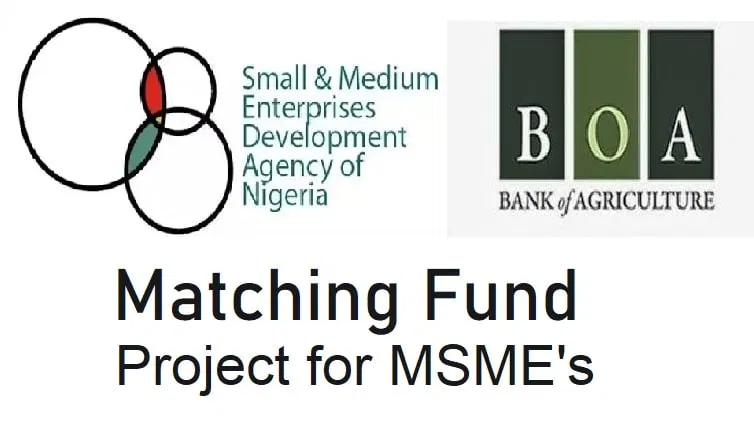 INTRODUCTION
As a concept, pioneered in Nigeria by Development Finance
Institutions (DFIs), fund matching has proved popular and
successful in making micro and small enterprises (MSEs)
attractive to access finance. The strategy requires the fund
matching partner (often a DFI and an MSMEs-promoting
institution/Government) to share the risks of making funds
available to target MSEs – usually at concessionary rates over the
medium-term.
Consequently, desirous of building synergy on this very important
aspect of their respective mandate Bank of Agriculture Ltd (BOA)
and SMEDAN hereby announces the commencement of the
BOA/SMEDAN MATCHING FUND PROGRAMME FOR
MICRO AND SMALL ENTERPRISES. This intervention is to
deliver credit, to the sub-sector, as a promotional mechanism to
enhance enterprises output, competitiveness and jobs creation.
The disbursing entity, under the programme shall be the Bank of
Agriculture Ltd (BOA).
PROGRAMME TERMS AND CONDITIONS
The here-under definitions, terms and conditions shall apply under the Programme,
viz:
Target Beneficiaries Definition: Target beneficiaries for this Programme
shall be labour-intensive, micro or small enterprises (SMEs), operating in the
real sector. These shall ideally be innovative value-added products that are
establishing footprint in the Nigeria market, and requires additional funds to
increase output. Qualified enterprises shall also be utilizing local raw
materials (at least 65%); are regulatory-compliant and as a result of the
facility obtained. Finally, in line with current emphasis of the Federal
Government, enterprises within the agricultural value chains shall receive
topmost priority.
Loans available under the programme: Prospective beneficiaries may
apply for loans within the range of 1.2 million – 5 million, with enterprises
modernization and/or expansion as the focus.
iii. Conditions/Terms applicable: The interest rate chargeable on all loans
under the programme, is currently fixed at 9% per annum. The Loan tenor is
for a maximum period of 30 months, effective from the date of first
disbursement. This is inclusive of moratorium (which may vary between 2-6
months depending on the type of enterprise). Beneficiaries must complete a
loan application form in hard copy or online, sign all necessary documents
with BOA, and shall also bear cost of all approved charges (appraisal fee,
stamp duty etc.) All approved charged shall not exceed 0.5% of the facility
amount and are expected to be paid up-front. Finally, mandatory insurance
cover by NAIC applies to all beneficiaries under this programme. Insurance
premium shall be paid annually, by beneficiaries, over the project life.
Applicable Security: To improve accessibility to the target beneficiaries,
this facility does not require provision of collateral security. This is in
line with global best practices for delivering development financing to MSEs.
Nevertheless, all prospective beneficiaries shall:
Provide Bank Verification Number (BVN)

Execute Global Standing Instruction (GSI), giving right to the Bank
to activate the Global Standing Instruction and debit the loan in the
event of repayment default.
Procure NIRSAL Credit Guaranty Cover

SMEDAN Identification Number: All applicants for this facility are
expected to have registered and received a SMEDAN unique Identification
Number (SUIN) from the link smedanregister.ng on our website
(www.smedan.gov.ng). Please note that registration is still ongoing and as
such interested MSEs are welcome to register as part of this process.
Registration is free.
MATCHING FUND PROGRAMME FOR MICRO
AND SMALL ENTERPRISES (MSEs)
PROGRAMME IMPLEMENTATION MODALITIES
To facilitate inclusiveness and transparency, under the programme, the hereunder
are the approved, step-wise, implementation modalities for all applicants.
Portal Opening: This shall be done via a public notice placed in
selected national dallies to invite all suitably qualified MSEs to apply via
link smedan.simplifiedcredict.net on the SMEDAN website
(www.smedan.gov.ng). Once migrated to the Simplified Credit
portal, pre-qualification of application shall commence.
Pre-qualification of Application: This takes the form of soliciting
binary (i.e. Yes/No) responses to a number of fields to confirm the
applicant's suitability for the facility. Disqualified applicant cannot
proceed beyond this stage.
iii. Business Plans Submission: To continue pre-qualified applicants
shall be required to pay a processing fee of ten thousand (N10,000.00)
naira for the Business Plan template on the platform (Note that a
separate training fee is not required). Also, note that a number of
Business Plan slot shall be allocated to each participating state/FCT.
Consequently, entries for such state shall cease when the required
number is met
Business Plans Evaluation: it shall be the responsibility of SMEDAN,
using approved in-house criteria, to shortlist business plans for field
validation. Such criteria shall include the following, bankability of
business plans; equitable distribution of prospective beneficiaries;
gender balance.
Field Validation Visits/Referral to BOA: Field visits shall be carried
out to all shortlisted MSEs, from the preceding stage. Validation MSEs
form this process shall be referred to BOA.
Due Process/Confirmation of Final Beneficiaries: This shall be
based on BOA lending policy/agreed criteria for this programme. BOA
shall thereafter inform all successful applicants, with guidance on next
steps.
vii. Refresher Training of Selected Beneficiaries: All selected
beneficiaries shall receive refresher entrepreneurship training, at no fee,
by SMEDAN, as a condition to draw-down.
viii. Opening of Bank Accounts: All successful applicants shall open (and
operate) account with the BOA branch nearest to their project location.
The required 10% lien deposit shall thereafter be paid into their
accounts by SMEDAN, prior to draw-down.
Loan Disbursement/On-field Recovery and Advisory Services:
Loans disbursement shall be by BOA, who shall also commence loans
recovery at the end of the advised moratorium period. SMEDAN, on its
part, shall carry out quarterly advisory visit to beneficiaries, during this
period.
CALL FOR PARTICIPATION:
The joint programme partners – Bank of Agriculture Ltd (BOA)
and Small and Medium Enterprises Development Agency of
Nigeria (SMEDAN) – hereby invites applications from all suitably qualified
micro and small enterprises (MSEs) located in FCT,
Kaduna and Oyo states. It should be clearly understood that
programme particulars set out in paragraphs 1 – 3, above, form
the basis for consideration of loan requests under this
programme. Consequently, applications from qualified micro and
small enterprises, shall be received over a period of six (6) weeks
or when the allocated quota of business plans per participating
state/FCT is exhausted (whichever comes first). Portal
Opening Date is Tuesday, 15th December, 2020. All suitably
q u a l i f i e d M S E s a r e t o a p p l y v i a l i n k
smedan.simplifiedcredit.net   on the SMEDAN website
(www.smedan.gov.ng ). Once migrated to the Simplified
Credit portal, pre-qualification of applicants shall commence.
Managing Director/CEO
Bank of Agriculture Ltd (BOA)
1, Yakubu Gowon Way
P.M.B 2155
info@boanig.com
www.boanig.com
Director General/CEO
Small and Medium Enterprises Development
Agency of Nigeria (SMEDAN)
No 35 Port-harcourt Crescent,
Off Gimbiya Street, Area 11, Garki, Abuja
info@smedan.gov.ng
www.smedan.gov.ng
BANK OF AGRICULTURE LTD. (BOA) / SMALL AND MEDIUM
ENTERPRISES DEVELOPMENT AGENCY OF NIGERIA (SMEDAN)
Source
FULL PG B&W ADVERT (SMEDAN) LATEST
The questions to answer
BOA-SMEDAN Matching Fund Program