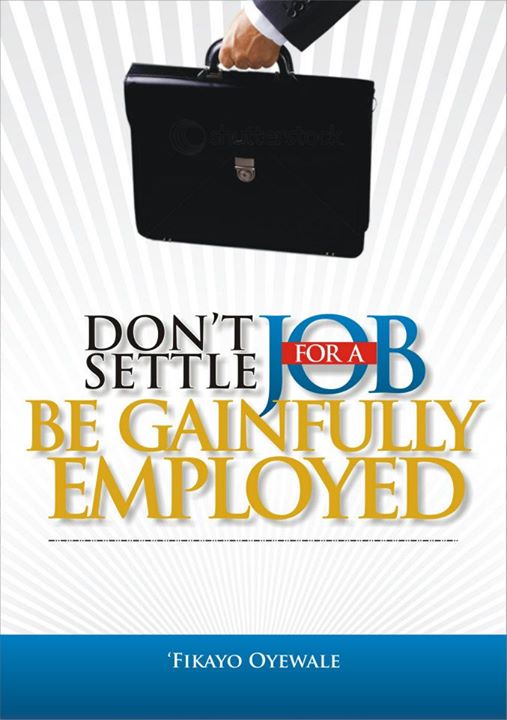 Have you discovered your work potential in life? This book can truly guide you to be gainfully employed.
You don't have to settle for that unfulfilling job. It is a great liberation book.
–     Dayo Adetiloye
Author, unleashing your entrepreneurial potential.
Lead consultant, 100/5 Academy.
Chapter 1
JOB VERSUS EMPLOYMENT
"A ship in harbour is safe, but that is not what is not what ships are built for" – Willian Shedd
Chapter 2
YOUR PLAN
"A dream is not something that you wake up from,  but something that wakes you up" – Charlie Hedges
Chapter 3
WHAT DO YOU SEEK?
" All of our dreams can come true- If we have the courage to pursue them- Walt Disney
Chapter  4
10 ABSOLUTELY INDISPENSABLE QUALITIES OF GAINFUL EMPLOYMENT
"We are what we repeatedly do, Excellence, therefore is not an act but a habit"- Aristotle
Chapter  5
GETTING IT RIGHT NOW: A CASE FOR NIGERIA
"Don't create systems that serve as crutches for people to walk on; create systems of work that serve as ladder which enable people to climb with their own legs and see father" – Fikayo Oyewale.
"A good job can change a person's life, and the right jobs can transform entire societies" – Jim Young Kim.
The Author, Oluwafikayo Ajibola Oyewale desires to effect global transformation through inspiration, one person at a time. He seeks to work with individuals, communities and organisation on projects of significant impact.
He is the solution strategist at VitalMeet Enterprise Solutions, a company on a mission to create platforms for individuals, communities and organisations to impact their world positively.
He is an ambassador of Generation that is Empowered, Motivated and Stirred to Operate with Natural Excellence (GEMSTONE)
To book him for speaking at conferences, seminars, trainings etc. contact him on Fikayo"begainfullyemployed.com or call:+2348020318532
Copyright 2013.
Published by: Daverhodes 9, Rafiu str, Fatade, Baruwa—Ipaja, Lagos
ISBN 978-978-932-916-8
Pages- 128
Price N500
For distribution or bulk purchase call: +2348020318532