To buy this book, Click here and buy through Konga.com
This book has all what it takes to turn your business, either small or big, into a cash minting venture. It has been written in simple and concise language for easy comprehension. Insights are been revealed on hidden business techniques that can transform your business around.
CHAPTER 1
BEFORE YOU QUIT YOUR JOB TO START A BUSINESS
This chapter is about what an aspiring entrepreneur needs to know before embarking on a business. Your motive for owning a business should be a right one in order to set you on a right track. Akin Alabi has clearly shown us the principles needed for starting a business. Before starting any there must be a strong drive and reason to succeed because entrepreneurs face more challenges.
CHAPTER 2
HOW TO DECIDE ON THE KIND OF BUSINESS YOU SHOULD DO
This chapter focuses on making the right choice of business. As a smart entrepreneur, you need to look for a starving crowd, i.e., what people want and then create a business around it. Be in love with the market and not with any kind of business or service. For you to gain ground in the business world, you need to be on the lookout for "red hot markets", let your daily experiences and interactions with the world decide which market you should venture into.
It also talks about the principle of selling what people want and not what they need to buy, you should find a market before you think of the product.
CHAPTER 3
HOW TO BECOME NUMBER ONE IN YOUR MARKET PLACE
This chapter talks about how you can dominate your market. Being the first in your market place, creating an extra-ordinary value to your product or service, changing your focus and target audience are various techniques by which you can gain ground in your market place.
CHAPTER 4
HOW TO ADVERTISE FOR MAXIMUM PROFITABILITY
Chapter 4 is about the need to advertise, there are various reasons why people advertise, you have to decide on your own motive for advertising. Your reason for advertising will determine the kind of advertising you'll put out there. As a small business, just growing, you're advised to run adverts that will bring instant returns. It also throws more light on the seven commandments of direct response marketing. Your target audience and market determines the type of advertisement you make.
CHAPTER 5
WORD OF MOUTH MARKETING: HOW TO GET OTHERS TALK ABOUT YOUR BUSINESS
This chapter talks about the power of recommendation from other people and techniques on how to initiate positive word of mouth.
CHAPTER 6
HOW TO PRICE YOUR PRODUCTS AND SERVICES FOR MAXIMUM PROFITABILITY
This chapter enlightens on the essence of adding value to your products as people are not looking for the lowest prices but what they perceive as the best deal. People buy when they can feel the value of what they are buying, not necessarily because of reduced prices.
CHAPTER 7
WHAT'S NEXT?
Chapter 7, the final chapter in this book, talks about various nuggets for you to be successful as an entrepreneur such as starting now and small, going online, focusing and establishing one business before going into another, learning how to keep and invest money, etc.
All these, if applied, will not only help you to be a successful entrepreneur, it will also make your business productive.
To buy this book, Click here and buy through Konga.com
Or  Call me on  08105636015, 08076359735.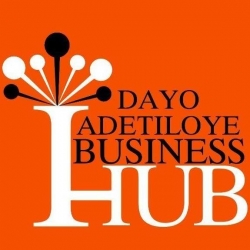 Latest posts by Dayo Adetiloye Business Hub
(see all)