Business schools in Nigeria
Business Schools in Nigeria, Nigeria as a country is the most populous in West Africa and Africa at large with a population of over 188 million by current estimate, a land area of 923.768 km2 with 1.4% covered with water and thirty six (36) bubbling states.  The country has a total purchasing power Gross Domestic Product (GDP) of $1.166 trillion and nominal Gross Domestic Product of $484.895 billion.
This population statistics makes it a perfect place for business knowing that your target market takes a good percentage of the already huge potential patrons. She also stands as a distinctive country that hosts several multi-billionaires recognized in the world at large. Little wonder we have some exceptional business schools that have been churning out brains with passion for excellence and productivity alongside attaining in-depth knowledge and experience in business management.
Below are some business schools here in Nigeria with the basic purpose of training individuals to improve the economic status of the country through proper training of big minds to transform business ideas into reality.
Today, I introduce to you seven outstanding business schools, they are the Lagos Business School (LBS), Business School Netherlands Nigeria (BSN), African Business School (ABS), Executive Business School (EBS), GPE Business School (GBS), Fate Foundation Business School (FFBS), and West African Business School (WABS).
Lagos Business School (LBS) – Lagos Business School(LBS) is the graduate business school of the Pan-Atlantic University, located at Ajah, Lagos State, Nigeria and founded in 1991. Lagos Business School is a distinguished business school which shares a campus with the Enterprise Development Centre of the Pan-Atlantic University. The school's mantra is to develop responsible Leaders for Africa and the World at Large. It offers a broad spectrum of executive programmes such as Masters of Business Administration (MBA), Modular Executive MBA, Open Seminars, and Custom programmes to suit your business style. Courses include Smart Business Decisions, Accounting and Finance, Business Process Management etc. It is really a place to be for anyone looking forward to being a Business Expert.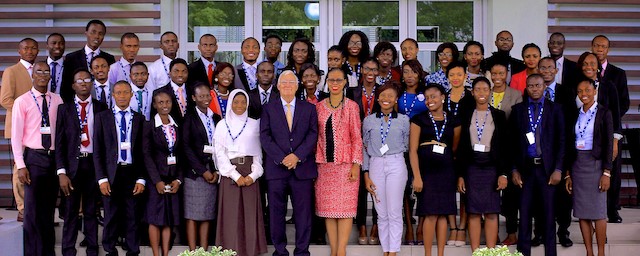 Business school Netherlands (BSN) – Business school Netherlands, Nigeria was established in August 2003 by a Nigerian entrepreneur and strategically located at 8, Adekunle Fajuyi Way, Ikeja GRA, Ikeja. It is a unique business school that is managed by trainers from Netherlands who offer subsidy to Nigerian students compared to what their colleagues in Netherlands pay for the same quality of knowledge. It would cost a student about 3.7 million naira to earn a Business Administration degree which is far low to what would have been spent going to Netherlands. The school exposes students to both practical and theory aspects of business and also train them to carry out several business projects to bring out the best in them.Business school Netherlands has successfully produced over three thousand 3000 projects in an effort to improve day to day businesses in the country. Below are some graduates of Business school Netherlands, Nigeria.
African Business School (ABS) – African Business School was is located at 3rd Avenue, Plot 100, Gwarinpa Estate, Abuja, the state capital of Nigeria. It was founded in the year 2000 and associated with several nationaland international business schools. The school offers a variety of programs inMarketing and Banking Management, Business, Finance, Administration and Accounts. It also offers training in Purchasing, Computer, Insurance/Risk Management, and Public Administration.African Business School is CMD (Centre for Management Development) accredited and also organises interactive forums to bring men of like passion together who consistently exchange great ideas in different areas of investment and management. The school's unique motto is 'Excellence in wisdom and Understanding'.
The Executive Business School (EBS) – The Executive Business School is a distinguished business school established in the year 2007 and located on the 2nd floor of NACCIMA House, 8A, Akinjobi, Street, Ikeja GRA. It has affiliations with many international schools in UK (Britain to be precise) and other parts of Europe and offers a range of professional programs in business which is in high demand such as Doctorate of Business Administration (DBA), Master of Laws (LLM), MSc Corporate Governance, MSc Accounting and so on. The school was formed with the main goal of giving a direct response to the need, aspirations and desire of business people to realise the potential of professional skills and knowledge in the country by providing quality undergraduate and postgraduate studies. The Executive Business School is compliant with international best practices as well as the maintenance of UK/European quality assurance processes. It is also a proud member of the Association of Chartered Certified Accountants (ACCA), UK.
GPE Business School (GBS) – GPE Business School is located at 27, Nwafor Orizu Avenue, Independence Layout, Enugu State, Nigeria. The Executive business school which was established on 2007 is well known for offering high quality undergraduate and postgraduate Courses in Business Management. This is the First South Eastern Business School to make a difference in its society by training students to not only be business focused but also be smart enough to render great establishments from their passions. It is a non-profit business school that usually gives free training to individuals that show a level of seriousness. Its main purpose is to provide a creative formal business education that will prepare would be entrepreneurs and also empower business managers.GPE Business School offers concise, result oriented and case study basedprograms whichbring about an educational experience that will further empower students in understanding global business while thinking locally.The three major pillars of the school's philosophy development are principle, practice and research.
Fate Foundation Business School (FFBS) – Fate Foundation Business School is a non-profit business school located in Lagos Stateand established in 2004. It is recognized as one of the best Nigerian Business Schools driven with a passion to train ambitious entrepreneurs most especially the youths of the society. It is private-led business school which has successfully trained over seventy thousand (> 70 000) business students and aspiring, emerging and experienced entrepreneurs by providingthem with training, knowledge and information on how to start, grow and sustain their businesses. Their programs are suitably divided into three categories namely Aspiring Entrepreneurs Programme (AEP), Emerging Entrepreneurs Programme (EEP), and Special Entrepreneurs Programme (SEP). Fate Foundation Business School has a special focus on Women, Females, Youths and Pre-Retirees. It also provides business support, advisory and ancillary services to its alumni and other Nigerian entrepreneurs through:

Mentoring: (Group and one-on-one mentoring)

Consulting (Business Plan Development, business registration and referrals for discounted professional services)
Incubation & Placements (Work space, internet and business model strategy support for start-ups, Job shadowing and learning for high potential start-ups.
Funding (Business Plan Competition Grants, Collaborations with investors for funding partners for financing support.

Continuing Education (Workshops and Knowledge Building Sessions)
West African Business School (WABS) – West African Business School is an African based business school which is operational in different African countries mostly Nigeria and Ghana.In Nigeria, it is located at 2nd Floor Suite, B201 Trinity Mall,81 Obafemi Awolowo Way, Ikeja, Lagos Nigeria. It was established in 2002 to create and grow intellectual assets for a sustainable African economy through impact of superior knowledge in company executives, managers, public administrators, entrepreneurs, politicians, business men & women and community leaders especially within the Economic Community of West African States (ECOWAS). This has earned the school several international recognitions in the delivery of world- class skills, training, human capital development, professional education, executive education and socio-economic research.The school's business model is divided into four categories namely
WABS Centre for Corporate Learning and Development (CCLD) – (Executive Open Enrolment Programmes (EOP) & Distance E-learning Programmes (DEP))

WABS Centres of Excellence (CE) – (Entrepreneurship Development Centre (EDC), Professionals Development Centre, SME Training & Development Centre (SMETDC), Financial Education Centre, Independent Research Projects Centre, Professional Books Distribution & Publishing Centre, International Traders Training Centre, Diversity Learning Centre&ECOWAS Children Computer Academy)

WABS Research Information and Consultancy Service (RICS)

WABS Executive Education Programmes (EEP)
These schools are some of the numerous business schools existing in Nigeria depending on your taste, size, financial capacity and referred location. The aforementioned are distinguished for the best return on investment for graduates of their MBA (Masters of Business Administration) programs and world-class management education. They rank top in their quest for impact, concentrations, acceptance and continuity.
However, choosing a satisfactory business school for your passion as a prospective student may not be an easy task as you have to make your research about them on the internet and if possibly go to their respective offices physically to make other enquiries. You can also make contact with their alumni who has similar interest with yours.
Finally, doing business is one thing; getting the right information that will help you scale through the incessant hurdles facing businesses is another thing. A proverb says, you can have so many ladders at your disposal but if you don't know the right way to use it, you may never be able to climb to get to the top.
Expand your horizons and go forth into the twilight as you make a decision today.
All the best!
Written by Joseph Abimbola V.