Application Deadline: 31st of December 2019.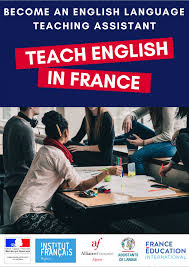 Are you a Nigerian student studying French and would like to become an English Language Assistant in France for 7 months?
The recruitment campaign for English language assistants in France for the 2020-2021 school year is now open.
About 30 English assistant positions in metropolitan France and the French Overseas Communities are offered to Nigerian students for the 2020-2021 academic year. Worldwide, approximately 5000 positions are open to more than 50 nationalities of candidates.
Why?
This program is designed to give Nigerian students the opportunity to dis-cover a new region and culture by working alongside an English teacher in a French school environment.
The program is not aimed at experienced English teachers, neither is it for students intending to become language teachers, it is simply an opportunity to gain seven months of international professional experience.This program is open to students of all disciplines who can demonstrate a competence in French, and who are seeking to increase their linguistic and cultural proficiency.
The Role of the Assistant
• Participate in language training for students in and out of class. Leading study on themes of civilization and, in general, aiming to interest students and teachers in the language and culture of Nigeria.
• Provide help in the classroom with oral and written English for small groups of students. Working either with a teacher in their class, or leading a variety of exercises with a small group of students, or conducting a variety of activities outside of school hours, accompanying the teachers.
The assistant will be expected to organize oral expression activities on their own with small groups of students or to work alongside the supervising teacher with the whole class.
• Provide linguistic and cultural assistance to teachers. The assistant can help the teachers on many extra occasions: visits, exchanges, exhibitions, drama groups, publication of a newspaper, school correspondence, club activities, creation of didactic material.
READ ALSO: French Government Challenge of 1000 for African Entrepreneurs 2020
Eligibility:
• Candidates must be NIGERIAN citizens. Permanent residents are not eligible.
• Candidates must be between 20 and 35 years of age at the time of taking up their positions
• Candidates must have completed their secondary education in NIGERIA.
• Candidates must be enrolled at an NIGERIAN university at the time of application.
• Candidates must have completed at least two years of university studies.
• A minimum Level B1 in French is required
• Candidates must be native English speakers.
• Candidates should preferably be single, as the salary of an assistant is not adequate to support dependents.
Application must be online by Sunday January 12th, 2020. Late or incomplete applications will not be accepted.
The application form (in french) must be filled in electronically. kindly click on the link below:
Please find below a tutorial to the application form:
TUTORIAL OF THE APPLICATION FORM IN ENGLISH
Your application should be sent to assistantlangue.nigeria@gmail.com and in hard copy to the French Embassy.