Corper Ameh Gabriel Solving Unemployment Problem through Agriculture In Ekiti State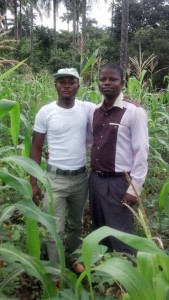 The state coordinator of Nysc Ekiti state, Mr. T.C. Ibeh heavily represented by the local govt inspector of  Nysc Ijero local govt, Mr. Akinola Donald has visited my farm on the 6th of Oct,2015
On the farm ,the local govt inspector marvelled at the farm ,the farm which comprises of six thousand heaps, maize interplanted with cassava. Globally, i, corper Ameh Gabriel, the president of Agro allied community development service group  Ijero chapter batch A, 2015 has written and published an article titled " the global increase in the demand of food put money into my pocket" on the conceptualization of my farm. The local govt inspector emphatically stressed that i  have made wonder to have spent only one of my allowances on the farm that can presently worth  #300,000 .He further stated that i  deserved an award because i have set a landmark that no corp's member has done in this part of the state before. A project that entails entrepreneurship and self development which is and will continue to serve as a source of example to students, serving corp members and prospective corp members to emulate.
On this note, i want to say that entrepreneurship is a bridge to success in this our 21th century. Everyone should be venturesome in order to be self reliant to face the challenges of economic crises. Though, the Federal govt of Nigeria has made everything easier by introducing entrepreneurship into collages, polytechnics and universities for students to be equipped with the skills necessary to  curtail the economic challenges. This is because it is impossible for the govt of a country to provide job for the whole graduates. I, corper Ameh Gabriel, an  Agricultural economist from the  federal university of Agriculture Makurdi has been loaded with both agricultural and entrepreneurship practically. At Ekiti state Nysc orientation camp, i was activated , motivated and made good to go by a resourceful person, Mr. Dayo Adetiloye who gave a lecture on Entrepreneurship titled" starting ur own business". As an agricultural economist, a policy maker, an innovator, an expert in management and technology and all round managerial skill such as planning, organising, monitoring and evaluation, i had to practicallize my field which is aimed at making food available, affordable and sustainable( food security)  in Ekiti state where i am presently serving as  corp's member. Categorically speaking, nobody, no sector, no economy can do without Agriculture. It baffles me when the name "farming" becomes allergic to some  graduates of agriculture after mentioned. As for me, i can create thousands of jobs for people  in agriculture if i have land, source of water and capital.
Apply: Accessing Funds for your Business through Helping Hands International
In addition, i also encountered some difficulties in the course of my farm when i wanted to diversify to broiler production.  I wrote an application using my farm as collateral to collect a loan of #100,000 from the bank where my allowance is paid. I also stated that #8000 should be removed from my allowance every month in view of the loan to make the loan repayment easier for the nine months i had then. To my greatest surprise, i was denied of the loan owning to the attitude of financial institution, otherwise i would have ventured into broiler production to increase the value of my pocket.
From the above, i want to suggest that the federal government should make loan available to serving corp members via bank, using their allowance as collateral. This will enable them to practicallize the skills acquired during their service year.
That is  Corper Ameh Gabriel Solving Unemployment Problem through Agriculture In Ekiti State experience.
Read also: Global Increase in demand of food and how is putting money into my pocket by Corper Ameh Gabriel