Executive Summary of Event Centre Business Plan in Nigeria
PATILAD Recreational And Event Centre has identified both individual, corporate and family entertainment industry as area of interest and to that end the company is planned to lift the eyebrow of the hospitality and tourism industry in Abuja Nigeria, through provision of world class recreational facility, beautiful and serene environment, spacious and world class facility that features events marquee (for wedding receptions, conferences, seminars, award ceremonies and the likes), a leisure centre featuring: a six aside or five aside football pitch which can be used for open air activities/or canopy events and likes.
We have made our recreational centre of one that can be suitable for both young and old, single or married, and for official or unofficial purposes. We also have a Day-care/Creche session which caters for families who are living or working around our facility or families who feel like using nearby gyms or do some other important activities around can subscribe to our Day care service.
We also feature superb restaurant and bars providing al fresco dining, we have very good chefs, who prepare quality local and intercontinental dishes, classy winery and bar tenders, accompanied with a nice natural fresh clean air.
We have excellent work force, event planners, standby DJs, professional entertainers and entertainments.
In PATILAD Recreation and Event Centre, we don't just want people to come and relax, we want to give them an experience, because the keys to providing successful experiences are authenticity, fun and participation.
Quality family entertainment is the focus of PATILAD Recreation Centre. The construction and commercialization of one initial FEC is factored into the initial development phase detailed within. The company's proposed FECs will be designed to provide the type of family entertainment and adventure the current market demands.
In addition to other funding and capitalization efforts detailed herein, the Company anticipates that it will seek funds from other sources who may assist in installing and constructing more facility.
It's been researched and proven that Abuja has since 20 years ago been a destination for recreation. Most musicians and bloggers often make mention of Abuja has the place of fun, in Sunny Ade's word in Yoruba Language "Abuja ile-afe" i.e. "Abuja home of pleasure", therefore personal consumption and expenditures for amusement and recreation is always on the increase.
With our strong management team and our aggressive marketing plan, we project a consistent and minimum annual growth of 15 percent.
VISION
Our vision is to build a world class business and recreational centre in Abuja and other major cities in Nigeria, and earn our place amongst the first five in the Nigeria.
MISSION
To establish a safe, fun, exciting (and profitable) entertainment facility, which will be a place of excitement, relaxation, refreshment and unwinding for both young and old individuals and families in all seasons.
To provide excellent recreational facility and event centre, where customers can receive excellent service in a playful, relaxed and safe environment.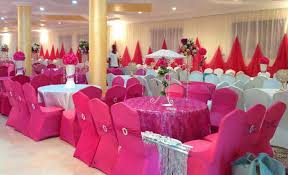 To listen intently to customer needs regarding the entertainment, activities and facilities relating to safety, environment and services and act accordingly with respect to those needs.
OBJECTIVES
To serve our customers   beyond their expectations

To have a clientele return rate of 90% by the end of first year.

To become one of the most visited destination in the city

To increase the Number of customers by 20% per year through superior customer service and word of mouth referral

To create solid awareness scheme to inform our community and city our product and services
Management team
Dayo Adetiloye- He is the founder and owner of PATILAD Recreation and Event Centre, has a multitalented business administrator who has been in the tourism and hospitality industry for over 25years. He studied business administration from UNIBEN, he did his masters in business administration in Lagos. He is a certified PMP holder, a graduate of the pan-African EDC business school, and has worked with many top rated recreational and event centres in Nigeria, having worked in Water parks Lagos for his first work experience, and worked there for 7years, while he relocated to the United States and was opportune to be exposed to 3years work experience in Walt Disney Amusement Parks, before he joined Lighters Houston Events company to work as a sales and marketing executive, for 10years before returning to Nigeria to consult for tourism and hospitality companies.
Claro Johnson– She is a chattered accountant and has a master's degree in business administration. She is also a certified project manager and will be assistant administrator and also in charge of book keeping, financial balancing, account management and projects head. She has a 15years experience in auditing, project managing with J&B accounting firm and was an auditor for Billings Way Groups of Events respectively.
Silas Filani -He is a certified PMP consultant, he is in charge of He Is a graduate of general arts from Obafemi Awolowo University, has a certified EDM certificate from Huston University South Africa, He has worked with Project Arts, FQL interiors and has a 13years experience as a lead designer. He is the artist heart and head of the company, he is in charge of the creativity and entertainment management of the company.
Kemi Philips- She is into general contracting, and a professional sales and marketing expert. She read marketing from the university of Port-Harcourt, she is also a master's degree holder in digital marketing from the university of Hamburg. She has 15years in general contracting, worked with Studio 24, Millenium Parks, and hosts a YouTube show. She is the head of general contracting, sales and marketing.
Financial Plan
Salaries and rent are the two major expenses, while depreciation is another significant cost that will increase as the company develops.

We want to finance growth through cash flow and also through investor grants or investment bank loans.
   Important Assumptions
We accept cash and checks, Visa, MasterCard, online transfers Express. All sales paid via credit cards will be deposited in our business checking account within 48 hours.
The business will reach positive cash flow in its 2nd year of operation, allowing for expedited repayment of its loan obligations, as well as for dividends to be paid to the owners.  Revenue will top N100,000, 000 and profit will reach about N280,843 ,950 in the 2nd year of operation.
To buy the remaining part of this business plan, including the detailed financial analysis, call any of our business plan consultants on 08105636015, 08076359735, and 08113205312. You can send a WhatsApp message or email us at dayohub@gmail.com or info@dayoadetiloye.com.
We help institutions and organizations write concepts, implement Business plans, and train on business Plan writing in Nigeria.
We can help you write a detailed, bankable and comprehensive business plan for your business idea.
Call any of our business plan consultants on 08105636015, 08076359735 and 08113205312
Or send a WhatsApp message or email us either at dayohub@gmail.com or info@dayoadetiloye.com.
Click to buy this business plan now & download it immediately from our online store.