WorkStudy Nigeria
Presents:
FINANCIAL INTELLIGENCE SUMMIT 2016.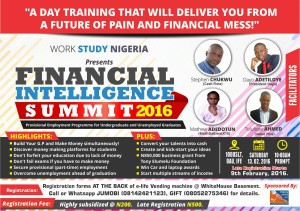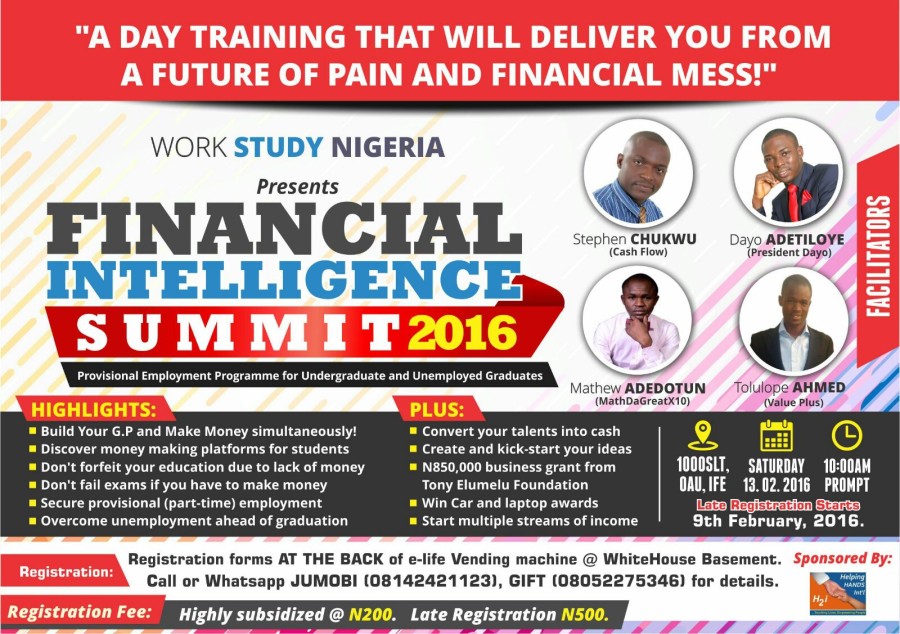 Hi Good day!
Please read this information carefully, it is meant to provide a viable solution to the ever disheartening employment conditions in Nigeria.
It is no news that countless number of staffs are been laid off due to the falling prices of oil and the compulsory down-sizing of organization especially banks. This notwithstanding about 1.2M Nigerian NYSC Graduate are produced every year and are all left to seek for jobs where, as we see, are not available or reliable. Hence one must be properly armed with the necessary INFORMATION and skills to excel.
Without much talk, let me introduce you to the Maiden Edition of 2016 Version
FINANCIAL INTELLIGENCE SUMMIT 2016.
Meet Our Faculties
See some of their profiles;
Stephen Chukwu aka CashFlow: A the man that won 9 Hyundai Elantra Cars) and
Egbedeyi Oluseyi aka DaBest: The undergraduate student on University of Ibadan, the Youngest minister in H2i. He is coming with his H2I Car
Adetiloye Adedayo (PresidentDayo). The man that won His Laptop in 6weeks, qualified for three more laptops in 3months and expects to receive his car on or before April.
Matthew Adebiyi (MathDaGreatX10). Pls fill in your profile yourself.
Use this link to pre-register and secure your seat: http://bit.ly/1OM9M1L. Seat Reservations will be done on a first come, first served basis.
OR
Pick up Registration Form At the Back of the Vending Machine at White House to book your seat as limited seats are available. Registration closes on 8th of Feb. 2016. Call me NOW to book your seat.
Kind Regards!
Oyebade Adejumobi
Associate Business Consultant AT dayoadetiloye.com
Phone No: +2348142421123 (WhatsApp)
Email: oyebadeadejumobi@gmail.com
Categories: NYSC, Graduates, Undergraduates, Jobs, WorkStudy, OAU, Feb. 13
FINANCIAL INTELLIGENCE SUMMIT 2016.