This much-anticipated competition will launch November 15, 2013. Pre-register today on the competition site to receive tips and tricks that may help you get ahead in the competition.
http://www.gogreeninthecity2014.com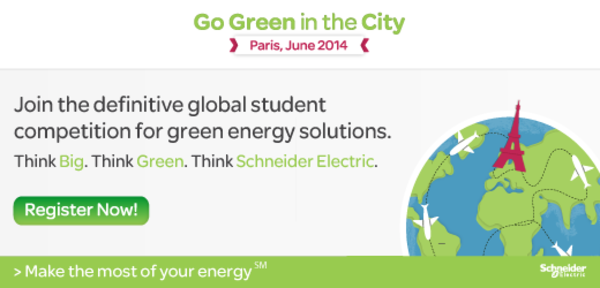 September 30, 2013 – In cooperation with Student Competitions, leading global specialist in energy management, Schneider Electric, is soon launching its fourth annual edition of Go Green in the City. Go Green in the City is an international business case competition that challenges students to come up with innovative solutions for efficient energy management. This exciting and innovative competition is not only a great opportunity for students to learn about the latest in the fields of energy, technology and business but also provides them with a plethora of opportunities to develop a strong career foundation.
Unlike previous years, this year the competition is open to students across the globe. Students sign up in teams of 2, where at least one team member has to be a female candidate.
The participants will test their knowledge in energy management, sustainability and the company responsible for making it all happen—Schneider Electric. In addition to answering the multiple-choice quizzes, students will submit their ideas for efficient energy management.
A real value add in the competition is the Mentor Phase. After successfully completing the initial competition steps and being selected as one of the top 100 participants, students will pair up with a fellow "thought leader" or a "Mentor" from Schneider Electric. The team and the mentor will work collaboratively to elaborate their (the teams) creative solutions for efficient energy management and create a written synopsis and a video presentation of their idea.
By bringing together competition participants and field experts, participants will have the benefit of receiving expert advice, support and mentorship from Schneider Electric employees. The mentors will offer invaluable insight and expertise to elevate the ideas and challenge the teams to think big.
Based on the submitted presentation of their ideas, the top ten to twelve teams will be invited to present their ideas in front of a VIP panel of judges at the finale event in Paris in June 2014. The teams invited to the finale will also get an opportunity to interview one-on-one with HR representatives at Schneider Electric**. The team that is able to outcompete and outperform the rest will be rewarded for all their hard work with the amazing opportunity to travel the world to two global Schneider Electric locations and a position at the company*.
As leaders in the area of energy management, Schneider Electric wants to know students' creative ideas and help them realize their common goal of creating greener solutions for smarter cities.
*The position to match Schneider Electrics requirements
** The interview does not guarantee a job or internship opportunity
Published on Studentcompetitions.com on Sep. 30, 2013.