How To Earn Money from 1two5ten Ofada Rice in Nigeria
How the Business work at www.1two5ten.net/ ?
Four basic guidelines to follow:
1. Become a customer/partner:
* Buy any of the qualifying product (i.e. any product from $50 and above)…e.g. radiation shield, and get the following:
• Starter kit (training DVD & book)
• IE-ID (Independent Entrepreneur Identification Number)
• Virtual Office
• 5 default tracking centres
Pls. Note: Qualifying product is bought once (no monthly autoship)
i.e you join with either N2,100 to earn active income
or Join with N10,500  to earn both active income and residual income.
To Join 1two5ten today, Call me on 09090613801.
2. Learn:
Here you will learn everything about the company, the products and the compensation plan.
Some of the tools needed for learning are included in the Starter Kit (training DVD & Book)
Remember, learners are leaders
3. Refer:
This is a CRP (Customer Referrer Program) business.
CRP is the 5th level of Network Marketing (i.e. you only refer customers to the company, not buy products to sell), just as you refer your friends and families to watch a good movie, visit a restaurant, use a mechanic, or a barber/hair dresser, so. You are not a product seller or a distributor, you are a referrer.
You are to refer a minimum of 5 people buying a qualifying product to ACTIVATE.
The 5 people will qualify your 5 default tracking centres.
4. Teach and Duplicate:
Here, you are to teach what you have learnt to your 5, and ensure they do the same.
Duplication is the key to success in this business; you are just to focus on bringing 5 and teaching them to do the same.
The essence of duplication is to help you build a strong and sustainable business system.
A strong and sustainable business is one that has 500 or more people involved.
The power of 5, growing exponentially can help you achieve this result.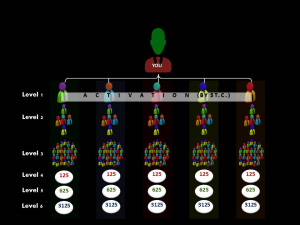 1two5ten has a seamless 6 levels vertical max-out, and infinite horizontal compensation plan.
This compensation plan (COMP PLAN) pays the following percentages on each level:
 Level 1:- 9% of Total Product Purchased Volume (TPPV)
 Level 2:- 19% of TPPV
 Level 3:- 13% of TPPV
 Level 4:- 7% of TPPV
 Level 5:- 5% of TPPV
 Level 6:- 3% of TPPV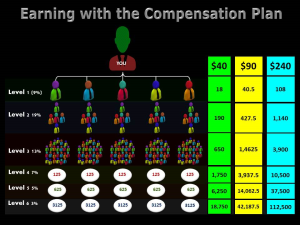 Please note:
1. Activation means having 5 people on your level 1 (either directly referred by you or your upline)
2. After activation, your earning is based on percentage of your Total Product Purchased Volume (TPPV), i.e. even if it's just one person that buys in a particular week. You will earn the percentage, no balancing
3. TPPV generated within a week is paid weekly
4. The week starts 12:01am on Monday and ends 11:59pm on Sunday.
5. Earnings are paid on Mondays.
To Join 1two5ten today, Call me on 09090613801.
Visit the company website http://www.1two5ten.net/