How to Make it Big in Norland Industrial Group Network Marketing Business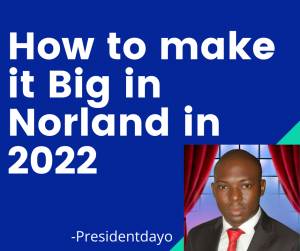 Norland is a network marketing business that sells health and wellness products, health items, healthy cooking utensils, power banks and also gives out electronics, cars, international trips, food item as benefit to members. Norland came into Nigeria about four years ago, and here are their testimonies. Over 1000 SUV cars have been given to members that qualified, over 500 international trips qualifier to Dubai and UK, numerous fans, TVs etc has been given to members. Billions of products have been sold, a lot of health conditions have been reversed e.g, Glaucoma, high blood pressure, Diabetes, Hepatitis, Ulcer, Cancer, infertility,  premature ejaculation, fibroid, just to mention a few.
My article is focused on How to Make it Big in Norland. If you have between N87,000 to N1,350,000, this is the kind of business you can start and grow into a big business.
My name is Dayo Adetiloye, and I have 8 years experience in Network marketing. I have worked with over 5 companies in the last 8 years in network marketing. My first car, I got it in Network marketing. I have made more money in Network marketing that I have made in my 9-5 Job. I joined Norland about 3 years ago; for the first one year I was just observing, and I did nothing. During my first year, I attended 2 car awards. Close to 100 SUV cars were given during this period. In the last 2 years, I have learnt so much and also climbed the leadership leader as a Silver Medalist. I will be using my wealth of experience to help new people to join with ease as you make up your mind to build a consistent cashflow. I which I had access to this kind of article 3 years ago when I joined.
Let me start by showing you:
How to Make it Big in Norland Industrial Group Network Marketing Business
1. Register a minimum of 5 active people to join your team:
A lot of people have not signed up anybody since they joined Norland, and they want to earn from Norland. It does not work like that. You earn by the movement of Norland products from factory to final consumer through registration of new member distributorship or retailing of the products.
2. Coach Your 5 New People to bring at least 2 New People each before the End of the year. This will make your team increase to 15 members. There is no way that you will have active 15 new people in your team that you will not blow financially with this business.

3. Bundle Norland Products and sell them as hampers: I am personally using this strategy. It is a way of bundling Norland products and selling it. Start your bundling from N20,000 to like N250,000. Put different products and combine them. Use as gifts for birthdays and other celebreations

4. Call all your downlines to ask about their wellbeing and their Norland business: Norland is teamwork. You need to care about your people. Ask about their strategies to build their business in the new year. Screen people that are serious from the unserious ones. Then give a special gift like Airtime, Data, Norland products etc to those that have done well. This is a way to motivate your team members. The power of one active person in your team is massive. In fact, if you have 2 active people, one by your left and one by your right, you will be smiling to the bank every week. That is the power of teamwork. You must prioritise this if you want to make it big in Norland. Prioritize leadership and people development. You can not do everything alone.
5. Sell Norland Products: A lot of people did not know that you can stock your Norland products and sell and make your money. You will enjoy 20% minimum profit if you do this. How many businesses today can give 20% profit margin. I enjoyed this a lot; I have passively sold more than 4 million worth of Norland products. Just imagine if I am now actively selling it. Learn how to sell Norland products to your friends, family, colleagues at work, community members, church members, people with health challenges etc.
6. Be a health Consultant: To do this, you must be very familiar with our prescription book and know exactly the functions of each product. Find a platform to educate people on the function and use of Norland products. You can do it online or offline. I do this a lot, and it helped me to be able to sell 4 million worth of Norland products in the last 2 years. For online platform, You can use a blog, YouTube video, Whatsapp groups and status, Facebook groups and profile, also Instagram. All are very good for the education of people about Norland products. For offline, Seminar platforms are very good. You can buy 30 mins in other people's events to talk about health and wealth.
7. Organise Seminars: This is a cash cow. Every successful Norland Top earners organise seminars. They do training back to back. To make it big in Norland, You must learn how to do Norland presentations on your own. Both the product presentation and the compensation plan. Some of you will say I cannot talk or stand in front of a crowd. You cannot continue like that if you really want to make it big in Norland.
8. Open Norland office in your area: This is another big way to make it big in this business. Put Norland signboard or banner at the front of your place. I do this in my location here. People have walked in to buy Norland products. I have gotten a lot of referrals by the fact that they saw my signboard. People can come in and book an appointment for a consultation. Even the Highest earner in this business just opened an office for this business in Lekki.
9. Set a Cashflow Target: Norland is not just about the SUV cars, international trips, Eko Hotel incentive packages. Norland is about financial freedom and the generation of consistent cashflow. How much do you make every week in Norland? This is where the big guns in the business are playing. My target in 2022 is to earn N2million weekly in Norland. So, I am in for a massive breakthrough in Norland in 2022. I remember I used to earn N3,000 weekly before, but the story has greatly changed. I remembered on time I earned N150,000 in one week; it was a great improvement compared to N3,000. But I am no more on that level now; levels have changed. I am targeting 8 figures now every week.
10. Invest time to learn Norland and How Network marketing works: A lot of members are completely Novice and they are not putting effort to learn the business. It is possible it was because of the products that brought you to Norland but now that you now know you can earn money, you need to take the learning of it seriously. I remembered when I joined; I watched virtually all the videos I could see about Norland on YouTube. I search Facebook to read every write-ups and download pictures of everything I see about Norland. My upline Chinorland linked me to her upline Madam Lilea to teach me Norland. I followed her bumper to bumper. I spent atleast 1 hr with her every week to the business. I ensure that I don't miss meeting both physically and zoom meetings. Even with my busy schedules because i still have 9-5 Job I am doing. I still show up for physical events and training. It was one of those physical events that Romeo, the highest earner, presented compensation plan, and I went to upgrade my account from senior member to diamond member. Today, all the learning is paying off. In network marketing, you learn, then you earn. I have read over 15 books on Network marketing and sales. So I am full of Knowledge to make it big in Norland.

I have also written a book on network marketing titled: How to recruit and get to the top in Any network Marketing you do. The book is N5000. It is an e-book. You can click on this link, buy and download immediately. https://paystack.com/pay/topnet
In Norland, "I no come play ooo", I came to make it big. I came to help millions of people to be delivered from poverty and climb the ladder of prosperity.
11. You Need Patience to cash out Big in Norland: I have been in this business for active 2 years, I have a big dream and I am going about it daily. Don't join this business and expect to blow and cash out in 1 month. It does not work like that. It is not the day you join federal civil service that you will become a director or permanent secretary. For some people, it took them 25 – 30 years to get to that position.
In Network marketing, are you ready to commit 5 years to constant building and development? This kind of focus can change your status in such a way that people in your community will ask you to "cut soap for them", meaning show us the way or tell us your secret. In building construction, it is not the day you lay the foundation that you will start sleeping inside. It takes time. Tell yourself; it takes time. However, your action will determine how fast it will play out. You are the most important determining factor if you will succeed in this business or not. If you think you can do this business or you think you can't do this business, you are right! As a man thinketh in his heart, so is he.
12. Invest BIG in Your Norland Business to be able to cash out Big: this last point is very important. What I earn as a diamond member is different from what I earn as a senior member, even if we do the same work. I know from my experience in network marketing, multiple accounts is how to play big. My family and I have more than 20 accounts in this business, and we are building it. You see why we are positioned to make it big in Norland in 2022. You see why I am writing you this epistle. I have a target to introduce this business to 10,000 people in 1 year. And I know you will be one of them. In Network marketing, we said people join people and not business. The reason why you will join this business is because I am the one that is introducing it to you. If you are already a member, you can make up your mind today to upgrade your account from senior member to Diamond member.
If you are just hearing about Norland and you will like to join my team and give me the opportunity to mentor you on it, call/WhatsApp me on 08060779290. You can click this link to chat me up
https://api.whatsapp.com/send?phone=2348060779290
If you will like to buy my book on network marketing titled: How to recruit and get to the top in Any network Marketing you do. The book is N5000. It is an e-book. You can click on this link, buy and download immediately. https://paystack.com/pay/topnet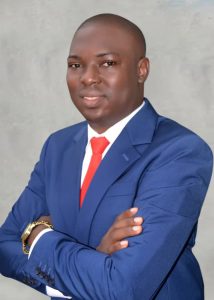 My name is Dayo Adetiloye, a Doctoral Researcher in Business Administration, Business Planning Expert, and a Development Consultant. I am available as keynote speaker and panellist for conferences, workshops and knowledge sharing platforms. I specialize in Youth Empowerment, Business planning and Development, Network Marketing, SME Development, and Making Money on the Internet. You can reach me on +2348060779290