How to start a cocoa farm business in Nigeria
Cocoa farming in Nigeria is a viable business venture which investors just can't afford to ignore. The interesting thing about this crop is that it is a perennial crop and hence; you will continue to make money from it your entire life. Funny enough, cocoa business is generally unexplored as far as major investments go. It will also interest you to note that, before the oil boom, cocoa farming was one of the major sectors of the Nigerian economy.
Excited? Good, because this business has the potential to set you up financially for life.
How to start your cocoa farm business?
To start up your cocoa farm business, follow this step by step guide;
Write a business plan: With a business plan in place, you can effectively launch and establish your business with relative ease. This is because, you must have outlined and strategised how you want to implement your business idea. This document will serve has a guide throughout the span of your business( based on the specific duration you want to achieve your business's objectives).
With a good business plan in place, you can easily map out a marketing strategy and how you intend to outsmart the competition.
Cocoa farm business involves huge capital investments, so you just can't afford to jump in without first preparing a business plan.
Accessing funds: The nature of the business requires that you have sufficient capital to begin with. So you need to consider all your funding options and how you intend to get start up funding.
Of course these days it's easy to apply for agriculture-based loans with relative ease, compared to times past.
Here are common ways you can access funding for your startup;
Applying for loans

Applying for grants

Crowd funding

Angel investments

Family and friends

Your savings, etc.
The number one key to accessing startup capital is having a winning and detailed business plan handy.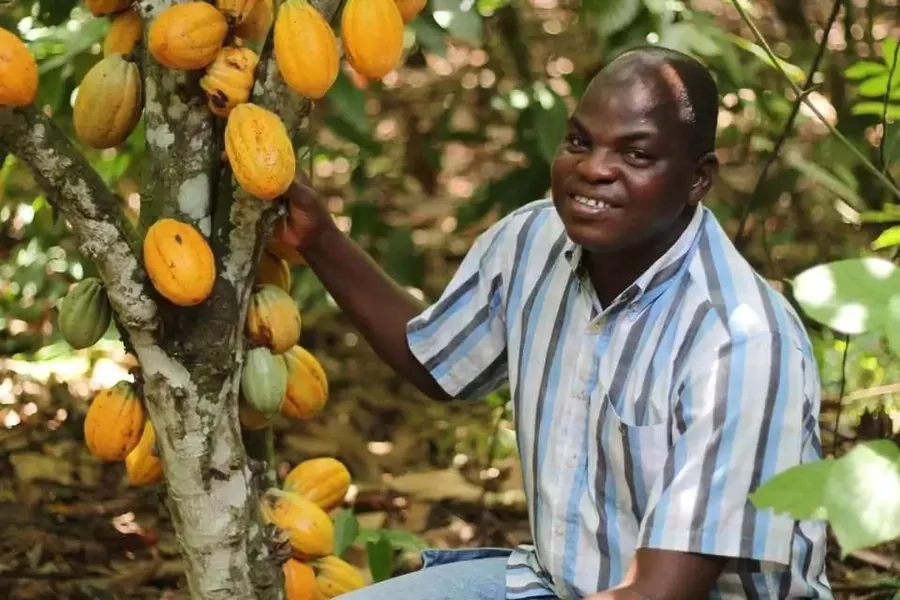 Get a farming site: You should see to it that you select a suitable farming site to set up your plantation. Choose a site with the appropriate climate conditions;
A good steady rainfall

A consistent temperature of between 21 – 32 degree Celsius all year round
Cocoa trees need a deep, slightly acidic, moist soil to flourish. The soil should contain coarse particles and have a depth of about 1.5 metres, so as to enhance the development of a good root system for the cocoa plants. The soil should also have a high content of organic matter; 3.5% in the top 15 centimetres of the soil.
The land must be covered by rain forest canopy to help provide sufficient nourishment for the cocoa plants.
Select a suitable specie: To set up your cocoa plantation, it is crucial that you use healthy cocoa specie for your planting to ensure maximum yield. The most common cocoa species are listed below;
Considered to be the father of all cocoa plants, Forastero is connected with about 80% of the world's cocoa cultivation. The typical property of the Farastero is its reduced aromatic cocoa flavour, which is sometimes bitter. This specie can be found in Nigeria, Ghana, and Ivory Coast

The Trinitario. The Trinitario planting spread from Trinidad to Papua New Guinea, Sri Lanka, Cameroon, Samoa, Java and Ecuador. So far, the Trinitario is the best combination of luxury cocoa for its flavour and hardiness
The Criollo. The criolo is thought to be one of the finest and luxurious species of cocoa. And was very common in the 18th century, however only about a handful have survived to the present age, with Nigeria having an insignificant share. The criolo has lesser yields when compared to other species,majorly due to the fact that it is prone to pest and fungal diseases.
Methods of breeding cocoa in Nigeria
Breeding is simply the cocoa planting process. And there are different ways to breed a cocoa tree, they are;
Budding: a bud is cut from a tree and placed under another tree. You have to wax the budding patch to prevent loss of moisture. Finally, the bud is then cut off when it starts growing under the parent tree.
Cutting: This method involves taking tree cuttings with some two to three leaves and one or two buds. You are to cut the leaves in half and place it in a pot under polythene until roots begin to grow. Once this is achieved, you can then transplant it to the farm.
Seeding: This is the most commonly used method of planting mcocoa. In this process, the cocoa is developed primarily from trees. Using seeding method, you are to extract the beans within fifteen days of harvest from the pod. Plant the seeds under suitable climatic and soil conditions to get optimum yield.
Marcotting: Remove a strip of bark from a branch and have the exposes part covered with sawdust and a polythene sheet. The area will eventually produce roots; have the branches cut off and replanted in the farm.
Why should I consider cocoa farm business option?
Here are the many reasons you should seriously consider cocoa farming business for investments.
Cocoa is one the fastest selling agricultural produce in the world, and so far, global demand still exceeds capacity to supply by farmers.

Cocoa farming is a very profitable business

The business is largely under-explored

You plant the trees once and harvest it throughout your lifetime

Cocoa might be the only crop in Nigeria, which you market in one day, as a larger percentage of our globe is cocoa dependent

There is increasing investments and support for cocoa farmers
Profitability of cocoa farming
Cocoa farming business in Nigeria is probably one of the biggest investment opportunities one can hope to identify with.
Consider this;
A bag of cocoa goes for $200 which is approximately N72,000
So if you produce a thousand bags of cocoa, you can make N72,000,000 without much stress( literally). The only stress lies in starting up the planting process, but once done, there's always a ready market for cocoa.
To ensure high yield of your crops, you should use the early-maturing, high-yielding, disease- resistant beans to help double your farm production in two years. You can get this variety from The Cocoa Research Institute of Nigeria.
Basic requirements for starting your cocoa farming business
Aside from investing in good quality, high-yielding cocoa beans for planting, there are a few other points to factor in while planning for your new startup
You have to purchase a storage and drying space. More like a warehouse for proper storage of the cocoa

Buy scales for weighing the produce.

You may join The Cocoa Association of Nigeria (CAN). This is an association created to meet the peculiar needs of cocoa farmers, stakeholders, and other partners in order to ensure the sustainability and development of the sector.
If you need more information or would like to book a consulting session with us, you can call us on 08105636015 or 08076359735. Alternatively, you can send a mail to dayohub@gmail.com
Did this help?
Click to buy Cocoa farming and processing Business Plan and Template Business Plan and template now & download it immediately.