How to Buy the Book: MAFIA OFFERS: How To Make People Fight, Scratch, and Beg to Buy Whatever You Have For Sale, At Any Price by Ronald Nzimora.

Inside This Letter is an Eternal Sales Secret that Can Get People Lining Up to Literally BEG You to Collect Their Money In Exchange For Your Products or Services.
Dear friend,
Do you have an amazing product everyone should get, but no one is buying it?
And you have tried and tried to do all you can yet no one is biting, and you are frustrated, even sad about it, because you no no sales, means no money and no money… well you know the rest right?
If your answer is yes, then I want you to…
Go Shut The Door, Put Your Phone On Silent And Read Every Single Word On This Page Carefully, Because It Is That Important!
My name is Ronald Nzimora and I run marketing campaigns for a living.
And of everything I have learnt in the last 18 years, the most important one is if I want to sell A TON of my products or services, I need to create what I call..
Irresistible MAFIA Offers!
An offer is the sum total of what you are selling to someone, aka. What they are buying from you.
But an irresistible mafia offer is one that literally knocks people over when they encounter it.
Something that when people see, they say in their mind, "I have to have that!"
Hard to Refuse.
A must have.
Here's an example.
Let's say you want to travel to Dubai and there are two travel agencies who can take you there. They have both advertised on Instagram and you are looking at what they presenting to you
Travel Agency A says: we will get you a visa to Dubai, with four nights hotel stay, with morning buffet, a visit to the safari and the Burj Al-Arab (tallest building in the world). 
The price is =N=750,000.
BUT…
Travel Company B says: we will get you a visa to Dubai. When you arrive at the airport, there will be a taxi waiting to pick you up and drive you to your hotel. 
You will get 4 nights stay there, BTW it's a 4-Star hotel. You will get a free city tour, a free ticket to an Arabian Desert Safari and a free guided City tour in a Limousine. We will also put you on a Dhow Cruise, you get a ticket to visit the World's tallest building.
You will also take a complimentary fishing trip close to the border with Iran, everyday will be filled with different activities ensuring you will never get bored.
And when your 4 nights are up, you will get a car drive back to the airport on your last day.
The price is =N=800,000
Which one would you take?
Did you say the second?
Here's another illustration.
The reason people pay 4 times the cost of an economy seat in First Class on airlines like Lufthansa is because it is a better offer.
You see it's not about pricing. It's about the presentation!
Everyday I am out there selling something over the internet – sports betting, coffee, weight loss teas, courses, newsletter subscription, hair, perfumes, etc, even chicken!
You name it, I have sold or currently selling it.
So it's no surprise that I have sold over…
N35 billion Worth of Products and Services and Counting
My marketing smarts have helped a client generate over 1 million PAYING (not one time) subscribers to their list, helped bring a spa over 600 customers on opening day, helped launch a financial subscription newsletter at THISDAY, and so on and so forth.
And You Know How I Did It?
It's not copywriting, although copy skills helped.
It's not marketing smarts.
It's not even a product people want. Yes this is essential, but I have seen people sell even impossible "unwanted" products because they knew this secret and how to use it.
And heck it's not even luck. In our business, we never rely on luck. We make luck happen because we know this one secret.
That secret is…
I Mastered How To Create Mafia Offers
Let me explain.
You see, when you ask people to buy something from you, you are making them an offer, a proposal, you are saying "give me x amount of money for this stuff".
Now they have to stop and think whether what you are asking them to buy is something they want, but more importantly, "if it is worth x amount of money."
If they think it's not worth it,
They Click Away and Move On
And you end up with no sales.
I guess what you want is sales abi? OR at least leads, subscribers, but mostly sales.
Because sales means money, right?
Of course it does!
Making more sales depends on having more people buy what you have for sale and 97% of entrepreneurs fail to sell their products and there's one reason why.
Their offer sucks!
Until You Learn How to Create a MAFIA Offer You'll Always Get the Same Results You're Getting Now.
Is that good enough or are you ready to change?
Just ONE mafia offer can change the trajectory of your life
Yes, all it takes is one to change your life and what might surprise you is that it's remarkably simple.
Instead of explaining what your product does, you show how it transforms your prospect's life and I'll show you exactly how to do it.
And while everyone else is still playing by the "old rules", you'll find you suddenly have a natural advantage.
Here's What You WON'T Have To Do
You won't need to pay for expensive training
You won't have to hire an expensive copywriter
You won't spend countless hours reading documentation filled with fluff
You don't need to know everything about writing sales copy
If you can follow a paint-by-numbers approach then you can use my step-by-step plan.
I made a lot of mistakes over the past 18 years with many failed products and few successful ones.
I took notes, bought more copywriting courses and studied other experts.
And gradually, I created and now follow a repeatable framework that triggers people to buy and now my offers convert like crazy.
So Here's The Deal
I want to show you how to create your own mafia offer, but without a gun or threats of violence.
You will learn how to make people buy what you sell, even if they have to walk on fire, walk through the desert or sleep on ice in order to get it.
I want to show you how to make money at will, from any audience on earth, no matter what your product or service is.
And the best part is you don't need to be a master copywriter, or a brilliant marketer. You don't even need to have any of those skills at all.
All you will learn is how to package and put together an offer that will make people say…
Click this link to buy MAFIA OFFERS Book Now:  https://app.expertnaire.com/product/6752754464/7169269538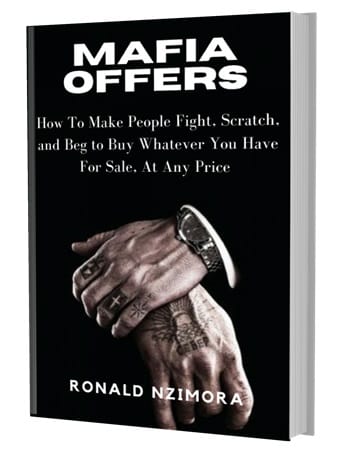 You can get your own copy of MAFIA OFFERS – How To Make People Fight, Scratch, and Beg to Buy Whatever You Have For Sale, At Any Price.
Right now, in less than five minutes.
And you know what?
You won't have to break the bank to do it because by ordering today, you can get your own copy of MAFIA OFFERS for a small price of N8,500 only.
All you need to do is click the link below to get it.
https://app.expertnaire.com/product/6752754464/7169269538