OPPORTUNITIES IN THE MONTH OF MARCH IN NIGERIA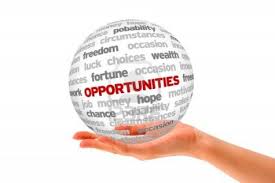 Hello,
My Dear Millionaire Friend,
Happy New Month to you and welcome to your month of expansion.
We have Opportunities In The Month Of March In Nigeria.
Before I share the information with you, I have this question for you.
What is your financial goal for this year 2015?
We are in the third month of the year and I am still very surprised that some people have not set general goals for the year talk less of a financial goal for the year.
Financial goal is the amount you want to see in your bank account by December 31, 2015. When you set a goal, a dream or a target and you trust God and release your faith, the invisible hand of God will cause visible manifestations to bring them to you. As a man thinks in his heart, so is he.
Your financial goal should not be dependent on your salary or what you can source for now. Your goal should stretch you and you don't have to know how it will happen now. E.g. You can have a target or financial goal of N1.2million by the end of the year 2015 and your salary now is just N20,000.
Afterwards, you start working towards it. This goal may make you change your Job for a better job. You start taking opportunities that you have analysed and your spirit resonates with it.
Friend, I believe so much that more opportunities are coming this year in terms of business opportunities, grant opportunities, loans, amazing job offers etc. As far as your eyes can see, so shall it be.
IMPORTANT REMINDERS AND NEW OPPORTUNITIES
Opportunities In The Month Of March In Nigeria
Leverage Caller Club:

I want to sincerely appreciate everyone that has trusted me and joined the leverage caller club with their N11,500. We have seen people receive their packages from Bayelsa, Benin city, Lagos, Ijebu-Ode through post office. And the funniest thing is that some of them have started making money from it by bringing in people. The person in Bayelsa made N4,000 last week by bringing in two people.
I have seen a lot of people that have promised to join this week when they receive their salary or when the money they are expecting comes.
For people that still need more information on the network marketing that sells a special telecommunication package. Click here http://bit.ly/makemultiplestreamsofincome and study the information there and ensure you join this week.
Tony Elumelu $5,000 Grant

ends today 1st of March. You can still submit before 12 midnight. Click here to download our free workbook to write it http://dayoadetiloye.com/teep.pdf
Click here http://www.f6s.com/teep to register and submit your idea.
Our Company MTN and Etisalat Data

business is still very much active,
Click here to see our prices and buy from us today.
http://dayoadetiloye.com/cheapest-etisalat-data-plan/
For interested people: We can train you for a token to help you start your own data business. You can reply this mail if interested.
BOOKS:

We need to read books this year and we have some specific books we will recommend for you. We have reviewed some here and if you have interest, you can order for them to help you build your capacity as an entrepreneur.
Ways to generate internet streams of income: click here http://dayoadetiloye.com/book-review-the-way-to-generate-internet-stream-of-income-by-bibi-bunmi-apampa/ to see the review.
How to become a motivational speaker in Nigeria: Click here http://dayoadetiloye.com/book-review-how-to-become-a-motivational-speaker-in-nigeria-by-bibi-bunmi-apampa/ to see the reviews.
Unleashing Your Entrepreneurial Potential for African Students. Click here http://dayoadetiloye.com/unleash.pdf to download some chapters of the book.
When we review other books, we will let you know. You can also recommend this book for other people especially young people around you. You cannot use the same knowledge you have last year to make more money this year. You need to upgrade. You need to read.
Set-Up Your Blog (Month of March Promo)
If you have interest in setting up a blog like www.dayoadetiloye.com and make money from the internet, there is a special promo for you this month of March. The usual price is N60,000. I pleaded with my online mentor for a special promo for my people. So this March, just for you alone, you pay N 10,000. Then you get www.yourname.com or www.yourbusinessname.com. If you have interest, reply my mail. He also has a free e-book for people that want to make money from blogging. Click here http://dayoadetiloye.com/indexblogger.php to get it. Just submit your name and email. You get it directly into your inbox.
Recruitment opportunities in Osun State and neighbouring states. I put this here for people that know people that are looking for jobi these areas. Click here http://dayoadetiloye.com/vacancy-vacancy-vacancy-in-osun-state-and-neighbouring-states/ to see the positions available.
If your business is based in Osun State and neighbouring states and you need to recruit sound and competent staff, we can help you to get them and also train your staff to be able to help you reach your organization goals.
The latest Grant Opportunity in Nigeria.
Microsoft is giving out N3.5Million each to 5 people with very good business ideas. Either new idea or an existing idea.
Click here http://n5million.com/index.do?ix=59990 to submit your idea.
YouWiN!4 closes for the last time according to their website on the 15th March, 2015. We can still work together with your friends and families. Click here http://dayoadetiloye.com/salespage.html to see how to work with them.
Click here to like my personal facebook page for Business Information: https://www.facebook.com/dayoadetiloye
Once again,[[firstname]] Happy New Month. Welcome to your month of Expansion. You shall break forth on every side. As we enjoy the Opportunities In The Month Of March In Nigeria
You can connect to me on BBM. My pin is 7EFFE8D6
I will like to hear from you [[firstname]].
Till then,
Keep succeeding!
Dayo Adetiloye (B.Agric, MBA)-
AUTHOR – CONSULTANT – SPEAKER – ENTREPRENEUR – BUSINESS COACH
Helping men to discover, develop and fulfil their business potential.
…Raising 100 Young Millionaire Entrepreneurs in Five Years… since July 2012
08060779290, 08174584556