The Global Increase in the Demand of Food Puts Money Into My pocket. Written by Corper Ameh Gabriel.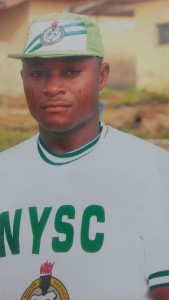 The global increase in the demand of food and economic down turn of non agricultural products have made agriculture the key necessity to life. On this note, the agricultural sector should be given adequate attention as to cover the gap .
The government of any country in the world should not pretermit agricultural sector, otherwise the country of such will face insecurity of food in due time. As in the case of Nigeria, agricultural sector has been relegated due to the advent of petroleum for the past four decades. Agriculture was the main stay of the Nigeria economy, now it is oil company .
Note: everybody cannot work in the oil sector ,information and telecom (ICT) or other area of white collar jobs, neglecting agriculture because it not helping our country to develop fast , knowing fully well that a country can only develop when every sector of the economy is producing respective product, thereby  increasing the gross domestic products(GDP) of the country. Emphatically speaking, I want to tell the academicians in the Field of agriculture and to all Nigeria graduates, most especially those from specialist collages and universities of agriculture that there is money in farming!!!!!!
Read also: How Corper Gabriel Ameh Solve unemployment through Agriculture
Below is my experience presently in National youth service (NYSC)  here in Ekiti state. Before I was posted to my place of primary assignment (ppa), my prayer was to be posted to a better place where i  can receive small alawi to boast my living.
On posting, I was catapulted to this naturally uncultivated   (wilderness) land called EPE ( the land of glory) , in Ijero local government area of the state. Among the seventeenth call members posted there, i  was the only  person from Benue state and from the university of agriculture makurdi. The corpers were crying to be posted to this kind of remote area. As for me , I was laughing because opportunity has come!!!!! Why? Because after my research and feasibility study, I discovered that the soil is fertile, input( seed) is cheap, labour is available and cheap, market to sell my products is accessible, credit and timing in cultivating agricultural products are guaranteed.
What am I waiting for?  As a dynamic and innovative graduate loaded with agricultural and  entrepreneurial skills from  the dept of Agricultural economic and extension in UAM, i  quickly acquired land for farming. I was operating without penny, what I did was that I went  to the labourers to negotiate and we concluded on if my allowance comes I pay. As I speak to you, they have cleared and made 6000 heaps or mounds ready to be cultivated.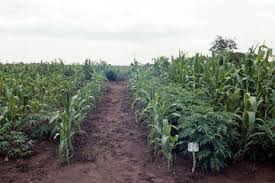 From above, I am expecting the federal government to come and inspect my farm comprising of maize inter planted with cassava. At the end of my service year, I would have contributed my quota to improving the life of my host community by providing jobs, contribute to total domestic products( GDP ), to agro allied industry, feed the nation and to increase the value of my pocket(per capital income).
On your own part, what have you done or intend to do as a graduate? Think of what you can do for other and not what they can do for you.
Name: Ameh Gabriel
State of origin: Benue
Institution : Uni Agric mkd
Local Gvt: Ogbadibo
course: Agric Econs and extension
PPA: Ekameta comm sec sch , Epe, Ara and Araromi in Ijero LGA of Ekiti state.
Written by Corper Ameh Gabriel.