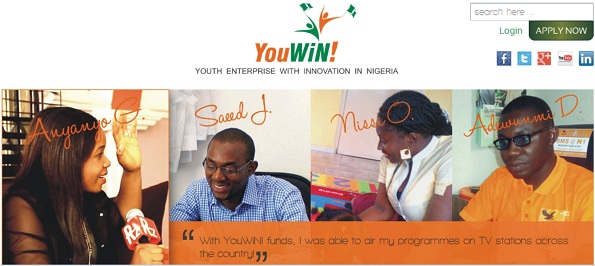 As a result of our vision to raise 100 millionaire young entrepreneur winners from the YouWin 3 business plan competition, we have packaged these questions to help as many young people who are willing to take and maximize this opportunity.
If you're planning to apply for this year's YouWIN! Business Plan Competition, it is important that you start preparing your answers ahead of time. Submission of the business plans will commence on November 25, 2013 with the presidential launch.
ALSO CLICK TO READ YouWiN 3 LIFE SAMPLE BUSINESS PLAN
The first stage of the YouWiN! 3 Business Plan Competition only requires that you submit a concept note for your business idea. The YouWiN! 3 Business Plan Competition concept note is not as elaborate as a business plan. You only need to answer a few basic questions that will help the committee decide whether they should read your full business plan.
Questions You Should Expect in YouWiN! 3 Business Plan Competition Concept Note
Note the number of words you are expected to use in answering the questions asked. You could use fewer words but not more than required. In fact, the website will not allow you to save and/or submit your application if you have exceeded the maximum number of words.
In a way, this is both beneficial to you and the committee. You are forced to summarize your business idea as much as possible; and the committee is able to evaluate all business concepts in the shortest time available to decide winners.
1. About Your Business
The first question you need to answer is to describe your business and to select what industry sector your business belongs.
Select Industry sector from drop down menu
If you're sector is not listed, you could write your sector under "Other Sector"
2. Marketing Plan
Here, there are 3 questions each of which allows a maximum of 50 words:
-What benefits of the product or service enables your business to stand out from your competitors?
-Does this meet a particular need or demand (your competitive advantages, if any)?
-Name five of your existing or expected top customers. How will you attract these customers to your point of sale?
3. Business Management
The main aim of this competition is to create jobs in Nigeria. So, your business must be capable of providing sustainable jobs in order to win this competition. Most of the current Youwin awardees own businesses that are employing close to 10 new employees on the average. You should factor this into your overall business plan.
The questions here are:
-How many new, full-time (or equivalent) staff will be employed in the business 12 months from receiving the first stage award?
-Describe the benefit you and your proposed staff will bring to the business, including: expertise, track record in the industry and management experience. [maximum of 50 words expected]
4. Your Product
This section will test your knowledge of the business you are proposing. Each of the questions asked below require a maximum of 50 words. Bear in mind that every business is either selling a product or providing a service.
ALSO CLICK TO READ SAMPLE YOUWIN BUSINESS PLAN FOR AGRICULTURE
-Name your three largest existing/expected competitors. Which, if any, have a localized presence or distributor network?
-Describe the materials you will need to create your product or service. Are these materials readily available, at the right price and quantity, in your locality? If yes, please describe any relevant information.
-Is there an existing or expected lead time for manufacture, set-up, harvest or breeding? If yes, give estimated lead times for each product.
-What risks or challenges might affect the success of your business, including: licences and accreditation (what can stop you from making this business a success)? How will you reduce or mitigate these risks?
5. Profitability of Your Business
Here they've asked three questions to determine this:
-What are your current and expected sales within the next 12 months (units and income)? If there is any seasonality, please explain. [maximum of 50 words is expected]
-What amount of sales, in Naira, must you achieve to reach profitability? [Amount in Naira. Enter numbers only: If none, enter 0]
-When do you expect to achieve this (how many months after receiving your first grant award)?
6. How Much Money Do You Need?
You can ask for a minimum of N1m and a maximum of N10m.
You are required to give four short answers here:
-How much money (Naira) do you want from YouWIN? [Amount in Naira. Enter numbers only: If none, enter 0]
-Capital equipment cost (e.g. machinery, land, building). [Amount in Naira. Enter numbers only: If none, enter 0]
-Operating expenses (e.g. wages, raw materials, stock). [Amount in Naira. Enter numbers only: If none, enter 0]
-Other (e.g. pre-start set-up costs, accreditation). [Amount in Naira. Enter numbers only: If none, enter 0]
7. How Would You Spend YouWIN Funds
Whatever amount of money you're asking for, you should be able to state clearly what you will be spending the money on.
-What is the minimum equipment cost that is necessary to commence trading or expand your business? [Amount in Naira. Enter numbers only: If none, enter 0]
-Describe this equipment. [Maximum of 30 words]. How much money have you already spent on capital equipments? [Amount in Naira. Enter numbers only: If none, enter 0]
-How much money do you require or expect to need from other sources (i.e: investors, bank loans, etc)? [Amount in Naira. Enter numbers only: If none, enter 0]
-State the progress of any loan application. [Maximum of 20 words] Describe any existing finance loans related to the business. [Maximum of 20 words]
-How much money will you or your family and friends contribute to the business in the next 12 months? [Amount in Naira. Enter numbers only: If none, enter 0]
-How much money do you plan to take out of the business personally (average amount per month? [Amount in Naira. Enter numbers only: If none, enter 0]
8. Additional Information
Please add any additional information/comments that you feel may be relevant and useful with this application.[Maximum number of 100 words]
9. Saving And/Or Submitting Your Application
Be advised that you can only submit one application to YouWIN!; and you won't be able to edit it, once submitted. So, you should Save For Later use as you go along to avoid losing your data and then Submit Completed Application to YouWIN! when you are completely satisfied with the content of your application. This part is very important so make sure you don't make mistake here. Don't forget to check the box to your left hand side to agree to YouWIN terms and conditions.
All right! There you are! Those are the questions you should expect to answer in the first stage of the competition. You can start practicing them and getting your answers ready before the competition begins and wherever possible, get professional advice.
If you haven't registered on their site yet, do so here.
Get my free e-book here titled: 7 things i will do differently in Youwin 3 Click Here
To make preparation for YouWiN3 business plan competition very easy for you,
We have prepared for you this material :Grant Winning Workbook for YouWiN and Investors.
It Contains 5 samples of YouWiN stage one Business Plan that has won YouWiN.
Click on it to know how to Get it and start using it or click on this website to grab your copy
===> http://dayoadetiloye.com/salespage.html
Please share this with your friends. Just click the "Like" button below and your friends on facebook will thank you for sharing it with them. And if you have questions or comments, drop them in the comment box below.
Source: http://www.freeyouwingrant.com/youwin-stage-one-sample-questions/