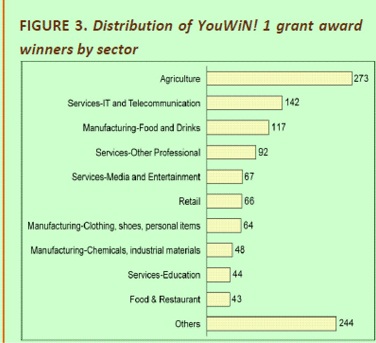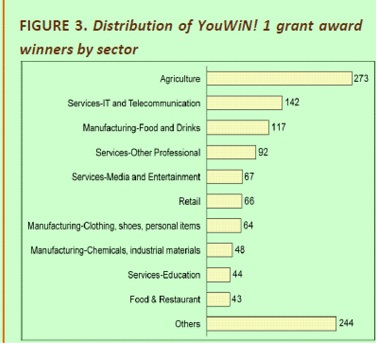 There are major sector that have potential to win YouWiN 3. Some of them are
alighted below.
Animal farming

Crop farming

Food & Restaurant

Building and Construction materials

Chemicals, industrial materials

Clothing, shoes and other personal items

Equipment, Machinery, Metal

Food and Drinks

Furniture, Wood Products

Other (Specify)

Retail

Accounting, Finance and Management

Auto, electronics, others

Cleaning

Education

Engineering, Building and Construction

IT and Telecommunication

Legal

Media and Entertainment

Medical

Other Professional

Personal/Beauty

Transport
At this junction I will encourage you to get our GRANT WINNING WORKBOOK where you will get the full details of how to write YouWiN! 3 Business Plan competition.
Click here to get it. http://dayoadetiloye.com/salespage.html
You can also get my Free E-Book titled: 7 things I will do differently in YouWiN! 3 business plan competition Click here to get it http://dayoadetiloye.com/freegift.html
To talk to an expert on how to write your YouWiN! 3 business plan competition, Call me on: 08105636015, 08076359735 or Send me an email at: dayohub@gmail.com .