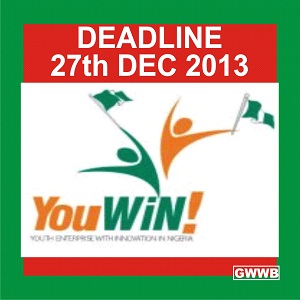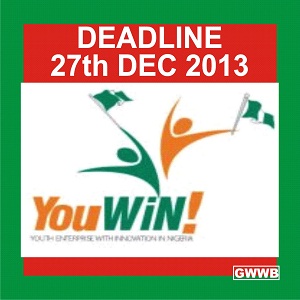 Visit YouWiN website: www.youwin.org.ng

Check your e-mail to receive your password.

Login with your e-mail address and password.

Change your password to the one you can remember.

Click the New Business Application at right hand side with colour green to see the questions.

Copy and paste the question to Microsoft word or print it.

Select the business idea you will write on.

Determine the business sector it falls into.

Write out the information you have about the business idea.

Research on Google for more information on the business idea.

Choose a business you have passion for and will like to execute.

Visit an existing business that is doing the business you want to start.

Get a guide that you can use to answer the question.

Get the most useful YouWiN 3 guide titled: Grant Winning Workbook.
Study Grant Winning Workbook and use the step by step explanation of each questions and the free sample YouWiN 3 business plan available inside to write.

Start writing your business plan.

Write on an idea that is unique, innovative and can employ people.

Follow strictly the number of words to be used to answer each question.

Let your business plan have a commanding story and be precise.

Don't rush to submit your business plan.

Give your Concept Note /business plan to at least 1 professional /expert to help you review your work before you submit.

Post or arrange your answers in a way that is attractive to read. Put paragraph and space and follow the number of words for each question.

Submit your business plan.

Ensure you receive Concept Note Submission notification in your e-mail box.

Pray to God for Grace, Favour, and Mercy to entre to second stage and eventually be among the 1200 people that win the competition.

Inform other people to participate in YouWiN 3. If you have five friends including you that win YouWiN 3, then you can start a MILLIONAIRE'S CLUB.
At this junction I will encourage you to get our GRANT WINNING WORKBOOK where you will get the full details of how to write YouWiN! 3 Business Plan competition.
Click here to get it. http://dayoadetiloye.com/salespage.html
You can also get my Free E-Book titled: 7 things I will do differently in YouWiN! 3 business plan competition Click here to get it http://dayoadetiloye.com/freegift.html
To talk to an expert on how to write your YouWiN! 3 business plan competition, Call me on: 08105636015, 08076359735 or Send me an email at: dayohub@gmail.com .