Apply For 2016 Tony Elumelu Foundation $5000 Business Grant to start or Expand your Business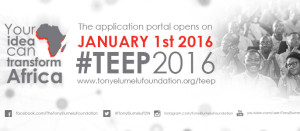 HOW I CAN WORK WITH YOU TO ACCESS $5000 OF TONY ELUMELU FOUNDATION GRANT.
Application starts by 1st of January 2016 and close on 31st of March 2016.
OVER 25 people we worked with won this grant in the first edition of 2015.
How can I work with you on it?
STEP 1: Download my free e-book where I explained the questions and how to answer it.
http://dayoadetiloye.com/free-e-book-win-tony-elumelu-entrepreneurship-programme-teep/
STEP 2: Download the list of previous winners to see the industry that won the most.
http://dayoadetiloye.com/teep-class-of-2015/
STEP 3: Answer the questions and send it to me for a review. Price N5,000
STEP4: If you need a professional write up. Call me.
STEP5: If you need a business plan template, i.e already prepared full detailed business plan that you can EDIT and use it to access loan, grant, investors etc. The price is N10,000.
#Once they mark your proposal and they pick you, that is final, you just follow their procedure and you have your $5000.
#Please Friend, apply and submit early.
#It is first come, first Served. They start marking as people submit their applications.
# 1000 Africans will be selected from 52 AFRICAN countries as winners and it will happen like that for the next 10 years.
#Click here to read more and apply by 1st of January 2016 and it will close by 31st of March 2016.
http://tonyelumelufoundation.org/teep/
This is another grant i recommend after YouWiN.
Call or Whatsapp Dayo on 08060779290.
Apply For 2016 Tony Elumelu Foundation $5000 Business Grant to start or Expand your Business