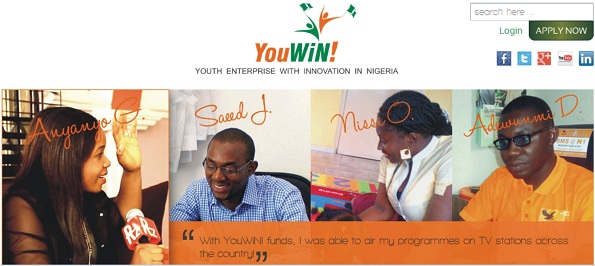 4 REASONS WHY PEOPLE DON'T WIN YouWiN!
Attention: Free Ebook to write YouWiN Connect 2017 is Here: Click Here
1.               Lack of Awareness
There are so many people with very good business ideas. They can write a very good business package but are not aware of what the Federal Government of Nigeria is doing. Once you don't know, you don't know. We have to develop an eye, ear, heart, and feel for information. If you need to buy a book and read, do so. If you need to attend seminars, attend it. If you need to follow a blog or read newspapers regularly for information and ideas, Just do it. Statistics have shown that the difference between successful and unsuccessful YOUWIN applicants are the information they have access to. To get more information on YOUWIN, visit www.youwin.org.ng
 Related: Register Your Business With Corporate Affairs Commissions In Nigeria in Two Weeks
2.               No Idea
That sounds funny, but it will surprise you that many people registered for YouWiN and have no idea of the possible businesses they can do. As a result, they do not submit their business plan. In YouWiN 1, 110,000 registered, only 25,000 submitted their business plans.
3.               Good Idea But No Market Need
Many people do not scrutinize their ideas before submitting it to YouWiN!. The question is how many people will patronize your idea. Do you think the market need this idea or simply, do you think there is a market for your idea? People do not do their market research well.
4.               Poor Business Plan
Writing a business plan is a skill you can develop. That is the reason YouWiN! will request that you attend the business development training before you write for the second stage of the competition. Many people have a unique idea but a poor business plan presentation.
To make preparation for YouWiN3 business plan competition very easy for you,
We have prepared for you this material: Grant Winning Workbook for YouWiN and Investors.
Apply for Youwin3 @ www.youwin.org.ng
How we Can Work Together so That you Write Something Meaningful in the Application and Increases your Chances of being selected.
YouWiN Connect Assistance 2017

Two Business Plan Question Asked:
      Describe the Requirements You will need to create your products and services
The Description should not exceed200 words
      What risks or challenges might affect the success of your business?
(What can stop you from making this business a success?)
Description should be limited to 100 words
To write this for is N10,000 for any idea/Industry 
 To review this for you if you write on your own is N5,000
Information Requirements for YouWiN Connect write up
What is the business idea?

What name do you want to name the business?

Is it a new business or existing business?

What is the location of the business?

What are the requirements for operating the business?

List your products and services.

Name, Phone no, Location, and email address.
We will write it for you in 2days
Send this requirement to me on WhatsApp 08060779290 or email:  dayoadetiloye@gmail.com