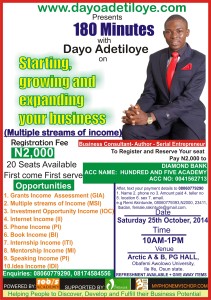 Attend 180Minutes with Dayo Adetiloye (Multiple Streams of Income)
You can start to grow Your financial tree now and in the next 5, 10 , 20 years, you can feed the nations of the world.
You can leave inheritance for your children's children.
Ask, yourself this question.
How many streams of income do i have now?
It does not matter the level you are now, once you know where you are going, you can get there. it is just a matter of time.
20, 30 years ago, we heard of some names, today we are hearing different names, tomorrow we want to hear your NAME.
Let's meet on Saturday 25th October 2014 by 10am as people come from Lagos, Ibadan, Kaduna, Abuja, Akure, Abeokuta, Ekiti to the venue Ile-Ife, Osun state to add to their streams of income.
Knowledge is a universal commodity, wise men reach out to where ever they can be found.- Bishop David Oyedepo
See you there!
Ensure you follow the registration procedure.
First come first serve.