REGISTER FOR 2 WEEKS FREE DIAMOND BANK SUPPORTED EXTRAMURAL SKILLS ACQUISITION PROGRAMME @ OAU.
ACQUIRE SKILLS NOW OR PAY DEARLY WHEN YOU GRADUATE !!!
'Good certificates' are no longer sufficient these days!
e-SAP Foundations Presents: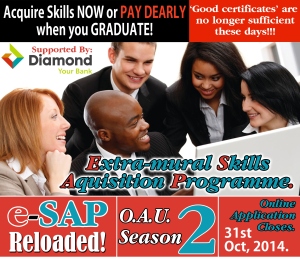 EXTRA-MURAL SKILLS ACQUISITION PROGRAMME (O.A.U. SEASON 2.)
20 AMAZING FREE COURSES to give you a CAREER BOOST irrespective of your discipline + FREE SEMINARS To make you a HIGHLY VALUABLE PERSON.
1. PEACHTREE ACCOUNTING SOFTWARE
2. CCTV TECHNOLOGIES & INSTALLATION
3. AUTOCAD 2D & 3D MODELLING
4. PROFESSIONAL GRAPHICS DESIGN
5. DSTV TECHNOLOGIES & INSTALLATION
6. SPSS DATA ANALYSIS
7. DIGITAL VIDEO EDITING
8. PROJECT MANAGEMENT
9. ANDROID MOBILE APPLICATIONS DEVELOPMENT.
10. COMPUTER NETWORKING & NETWORK ADMINISTRATION
11. FRENCH LANGUAGE
12. MICROSOFT PROJECT
13. GERMAN LANGUAGE
14. JAVA ENTERPRISE PROGRAMMING LANGUAGE
15. WEBSITE DESIGN & DEVELOPMENT
16. HUMAN RESOURCES BUSINESS PROFESSIONAL
17. HARDWARE ENGINEERING
18. EVENTS PLANNING & MANAGEMENT
19. CAKES DESIGN & DECORATION
20. BEADS, WIREWORKS & GELE TYING
ALL TRAININGS ARE FREE (DIAMOND BANK SPONSORED) !!!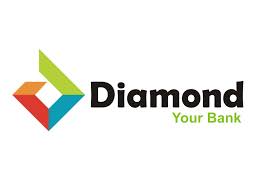 REGISTRATION PROCEDURES to attend the SKILLS ACQUISITION PROGRAMME @ OAU.:
1. Send a text message containing A. Name B. Phone no C. Location D. Sex E. e-SAP  To 08060779290.
Pay a registration fee of # 1,450 @ Diamond Bank into e-SAP account (Account Name:Havilah-Gold Technologies,  Account Number: 0045129260.
3. Go to www.esapfoundations.org to complete your registration
4. Online Application CLOSES on the 30th of October, 2014.
5. Training begins 1st Dec, 2014. (After O.A.U first semester exams).
6. View training details @ www.esapfoundations.orgYOU CAN WIN BIG: You stand a chance to win CASH PRIZES In two categories (#100,000 & #50,000) from DIAMOND BANK to boost your Education/BusinessFor more information contact:
08060779290.
Note: You can be part of this programme once you can be available in Ile-Ife, Osun State for the Two weeks Training and no qualification is required. Anybody can Apply.
If your bank does not support your education, YOU NEED A NEW BANK!!!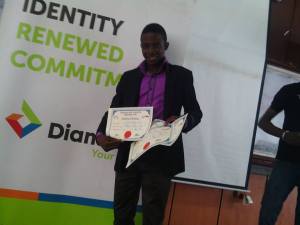 People don't make money because of what they do; people make money because of who they are! If you've ever seen anyone make unusual money from what they do, it is because of what they have become.
Season One Training Sessions at OAU, Ile ife, Osun state.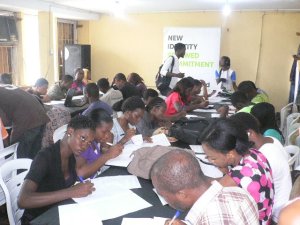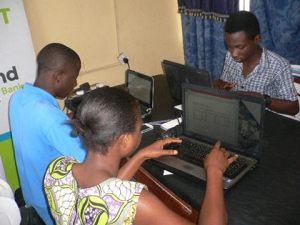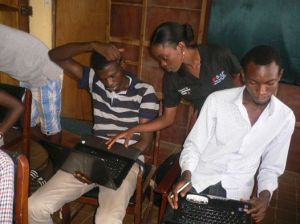 Every other person who EXPECT to make money because of what they do will as a matter of law remain only at the subsistent level. #Invest in Self Development – Add value to Yourself.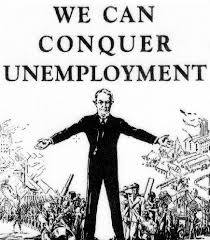 DEVELOP A PERSONALITY THAT ATTRACTS MONEY! by attending the SKILLS ACQUISITION PROGRAMME @ OAU.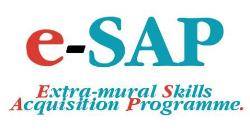 What our past participants are saying:
"The amount paid is nothing compared to the lessons learned!" – Idowu Tolulope A.
"The short contact was good and impacting!" – Asebiode Tomilayo
"The programme is reasonably affordable!" – Ojedokun Adedolapo Israel
"In short, My expectations were met!" – Adetunji Ademola E.
"More of trainings like this is needed!" – Fadiora Jesumbo T.
"An affordable, out-of-the-box, impactful concept!" –Elemosho Toluwani
"You people are competent trainers!" – Olaleye Olusola Francis.
"Thanks for helping me become valuable by adding skills! Looking forward to the Season Two. Thumbs up!!" – Adekanye Blessing.