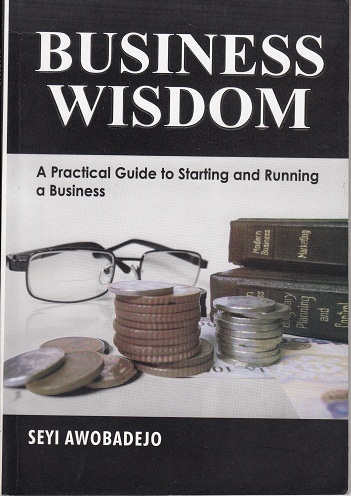 I have decided to review some books that are specially designed to help us in running and managing our businesses.
The author is one of my mentors and I respect his business wisdom.
He is a highly south-after management consultant, and insightful teacher, life coach and an entrepreneur. He is the coordinator of Wisdom Training Centre, Abeokuta, a non for profit organization with God give vision to raise a new generation of young people.
Copyright 2012
www.seyiawobadejo.com
No of Pages: 87
No of Chapters: 13
ISBN: 978-978-922-579-8
Business wisdom is dedicated to the young and enterprising minds. You are the new generation that we desperately see.
Business wisdom is a practical guide to starting and running a business.
It all began in May 2007. While in church for Sunday service, my pastor whilst delivering the sermon said these words ' the job you are doing now who sent you?' I resigned my appointment that month. Immediately I found peace and I was deeply fulfilled.
Things seemed rougher than I had envisaged after I started the business. Looking back today, I realize it is a patch that every entrepreneur must go through.
One month, too months, three months four months nine months after venturing into business, we hadn't made any sales, no income, not a dime.
After sometimes, the business started enjoying patronage and it became a brand leader in the industry. As at the time of writing this book, the business has given birth to other organizations in areas such as farming, wholesales and manufacturing.
This book is meant for anyone who intends to begin the entrepreneurial journey.
Part1- Start a business
Chapter 1: Why you should start a business
Chapter 2: Choosing a business to start
Chapter 3: Business plan
Chapter 4: Prepare and act
Chapter 5: Incorporate the business
Chapter 6: Selling
Chapter 7: System development
Part 2 – People
Chapter 8: You and the business
Chapter 9: The customer and the business
Chapter 10: Employees and the business
Part 3- Finance
Chapter 11: Business money vs Personal money
Chapter 12: Financial planning
Chapter 13: Record keeping and accounting
Get a copy of this book by calling 08060779290. You can also become a marketer and make money.
Price: N 500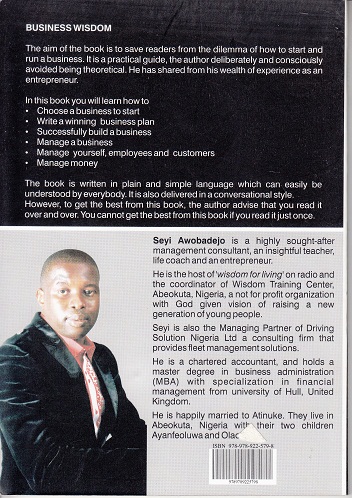 Contact the Author,
22 Quarry road, Old Savannah Building, Abeokuta, Ogun State
www.seyiawobadejo.com
www.wisdomtrainingcentre.org