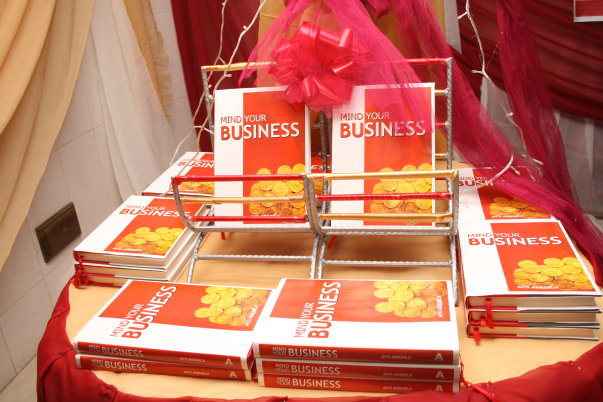 Mind your business is one of the most creative, practical entrepreneurship books I ever read.
The author Ayo Adedeji is one of my Mentors. He has deep radical business acumen with great insight in executing ideas.
Ayo Adedeji is the principal partner at Mich consulting. He is an Entrepreneurial addict with interest in Agribusiness, Consulting, Product distribution, Project Management and Real Estate.
Ming your business is an entrepreneurial guide to executing your ideas.
Copyright 2010
http://www.ayoadedeji.com/
No of Pages: 245
No of Chapters: 13
ISBN: 978-37708-9-6
Over the past few years, I have been in contact with a number of persons with interest in setting up a business of their own and most of them are just at a total loss on where to even start from. Some have walked-up to me on enquiries about how I do the things that I do on both personal and corporate levels. Some have also asked what it is like to walk away from a well-paying salary job in a financial institution and set-up corporate entities and business interests.
This book is, therefore, intended to be a guiding compass to all would-be entrepreneurs. I have put together a resource that would assist you in business start-up right from idea generation, to opportunity screening, to writing a compelling business plan, to raising capital and resources and to executing and managing your business for success.
Chapter 1: Solution Provider: the Entrepreneur
Chapter 2: Defining what you want
Chapter 3: Your idea, Your Life
Chapter 4: Business and Opportunity Exposure
Chapter 5: Study the System, Study the People
Chapter 6: Business Plan
Chapter 7: How to raise capital as an entrepreneur
Chapter 8: Personal Improvement
Chapter 9: Executing the Idea
Chapter 10: Avoiding Common Entrepreneurial Mistakes
Chapter 11: Managing For Success
Chapter 12: Networking and Relationships
Chapter 13: Final Thoughts and resources.
Contact the Author,
http://www.ayoadedeji.com/
www.michconsulting.com
To get the book visit:
MICH CONSULTING LTD|Niger Insurance House,
4th Floor, 302/304, Road, Anthony|Ikorodu|Lagos
Price: N 2500