BOOK REVIEW: THE WAY TO GENERATE INTERNET STREAMS OF INCOME BY BIBI APAMPA
7 STRATEGIES TO BUILD SUSTAINABLE WEALTH FROM THE INTERNET.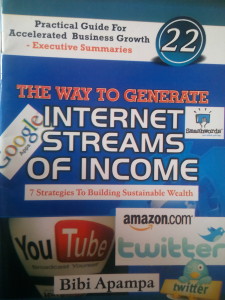 To buy this book, send a request to dayoadetiloye@gmail.com. It will be posted to you anywhere you are in Nigeria.
Have you ever think of how you can make money on the internet?
This is an opportunity to be your own boss. This book can truly guide you to be gainfully employed and how to generate income on your own. It is a great practical book.
The Aim of this book is to show you step by step on how to create multiple business's online in different niches that would generate income over time.
Author                -Bibi Apampa
No of  Pages        – 44
Published in Nigeria by 100/10 Publications
© Copyright 2013
THE WAY TO GENERATE INTERNET STREAMS OF INCOME
CHAPTER 1
Publishes Author- Amazon kindle, Smash words, Create space, website www.MasterBookPublishing.com
The power of publishing is shifting to author as it is fast and easy to be self publish now. Everyone has book inside them, a book written by you tells the world you are an authority in that field. Publishing a book is a great way to earn income
CHAPTER 2
Network marketing- Building teams to leverage effort and maximize returns from team member's e.g.
It is a way for business to distribute their product, it a marketing channel, it is a different way of doing business, it a person to person communication, and also a residue income at its best.
CHAPTER 3
Online coaching-www.RetirementBusinessMentor.com www.TheExpertInMe.com
www.HomeBusiness.mentor.biz www.InternetbusinessMentor.co.uk
You can leverage your expertise and bring it to market by organizing seminar and workshops online or through personalized mentoring programs.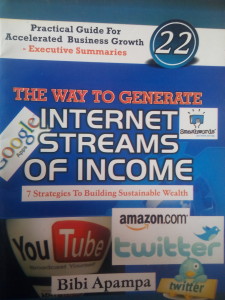 CHAPTER 4
Niche Bogging –www.DietandLoseWeightSite.com  www.RichRetirementPlanning.com
When you are an infopreneur and you blog on a certain niche topic and become an authority in that niche by giving out good free information and content. You then monetize your blog
CHAPTER 5
The Internet Business Plan- Selling your own product- www.SmallBusinessForExpatWives.com
Product creation is about turning your ideals into income. It about creating a new product from the scratch, or maximizing the income and impact you already.
CHAPTER 6
EBay Power Seller- www.PowerSellerToBe.com  www.BecomePowerSeller.co.uk
EBay is an online auction venue, people can place items up for sales, and buyers bid on them, with the winning bidder receiving the item.
CHAPTER 7
Affiliate Marketing Start business online affiliate marketing-    selling other peoples product e.g.
You tube strategy-   http://www.youtube.com./MyOwnInternetBiz
http://www.youtube.com./EmpowermentWorld
Face book strategy – www.facebook.com/bapampa
Squeeze page strategy- www.StartMyOwnInternetBusiness.com
www.RichRetirementPlanning.com
The Author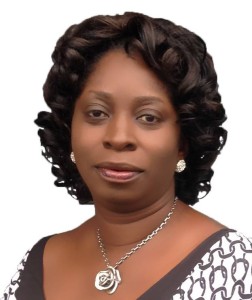 Bibi  Apampa- 
She is a UK based Director of The Empowerment Centre and successful entrepreneur, chartered accountant, International speaker, trainer and author.
She is a valued a fellow of the prestigious accountancy organization, including the institute of taxation.
The Empowerment centre of and the Queen Makers Academy was set up by her to help ordinary people improve their lives, not only financially, but also physically, personally, professional and spiritually.
Through her training, mentoring, speaking and coaching programs, she has empowered many people over the years to start and grow their own businesses, build wealth, create multiple stream of income and achieve financial independent.
 To buy this book, follow this procedure:
Price: N500
Posting cost: N200
Total: N 700
Pay into any of the following Accounts:
You can pay to any of these accounts through cash or online transfer
1. Bank: GT BANK
Account Name: Adetiloye Adedayo Patrick
Account Number: 0037218392
Account Type: Savings
2. Bank: ACCESS BANK
Account Name: Adetiloye Adedayo Patrick
Account Number: 0033807847
Account Type: Savings
3.Bank: DIAMOND BANK
Account Name: HUNDRED AND FIVE ACADEMY
Account Number: 0041562713
Account Type: Current
Bank: FIRST BANK
Account Name: Adetiloye Adedayo Patrick
Account Number: 3087803393
Account Type: Savings
After, you text the details bellow and  call Rofiat on: 08144382968
Then text your details:
Your full Name
The bank you paid to and the amount
The post office box you want us to send it to
You will receive your package in 5 working days.
This book review was compiled by Omoniyi Rofiat.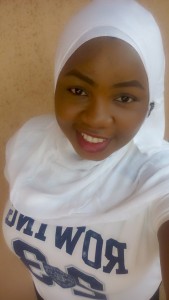 She is an Associate Business Consultant at Dayoadetiloye.com
She has Professional Diploma in Computer science.
She loves reading and dancing.