Business Motivation with Dayo Adetiloye @ the Company Launch party of the Greatest Copyediting and Proofreading Company in Nigeria Founded by (Mrs) Adeyinka Oresanya.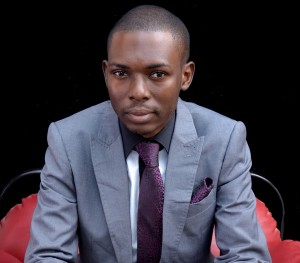 We have heard about the beauty of entrepreneurship-how you are able to pursue your passion as against working a job you don't like just because you have to, how you become your own boss and create jobs for others; but then the thought of starting your own business can be scary. I'll like to ask, Mr Dayo Adetiloye,"what does it really take to be an entrepreneur?"
-I celebrate Mrs Adeyinka Oresanya as she takes a bold step to launch the greatest copyediting and proofreading company in Nigeria. I have visited the company website www.thedaughtersinspirations.com. It is amazing, creative and fantastic. I am happy to be here on this platform, on this great day to share with you information on entrepreneurship and taking the giant step to launch out.
– My name is Dayo Adetiloye. I am an international business consultant, author, public speaker, serial entrepreneur and a business coach. I generally help people to discover, develop and fulfil their business potential.
I run a blog on Youth Entrepreneurship at www.dayoadetiloye.com
 What does it really take to be an entrepreneur?
This is a strategic question. All of us have potential to be an entrepreneur but only few are taking bold step to unleash it. You need to start your business to unleash it.
For you to become an entrepreneur, you need to become a solution. All entrepreneurs are problem solver. They find a need and they meet it. They find a void, they fill it. They find a problem and they provide solutions for it.
It takes determination, persistent, commitment, willingness to launch out. Idea is a spirit looking for human body to possess. Your idea will just be an idea in the spirit if you don't let it posse your body and launch out with it like Mrs Adeyinka is doing today.
It takes absolute faith in God to be an entrepreneur because you don't know when and where the next customer will come from.
When you start, you put the word of God in your mouth and release your faith and start calling those things that be not as though they were.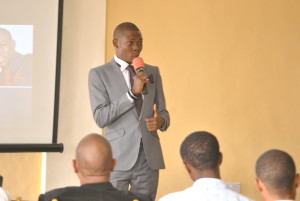 Mr Dayo Adetiloye, when you started out your business, what were your fears and how did you overcome them?
-I will share some secrets with you today. These secrets, I learnt them from mentors directly and indirectly. I practiced them and they have worked for me and they are still working till today.
What were my fears when I started out?
I did not fear that I am starting my business with zero naira. I did not fear that I don't know when and where the next customer will come from. I did not fear that I might not have sales for 3 months. What I feared then was what my family will say. A lot of encouragement to look for job and a lot of discouragement because business might not bring instant money as you start.
I was able to overcome this by just being resolute and staying focus. Today, everybody is happy that I am pursuing my dream and fulfilling destiny. Your fears are testing phase to see if you are fit for the business assignment. As an entrepreneur that is starting out, you must have the ability to see the millions of the future.
Back to the secret I want to share with you.
Anything you want to do, start early.
Learn from the best people around the world.
Develop an eye to see opportunity everywhere. Someone once said, Great opportunities are not seen with your eyes, they are seen with your mind.
Develop sales and marketing skills and be very good at it. That is the skill that will bring the money in. You can produce, but if you don't sell, you will soon close your shop.
Saving skill is a tool you have to master as you climb the ladder to become a millionaire.
As you launch out, leverage more on the online platform. Create a website like thedaughtersinspirations.com, you can do a blogsite like www.dayoadetiloye.com. Have facebook page, BBM channel etc. you can invest more and do Google Advert. We have more people that have capacity to pay for your services and buy your product coming online these days.
Depend absolutely on God
3. As a writer, Mr Dayo Adetiloye, what was the challenge you faced most and how did you overcome it?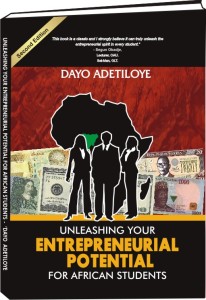 Thank you for this question. I authored Unleashing Your Entrepreneurial Potential for African students. The focus is on how students can lean practical entrepreneurship skills as a student. The Vision is to reach out to 70% of African student with the book. Either they buy it of somebody buy it for them. Today we have 6000 copies in print. You can down load a free e-copy at
https://app.getresponse.com/site/unleashbuyer/webform.html?u=SuQl&wid=4633002
Just submit your name and email address.
The greatest challenge I had then when I did the 1st 1000 copies was how to raise the money to print it. I overcame it by working with the right team. I was a Youth Corper observing my 1 year NYSC scheme. I had to get 10 people to loan me 15k each added to my savings and the book came out.
The second edition, with ease we were able to produce 5000 copies.
I read a lot a lot about books on writing, publishing, branding and marketing before I published my first book. I mentor a lot of new authors today. I have created a platform on facebook called Author's Platform. Click this link to join https://www.facebook.com/groups/318182718278334/?ref=br_tf
I advise new authors to ensure that they get all the advice they can get before the publishing of their book. Today we have a training package for Authors in our organisation Hundred and Five Academy (100/5 Academy). "How to Profit from the Author within You". We help you on Writing, Publishing, Branding, Promotion and Marketing.
My number one advice for authors is to create online platform where you will have fans and followers. Start a blog, a facebook page and a mailing list.
I am working on my next follow up book titled "Millionaire Graduate" with the online platform I have built, I can guarantee that close to 50,000 people will know about it 24hrs after it is released. This online people are my 5000 facebook friends, my Twitter followers, my over 5000 email list, my BBM contact, my over 1000 Whatssapp contact and my offline contact too.
I believe www.thedaughtersinspirations.com is ready to help us young and new authors with copyediting and proofreading. That is the reason Mrs Adeyinka Oresanya founded the company. You don't have to be the writer or author and still be the editor at the same time. I know their charges are very affordable and flexible. A trier will convince you.
Before I go today, let me say a word of prayer as we start www.thedaughtersinspirations.com. I pray for you, as I receive the grace for www.dayoadetiloye.com in which the transaction on it runs into millions today. As I receive it, I give it on to you. In the next couple of months 20 staff will not be enough in your company.
Mr Dayo Adetiloye, please tell us how we can get your book, Unleashing your Entrepreneurship Potential.
Ok. Thanks. You can download the e-copy by clicking on this link. You will access some chapters there. Then you will see contacts of different places in Nigeria to pick it up.
https://app.getresponse.com/site/unleashbuyer/webform.html?u=SuQl&wid=4633002
Just submit your name and email address.
You can also get it on Amazon. Click here:
http://www.amazon.co.uk/Unleashing-Entrepreneurial-Potential-Africa-Student-ebook/dp/B00KWLK8JA/ref=asap_bc?ie=UTF8
Where can we get more information about you sir?
Phone no/ Whatssapp no: 08060779290
Website: www.dayoadetiloye.com
E-mail: dayoadetiloye@gmail.com
BBM Pin: 7EFFE8D6
Twitter: https://twitter.com/Dayoadetiloye
Facebook page: https://www.facebook.com/dayoadetiloye
LinkedIn: https://www.linkedin.com/profile/view?id=199360042
Googleplus: https://www.google.com/+DayoAdetiloye
Thank you for coming  Mr Dayo Adetiloye.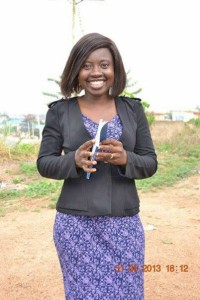 Adeyinka Oresanya completed her master's degree in agricultural extension and rural development with special interest in development and health communications at the University of Ibadan in 2014. She learned the art of editing under the tutelage of seasoned academics in her alma mater.
She has two academic papers published locally to her credit and one currently under international peer review.
Adeyinka Oresanya has edited for research students, bloggers, newsletter publishers, churches, and soon-to-publish writers.
An avid reader and a passionate writer, she has published several short stories and a novella titled Behind the Dazzle.
She is the senior editor of The Daughter's Inspirations.