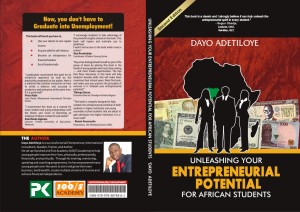 BOOK REVIEW: UNLEASHING YOUR ENTREPRENEURIAL POTENTIAL FOR AFRICA STUDENT
The aim of unleashing your entrepreneurial potential for African student by Dayo Adetiloye is to unleash the entrepreneurial spirit in every student in Nigeria and also to reduce unemployment in the country.
Author –Dayo Adetiloye
No of pages -187
Website- www.dayoadetiloye.com
©copyright 2011
Publish by Hundred and Five academy (100/5 ACADEMY)
WHO NEEDS THIS BOOK?
This book is a resources material designed for people with a drive for knowledge and those that are willing to deliberate press into all that God has destined them to be, particularly in the area of business.
This book is also good for people that believe in personal training and development, a prerequisite for greatness in life
CHAPTER 1
SCHOOLING FOR A SEASON
"This is the time for everything under the sun" – king Solomon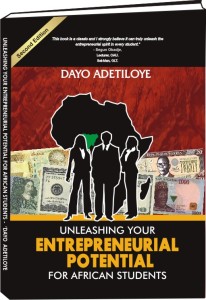 CHAPTER 2
UNVEILING THE STUDENT ENTREPRENEUR AND HIS CHARACTERISTICS
"Entrepreneurship will become a core skill which all our young people will need to exploit the opportunities emerging from science and technology, culture and communications.  " –Tony Blair
CHAPTER 3
PATHWAY TO ACADEMY EXCELLENCE
"Excellence is the attainment of the highest level of quality and perfection. Being excellent means becoming a person of distinction. " –Dag Heward-Mill
CHAPTER 4
BALANCING ACADEMICS EXCELLENCE
"No one lives long enough to learn everything they need to learn starting from scratch. To be successful, we absolutely, positively have find people who have already paid the price to find people who have already paid the price to learn the things that we need to learn to achieve our goals.  "-Brain Tracy
CHAPTER 5
HELP FOR THE ACADEMICALLY CHALLENGED ENTREPRENEUR
"Failure is only the opportunity to more intelligently begin again."-Henry Ford
CHAPTER 6
BUSINESS OPPORTUNITIES IN THE HIGHER INSTITUTION
"Finding something you like to do and make it pay." –Harvey B. Mackey
CHAPER 7
PERSONAL DEVELOPMENT
"It better to be prepared for an opportunity and not have one, than to have an opportunity and not be prepared."-Glen A. Mc Quirk
CHAPTER 8
MIND YOUR MIND
"Whether you think you can or whether you think you can't…you're right" –Henry Ford
CHAPTER 9
GENERATING BUSINESS IDEA AND OPPORTUNITY
"Every business fortune is built on ideas.  " –Bishop David Oyedepo
CHAPTER 10
HOW TO GET THE STARTING CAPITAL
"Provision follows vision. A venture so passionately planned with unwavering effort to make it succeed is bound to attract it succeed is bound to attract its material equivalent." –Ayo Adedeji
CHAPTER 11
STARTING OUT
"Everything you see exist because someone, somewhere had an idea that they acted upon"
-Glen A. Mc Quirk
CHAPTER 12
ON YOUR WAY TO FINANCIAL FREEDOM
"But thou shalt remember the lord thy God, for it is he that giveth thee power to get wealth, that he may establish his covenant which he sware unto thy fathers, as it is this day." –Deuterononmy8:18
CHAPTER 13
DEVELOPING YOUR MARKETING, SELLING AND NEGOTIATING SKILL
"There is only one boss: the customer. And he can fire everybody in the company, from the chairman on down simply by spending his money somewhere else" –Sam Walton
CHAPTER 14
ACADEMICS, BUSINESS MODELS, AND STRATEGY
"Money flows in the direction of those who sit down to sit definite goal and think through on how to accomplish those goals." –Sam Adeyemi
CHAPTER 15
MULTIPLE STREAMS OF INCOME
"All wealth comes from adding value, from producing more, better, cheaper, faster, and easier than someone else." –Brain Tracy
CHAPTER 16
SOLVING PROBLEM OF MULTITALENTED ENTREPRENEUR
"When you focus on your focus, you will soon be focus of those around you" –Andrew Ajeigbe
CHAPTER 17
NETWORKING STUDENT ENTREPRENEUR
"You can't fly with the eagles if you keep scratching with the turkey." – ZigZigler
CHAPTER 18
SUCESSFUL PERSONALITIES OF STUDENT ENTREPRENEUR
"Success seems to be connected with action. Successful men keep moving. They make mistakes but they don't quit. " –Conrad Hilton
CHAPTER 19
ENTREPRENEUR AFTER SCHOOL
"The price you pay for life today determine your value tomorrow. " –Bishop David Oyedepo
CHAPTER 20
LAST WORD
A  Small jack can lift up a great car; small hinge moves great doors and small keys open great locks.
The Author of unleashing your entrepreneurial potential for African student
Dayo Adetiloye is a successful serials entrepreneur, international consultant, speaker, trainer, and author.
He set up hundred and five Academy (100/5 academy) to help young people improve their lives, physically, professionally, financially, and spiritually. Through his training, mentoring, speaking and coaching programmes, he has empowered many young people over the years to start and grow their own business, build wealth, create multiple streams of income and achieve financial independent
To buy this book UNLEASHING YOUR ENTREPRENEURIAL POTENTIAL , follow this procedure:
Price: N500
Posting cost: N200
Total: N 700
Pay into any of the following Accounts:
You can pay to any of these accounts through cash or online transfer
Bank: GT BANK
Account Name: Adetiloye Adedayo Patrick
Account Number: 0037218392
Account Type: Savings
Bank: ACCESS BANK
Account Name: Adetiloye Adedayo Patrick
Account Number: 0033807847
Account Type: Savings
Bank: FIRST BANK
Account Name: Adetiloye Adedayo Patrick
Account Number: 3087803393
Account Type: Savings
After, you call or whatsapp 08060779290