DayoAdetiloye.com CEO of the Week
A brief introduction of yourself.
My name is Dayo Adetiloye. I am a Business Planning Consultant. My first degree was in Agriculture (Soil Science) from Obafemi Awolowo University (OAU), Ile-Ife, Osun State, Nigeria. I had my Second degree in Masters of Business Administration (MBA) from the same university. I also have Certificate in Entrepreneurship Management (CEM) from Enterprise Development Centre, Pan Atlantic University (PAU).
What is the name of your company?
The name of my company is Dayo Adetiloye Business Hub. We render Business Planning Consultancy through www.dayoadetiloye.com
What is your position in the company?
My position is Lead Business Consultant and also doubles as the CEO.
What were you doing before you set up the company?
Okay, thanks for that question. I had the privilege to start early during my undergraduate days at OAU, Ile-Ife. I started my business career by rendering services on campus. I did various business activities ranging from Photography, Selling of Clothes, Recharge Cards, etc. I also did Typing & printing of documents among other things. Eventually, I wrote my first book titled Unleashing Your Entrepreneurial Potential for African Students during my NYSC.
The book has a vision to reach out to 70% of African Students either they buy it or somebody buys for them. We have about 6000 copies in print. This formed the background of my venture. I was also privileged to volunteer with a mentor in the industry.
What was the motivation to establish the company?
My motivation has always been to solve problems for people. Dayo Adetiloye Business Hub started as a website at www.dayoadetiloye.com where we provide business information on grant opportunities to people. On that platform, we have mentored more than 1000 people across Africa to access grants for their start-ups and others for the expansion of their business.
We take advantage of grant opportunities like YouWiN Grant, GEM Grant, Tony Elumelu Foundation Grant, Diamond Bank BET, SABMiller/International Breweries PLC Kickstart Grant and other international grants.
Apart from profiling our client to access these grants, we as an organization has been able accessed one, through Tony Elumelu Foundation to open our first major outlet for Full business consultancy and to run effectively the Business Hub.
Tell us what services your company provides?
Okay, we render Business Planning Consultancy Services. When you come to us with an idea, we write a business plan for you, connect you with a mentor in the field to train you on the operations and the trade secrets of the business. We then connect you with grants and loan opportunities for your start up.
For Business growth and expansion, we visit your business and provide Business Structuring services for you. It will make your Business to earn more and eventually, run the business in your absence and we also do total turnaround for your business.
We do recruitment and training consultancy. Presently, we have a list of over 8,000 email subscribers of startups and business owners that we consult for.
How long have you been in business?
Individually, running business from my school days, I have 8 years' experience. Running my website www.dayoadetiloye.com, it's now 5 years. But corporately running Dayo Adetiloye Business Hub is now 8 months, with two full time staffs and 10 part time staffs, including volunteers and freelance staffs.
How have you fared in the business of consultancy?
It has been a great adventure for me. I always encourage young people starting ventures to plan very well. It has not all been easy all along, a lot of ups and down. For us to come to the business consultancy space, the online platform has been our leverage. I always encourage young people selling anything either goods or services to come online and own your platform. The grace of God is helping us.
What type of challenges do you face in this line of business?
Challenges of knowledgeable workforce and challenges of trust from customers because we operate primarily online.
Other challenges I faced as a starter was when my consulting business has not brought in financial returns. I had to struggle with that for a while before I started having paying customers. My first season of Jobs I did was for free.
During those periods, discouragement came from every quarters encouraging you to go and look for a job.  The truth is, I was tempted to leave what I was doing and re-package my CV and look for a job. Today I have employed people because I stayed with the vision.
Businesses are complaining that their customer bases and sales are going down because of recession in the economy. What will you advise a business owner with that challenge to do?
Go back to your plan. Every business needs to have a strategic plan. You are to Plan for 5 years minimum and consider a lot of scenarios.
When there is recession, what are you supposed to do?
During the boom, did you have a savings that is saved?

If yes, you can leverage on that until you enter another boom. If not, you have to start reducing your cost of operations. Most of the time, employee suffer this a lot. We can't lay off our machines but we can lay off staffs.

Look for new problems to solve along your line of Business, be innovative. People pay for solutions to solve their problem, recession or no recession.
And if your business is bad, I will recommend you get my mentor's new book, Dr Abib Olamitoye on "What to do when business is bad".
How should SME owners respond to recession in the economy?
Respond with innovation. Find new problems to solve and make the price affordable. Reduce your expenses/cost of running the business.
Have you been able to access funding from a financial institution?
I am an advocate of business grant than loan. My organization received Tony Elumelu Grant which was our major launch out offline.
Do you advise SMEs to borrow from commercial banks and micro finance banks given the high interest rate?
I always advise SMEs and startups to always save towards their ventures.
The natural way to raise start-up capital is saving. It is the neglect of long term regular savings that makes borrowing necessary.
Loan must not be the major part of your start up even if you will collect one. Generally, I don't advise loan. You can only get a loan if you do your calculations very well. Commercial bank loan is on the high side but you can take it if you are very sure of paying it back, whether your business succeed or not.
Bank is much more interested in you giving them a guarantee that their initial money will come back before they calculate the interest. We encourage Grant. You can apply for the www.youwinconnect.org.ng  closing by ending of August 2017, GEM, Tony Elumelu Foundation by 2018.
Another option is to look for investors. But you need a solid strategic Business plan to convince them to invest into your business. Your uncle or aunty can be your investor.
Tell us about your recent events and what you plan for the immediate future?
Thank you. We did a major seminar in Lagos of recent, Topic: "Make Money Writing Business Plan for others". It was a great event as we raise another set of business plan writers. The truth is, demands for business planning is on the increase daily and we need more people to join the sector. We can train you and set up this business for you. We encourage a lot of collaborations.
We plan to expand Dayo Adetiloye Business Hub to 10 major cities in Nigeria in the next 3 years. Then we hope to grow our subscriber list of entrepreneurs at www.dayoadetiloye.com from 8,000 to 20,000 before the end of the 2017.
We also tend to launch our new product, www.experttraining.ng. The platform aggregate both professionals and vocational training companies in Nigeria and connect students to them. We are raising investors and venture capitalist for it, and to employ more people to work with us on both part and full-time basis.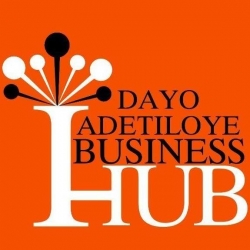 Latest posts by Dayo Adetiloye Business Hub
(see all)