Hello my Dear Friend,
I want to sincerely appreciate your interest in subscribing Cheap MTN data bundle plans with us for your phones and modem. Also, recommending our services to your friends, families and colleagues at work.
This is the NEW PRICE LIST to serve you better on our CHEAPEST MTN DATA.
Direct bank deposit or cash transfer
1GB — N1,400
2GB  — N2,500
3GB  — N3,600
4GB– 4,800
5GB–5,800
MTN RECHARGE CARD OR TRANSFER OF MTN CREDIT to buy CHEAPEST MTN DATA

1GB- N1,600
2GB – N2,900
3GB – N3,800
4gb- N5000
5gb- N6000
You can pay to any of these accounts through cash or online transfer for CHEAPEST MTN DATA

Bank: GT BANK
Account Name: Adetiloye Adedayo Patrick
Account Number: 0037218392
Account Type: Savings
Bank: ACCEESS BANK
Account Name: Adetiloye Adedayo Patrick
Account Number: 0033807847
Account Type: Savings
Bank: DIAMOND BANK
Account Name: HUNDRED AND FIVE ACADEMY
Account Number: 0041562713
Account Type: Current
4. Bank: FIRST BANK
Account Name: Adetiloye Adedayo Patrick
Account Number: 3087803393
Account Type: Savings
Immediately after making a payment,
Text your
1. Name,
2. Amount Paid,
3. Phone Number to be activated
4. Data Bundle required and
5. Location
To my phone numbers 08060779290, OR 08174584556
Once Payment is confirmed, you will be credited with the required data in less than 10 minutes.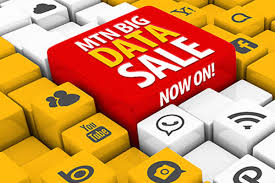 FREQUENTLY ASKED QUESTIONS
1) How do I subscribe to your data bundles?
Answer: To subscribe to our data bundles, pay with any of the options above either bank deposit or MTN credit card or credit transfer
2) How long does it take before I get activated?
Answer: After confirmation of payment, between 5-10 minutes.
3) How do I know if I have been activated or not?
Answer: On activation, a subscriber receives an SMS notification from 131.
4) After activation, how do I load the data I purchased?
Answer: by simply dialing *461*7#
5) Is this a cheat or trick?
Answer: we buy the bundle directly from MTN and sell at lower rates.
6)  Can I check my data balance?
Answer: Yes, you can easily check your data balance by by dialling *461*7# or by sending SHAREBALANCE to 131 via SMS.
7) How am i sure this is not a cheat or tweak that could be blocked anytime?
Answer: This is not a cheat or tweak, we are third-party agents and we legally purchase huge amounts of data from network providers and can afford to resell at these rates.
8) Does it work on all devices?
Answer: Yes, our data plans work on all internet enabled devices, be it an Android, iPhone & iPad, windows phone, tablets, blackberry, computers etc.
9) Can your data bundles really last for 30 days?
Answer: All our MTN data bundles have between 25 – 30 days validity. i.e it cannot be more than 30days and it cannot be less than 25days. You can confirm before you buy.
10) Do you support data roll over?
Answer: Yes, unused data can be rolled over if you top up your data by subscribing again before your bundle expires.
11) If I exhaust my data before 30 days, can I subscribe again?
Answer: Yes, you can subscribe as many times as possible.
If you have any more question we will be glad to clarify your doubts….call or whatsapp me on:  08060779290 or reply this e-mail.
Thanks for the opportunity to serve you better on CHEAPEST MTN DATA.
Till I hear from you,
Keep succeeding!
Dayo Adetiloye-
…Raising 100 Young Millionaire Entrepreneurs in Five Years… since July 2012
08060779290, 08174584556
You too can become a millionaire in Nigeria by just submitting a business plan.
Click here to access my free E-book and newsletter on Grants opportunities in Nigeria and other business opportunities and information to help you discover, develop and fulfill your business potential
http://dayoadetiloye.com/freegift.html