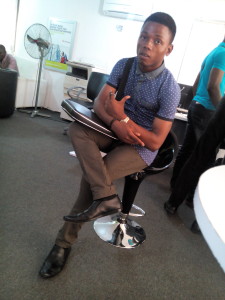 Join our Facebook Community Group to learn more about Business development and Grant Opportunities  https://web.facebook.com/groups/dayohub
Dayoadetiloye.com – Can we meet you?
CEO of EJESCO FOODS: Yes sir, my name is
Ejemudaro Emmanuel Oghenegana.
I am a 300 level student of department of
Mechanical engineering, Obafemi awolowo
University, Ile-ife. I am the CEO of EJESCO FOODS.
I love playing games and football at my leisure
time. I'm interested in doing the undo,
I love going beyond the culture, I love starting
new things, and I also enjoy breaking tradition, meaning I love setting new records.


Dayoadetiloye.com: What do you do at EJESCO FOODS?
CEO of EJESCO FOODS:EJESCO FOODS is a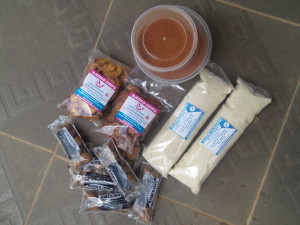 company that deals with the packaging of
kuli (groundnut cake), Garri (cassava flake),
plantain chips, powdered pepper and
fruit salad.
 
Dayoadetiloye.com: How did you start your business?
CEO of EJESCO FOODS: I started my business in a little way in the course of ASSU strike. The 2013 ASSU strike favored me, because I was able to think of what I could do on campus when the strike had been called off. Neither before the ASSU strike nor before gaining admission at all, I was a supplier of Mr. Biggs; I supplied them snails in dozens. Aside that, I teach UTME classes too. But my priority is based on food business anyway, because food is people's daily need.
Dayoadetiloye.com: What are the challenges you faced when you started?
CEO of EJESCO FOODS: Yes, I faced some challenges. It took me a whole lot of time to get a nice package for the groundnut cake, because that was what i started with. Moreover, I faced a little challenge from my final consumer then. Their complain was based on the emphasis that the groundnut cake was too small for its price. So I decided to add to the quantity which helped me to validate the standardization of the product, even on the other products.
Dayoadetiloye.com: How are you combining your academics with my business?
CEO of EJESCO FOODS: Bless God, It is not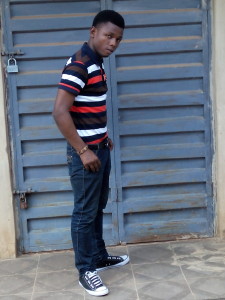 by power, nor by might, but by the spirit of
the most high. It's not really easy combining
the two, but one thing is that one has to be
well focused. I personally tuned down my
social life to attain a 100% focus on this
business. Also, when i remember the likes
of Mr. Aliko (Dangote president),
Mr. Jimoh Ibrahim, It gingers me the more.
Another thing is that one should be always
optimistic and not be discouraged with his/her
friend, because I was initially discouraged too. My friend will always say, see this boy, he's selling Kuli (ground nut cake), but the truth is that their jest always make me think deeply.
Dayoadetiloye.com: What is your vision for the business in the next five years?
CEO of EJESCO FOODS: My vision for the next two years is to feed the nation with original food products. Feeding of schools (university, polytechnic, college of Education, boarding school and secondary school) is of my utmost priority. And in the next five years, I can see the groundnut cake and the cassava cake outside the country.
Join our Facebook Community Group to learn more about Business development and Grant Opportunities  https://web.facebook.com/groups/dayohub
Dayoadetiloye.com: How do you market your products?
CEO of EJESCO FOODS: As an entrepreneur, you have to be hardworking. I market my products via free launching, I mean giving out free samples to people. I give out a minute taste to a new environment. I also market my product by taking then to retailers and explaining to them the benefits of the product. As of now, I've covered 60% of my school and some certain areas in Ile-Ife, Osun state.
Dayoadetiloye.com: what is your advice for aspiring student entrepreneur?
CEO of EJESCO FOODS: Well, I believe that everything lies in the hand of our creator. But the simple advice i will give is that "whatsoever you find yourself doing, do it well". Do not allow anything to discourage you (i.e. consecutive failures), be yourself always. Stay focused.
Dayoadetiloye.com: How can other student entrepreneur partner with your product?
CEO of EJESCO FOODS: Fine, other student entrepreneur can partner with EJESCO FOODS in two ways:
A. ON COMMISSION BASIS: How? Only Obafemi Awolowo students are allowed to partake on commission basis system. How does the commission system works? The commission system works by giving my product to anyone that is interested to sell for us, and this will make him/her to be self-employed and earn a lot of income.
The analysis goes this way: a dozen of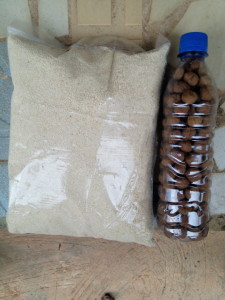 Kuli goes for N100, meaning for each dozen
You sell for us, you will earn N30, while
every bottle of kuli Ejesco sold by you
will fetch you N20.
The bottle of kuli Ejesco goes for N200.
A dozen of Kuli Ejesco is 13 and not 12.
While for every dozen of Garri Ejesco
sold by you, you will earn N50.
While on the bigger package sold by you, you will earn N20 for each. The small Garri Ejesco cost N25 each and the bigger price cost N250 each. The small Garri contains a
cup while the big one contains a Congo plus half cup.
On every dozen of Ejesco chips sold by you, it will fetch you N50, while Ejesco pepper fetches you N5 per plate.
The summary is that you can earn more as you market.
B. FOR OUTSIDER (NON-OAU STUDENT): You can order anywhere you are and the product you ordered for would get across to you. How can you place an order? Simply text any of the product you want to buy and the quantity via SMS to 08133000196 or 09035141880.
How can you pay? By sending 60% of the money into my account and when you receive your goods, you will send the remaining 40% instantly. My shop is located at Zone B, Blk 2, shop 12, OAU central market, Ile-Ife, Osun state. We can also bring the goods to you "if and only if" your institution is sited within Osun state, and outside Osun state, it can only be sent to you through driver.
Particulars of Account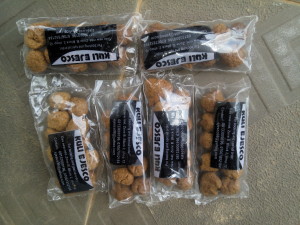 Bank Name: GT bank
Acct Name: Ejemudaro Emmanuel
Acct Number: 0118729074.
 
Dayoadetiloye.com: What can you say about Dayo Adetiloye's ENTREPRENEURSHIP BOOK for African Students?
CEO of EJESCO FOODS: The Book,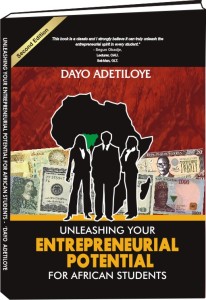 Unleashing Your Entrepreneurial
Potential For African Students is a classic
like my Pastor said, Pastor Segun Obadje.
He said and I quote "This book is a classic and
I strongly believe it can truly unleash the
entrepreneurial spirit in every student."
I can say this book is already helping me to
Unleash more of my entrepreneurial
Potentials. I know God sent this book to me.
It is a manual for any student that don't want to
Graduate into Unemployment! I encourage all OAU students and every student in Africa to buy this book and read it. You can call me on 08133000196 or 09035141880 to get your own copy because I am already an ambassador of the book.
Just N500 Only!
Dayoadetiloye.com: What other things can we know about you and your business?
CEO of EJESCO FOODS: Thank you sir!
Nothing much again, but i also want you to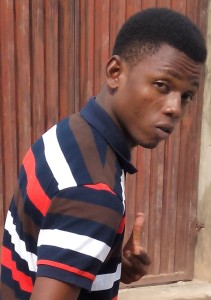 know that I am a believer of God's word.
In addition, I don't believe in B.sc, I only
believe on what you can do with your B.Sc.
I also much more believes in education,
because it is the basic light. Lastly, I am also
an agent of My Joy bread and Mirth Bread
Company in Osun State. I believe people
will know you for what you do. Let me step aside by honouring my SUG president in person of Mr. Ibikunle Isaac Motunrayo and My vice president popularly known as Olori, and i also salute my Ejesco Team, my workers, because they are the Ejesco, not me. For enquires and more info, reach me @ 08133000196 or 09035141880 also @ ejesco98@yahoo.com
TO GET SIMILAR INTERVIEW FOR YOUR PRODUCTS AND SERVICES AS A STUDENT IN ANY HIGHER INSTITUTION IN AFRICA. SEND E-MAIL TO dayoadetiloye@gmail.com OR CALL 08060779290 OR 08174584556.
Join our Facebook Community Group to learn more about Business development and Grant Opportunities  https://web.facebook.com/groups/dayohub