FROZEN FOODS BUSINESS PLAN IN NIGERIA
Frozen Foods Business Plan in Nigeria
This sample Frozen Food Business Plan In Nigeria can be used for Grant Applications, Bank Loans, Proposal writing, Business Concept Note, Competitions etc. The Frozen Food Business is a lucrative business that needs a lot of strategic Planning to start and a business coach like Dayo Adetiloye to help you start the Implementation.
Business Description of Frozen Foods Business Plan in Nigeria
Business: Frozen Foods
Industry: Food processing and retail
The Frozen Food business is an all-time, evergreen business, profit worthy FCMG, meeting the basic need of every human on the face of the earth.
PATILAD Frozen Foods, is a budding frozen food company, we sell fresh high quality frozen seafood, beef, pork, chicken, turkey, roasted frozen rabbit meat, roasted frozen grass cutter meat and quail meat.
We take note to maintain a company standard that gives us room to deliver excellence. Our customer service is poised to be impeccable and we are set to keep our customers satisfied. We will do this through consistent review and regular customer feedback exercises.
We are located in Orile Lagos. We purchase our products daily and directly from local farmers and contacts around the western part of Nigeria, e.g fresh water fishes from Igbokoda, Ilaje, Owena, Okitipupa, we also patronize neighbouring poultry farms, grasscutter farms, etc. This allows us to pick from the finest selection of seafood available anywhere.
Currently, we sell to over sixty restaurants. We had a 10% increase over last year and we estimate that we will have additional restaurants as customers next year when we are able to secure the funds to actualize that. We are looking at expanding our current location and establish two branches in other very viable location we discovered in Akowonjo and Okoko. We are also sourcing for funds to market our brand to the neighbouring districts.
We have made a net profit of 10million since we started two years ago, with a gross of 25million at a 35%growth rate.
Our products undergoes stringent processing and packaging as stated by the standard organization of Nigeria
The benefits of our products and services are;
The provision of high quality well packaged fresh frozen foods all year round

Consistent and large production capacity to meet the teeming demands for our many customers

Availability through penetration into every nooks and cranny of the city with our efficient distribution channels

Excellent customer care services
Objective for Frozen Foods Business Plan in Nigeria
-Increase the number of customers buying from Patilad Frozen Food Market by 10% over the next two years.
-To initiate a relationship with bulk purchasers or dealers to reach far places in Nigeria
-To achieve a net profit in year one, increasing in year two, by curtailing costs and meeting sales goals
-To provide quality sales service and products at fair and best possible prices.
Our Goal for Frozen Foods Business Plan in Nigeria
To exceed our consumers expectation in product quality, packaging, freshness and service.
Vision for the Frozen Foods Business Plan in Nigeria
To be a household name in the frozen foods Company in Nigeria, making the top ten most successful frozen foods of all time.
Mission for Frozen Foods Business Plan in Nigeria
To supply our end consumers high quality frozen foods all round seasons.
To establish our presence in every major residential area of major cities in Nigeria
Management Team of Frozen Foods Business Plan in Nigeria
Olatunde Filani – is a seasoned business manager with 17years experience in managing food business a graduate of Food tech from University of Lagos, with a master's degree in business administration. She has successfully worked as marketing manager for Zartech Frozen Foods Company in Ibadan for 8years. She will be in charge of day to day running of the business.
Mr Dayo Adetiloye – (B. Agric., MBA, and PMP): He has over 15 years' experience in business management, business start-up dynamics, financial management of business and overall business growth and development. He is an alumnus of Enterprise Development Centre (EDC) of the Lagos Business School (LBS), Pan African University (PAU). He is our business development strategist and a strategic partner.
We brought to the business:
Educational skill, marketing and practical experience in food business.

Capacity to consistently provide high quality, nutritional, and flavorful plantain chips all year round.

Valuable food processing skills that make us own the value chain to a good extent.
Management experience of Frozen Foods Business Plan in Nigeria
I have over 17 years' experience in frozen foods business, been raised by a frozen foods seller- my mother. We had a mini cold rooms in the Gbagi market, there I learnt the art of this business and got a first hand exposure to both the production processing, packaging, sales and management in the frozen foods. I later worked for Tuns frozen foods in Osogbo, Osun state as the head of sales and marketing for 5years. I've being able to master the technical requirements, financial management, staff recruitment and organization skills among other things necessary to give the firm good commendation from our clients.
My managerial skills has also helped in putting together a workforce for over 7 years, which will  also help me to coordinate  the  team work in most aspect of the company.
I am the CEO of the company overseeing the day to day activities of the business.
Materials and Machine for Frozen Foods Business Plan in Nigeria
Freezers, Cold rooms, Cutter, packaging machine, nylons, water treatment devices, delivery Vans, Food trucks.
Competitor Analysis For Frozen Foods Business Plan In Nigeria
People buy from us because of the following reasons:
High quality freshly packaged frozen foods

Wide range of frozen foods to buy

High distribution channel

Fresh and highly hygienic

Excellent customer care services

Fair and best possible prices and discount offers
Our three major competitive advantages are:
Penetrative capacity to reach the nooks and crannies of major cities in Nigeria

High production capacity to meet demands all year round

Fair and best possible prices and discount offers
For the remaining part of this business Plan, including the detailed financial analysis, call any of our business plan consultants on 08105636015 or 08076359735 or 08113205312 or send me an email at dayohub@gmail.com .
We help institutions and organizations to write concepts and implement Business Plan and also train on business Plan writing in Nigeria.
We can help you write a detail, strong and winning business Plan for any use.
Call any of our business plan consultants on: 08105636015, 08076359735 and 08113205312.
or Send me an email at: dayohub@gmail.com .
Click to buy FROZEN FOODS Business Plan and Template Business Plan and template now & download it immediately.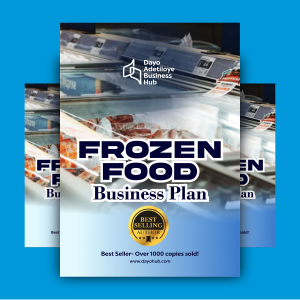 Click here to access my free E-book and newsletter on Grants opportunities in Nigeria and other business opportunities and information to help you discover, develop and fulfil your business potential
Click here to access my free E-book and newsletter on Grants opportunities in Nigeria and other business opportunities and information to help you discover, develop and fulfil your business potential