MUSICAL EQUIPMENT RENTALS BUSINESS PLAN IN NIGERIA
Musical Equipment Rentals Business Plan in Nigeria
This sample Musical Equipment Business Plan In Nigeria can be used for Grant Applications, Bank Loans, Proposal writing, Business Concept Note, Competitions etc.
Musical Equipment Business Plan is a lucrative business that needs a lot of strategic Planning to start and a business coach like Dayo Adetiloye to help you start the Implementation.
Business Description of Musical Equipment Rental Business Plan in Nigeria
Business: Musical Equipment Rental
Industry: Rentals services
PATILAD musical equipment rentals company, has been around for 5years, rendering service to clients, they are normally event hosts of major annual conferences, musical concerts, carnivals, fairs and likes. We have wide arrays of major brands in the sound and musical equipment industry which include Peavey, Echo, Dulox, Crown, Saischo, Yamaha, Casio, Roland, etc. We rent out musical instruments like keyboards, violins, violas, bass guitars, different kind of wind instruments, percussion instruments, mixers, mics, mounted speakers, tweeters, DJ music box, and so on. As we know that sounds and musical equipment are basic necessities of life, it's not surprising that though we are not the biggest in the market, yet we record consistent patronage from all across the nation.
We are currently working with 10staffs, and intend to employ more, our brand is not yet known in the South west let alone in the whole federation. We are therefore projecting to reach more customers through a well funded marketing and advertisement.
We intend to raise our profit margin which is currently a 15% net profit to 35%, so far we have been able to work without much publicity in the past but as we are seeing more new entries into this industry, we need to get to the front of our clients.
The benefits of our products and services are
High quality and all year availability of products

Experienced and knowledgeable staffs

Money back guarantee

Prompt response

Excellent Customer Care Services
My business meets a need and demand for:
Trusted quality equipments

Availability of products

Increase supply and a new choice.

Fair and lowest possible prices.
I have an experience of 12years, coupled with my professionalism in business administration, musical instruments repair and sales. I have good knowledge of the business workings and craft.  This business has grown from a one staff to 10staffs within 4 years, we have recorded 25% growth in the past two years, and we projected 35% in the next two years.
Objective of our Musical Equipment Rentals Business Plan in Nigeria
To make our online platform hitch free and easily navigated by our online customers

To double on every investment spent on projects

To generate customer satisfaction so that at least 60% of our customer base is repeated sales.

To provide quality equipment at fair and lowest possible prices with exemplary services.
Our Goal for the Musical Equipment Rentals Business Plan in Nigeria
– To introduce modern trendy quality equipment affordable for rent
– Become a profitable with the investment we solicit for  expansion potential
Our Vision for the Musical Equipment Rentals Business Plan in Nigeria
To become the strongest brand in musical and sound equipment rentals in Nigeria
Our Mission for the Musical Equipment Rentals Business Plan in Nigeria
To always exceed our customers expectations in service delivery and products range.
Management Team of the Musical Equipment Rentals Business Plan in Nigeria
Kelvin Ubah- (B.Engr, PMP) Patilad MER was founded in Abuja to rent heavy and highly sophisticated musical and sound equipment, for different kind of events across Nigeria. The company was formed by Kelvin Ubah an associate of Peavey Sound merchants of Nigeria. He has an engineer has gained a good repute for maintaining and repair of musical equipment for other sound rentals and merchants. He started this company about 5years ago, and has been able to raise it from one staff to ten staff, maintaining a high credibility in customer service and excellent service.
Mr DayoAdetiloye – (B. Agric., MBA, and PMP): He has over 15 years' experience in business management, business start-up dynamics, financial management of business and overall business growth and development. He is an alumnus of Enterprise Development Centre (EDC) of the Lagos Business School (LBS), Pan African University (PAU). He is our business development strategist and a strategic partner.
We brought to the business:
Capacity to stock our store on a large scale

Our experience in the industry bring competence and credibility

My staff brings operational, marketing and promotional skills to the business
Both co-owners will assume leadership roles within the company and will be responsible for daily operations, overseeing marketing efforts, buying merchandise and managing inventory and all other administrative duties. A small sales staff will assist co-owners with securing sales, assisting customers and general maintenance of stock on the floor.
Management experience gained for the Musical Equipment Rentals Business Plan in Nigeria
The company's management philosophy is based on responsibility and mutual respect. Patilad MER maintains an environment and structure that encourages productivity and respect for customers and fellow employees
Kelvin's makes all decisions concerning equipment purchases, as this is his area of expertise. He is in charge of obtaining all equipment for sales and rentals, completing contracts, working up quotes, setting up delivery of merchandise, arranging financing as needed, contacting customers, and verifying pickup and delivery.
He also design plans, oversee, marketing strategizing, meeting co-partners, writing letters and addressing key managerial issues, he is the think tank of the company.
Kennedy will manage the day-to-day operations including supervising staff, maintaining inventory and bookkeeping.
Gladys, earned a BA in business administration and MBA in master level, has 8years sectarial experience. She maintains a keen awareness of trends within the industry. She manages emails, does all the computer work, files any monthly or quarterly tax forms, compiles correspondence as needed, accounts receivable, accounts payable, meets with our bookkeeper for end of year tax return, keeps all office needs running smoothly, filing, typing, and printing.
Materials for Musical Equipment Rentals Business Plan in Nigeria
3years facility lease, delivery vehicle, labelling machine, fork lifts, tool boxes, computers for inventories, printers, air compressor, air tools and accessories, blow torch, welding machine and accessories, holding tank, assorted hand tools, washing vat, and repair accessories.
Competitor Musical Equipment Rentals Business Plan in Nigeria
People buy from us because of the following reasons:
Availability of high quality and trusted products

Fair and lowest possible prices and our discount offers

Prompt delivery services for online purchase

Excellent Customer Care

Long existing and loyal customers
Our three major competitive advantages are:
Fair and lowest possible prices.

Availability of high quality and varieties of products.

Online accessibility with home delivery

Exclusive product offerings
For the remaining part of this business Plan, including the detailed financial analysis, call any of our business plan consultants on 08105636015 or 08076359735 or 08113205312 or send me an email at dayohub@gmail.com .
We help institutions and organizations to write concepts and implement Business Plan and also train on business Plan writing in Nigeria.
We can help you write a detail, strong and winning business Plan for any use.
Call any of our business plan consultants on: 08105636015, 08076359735 and 08113205312.
or Send me an email at: dayohub@gmail.com .
Click to buy this business plan now & download it immediately from our online store.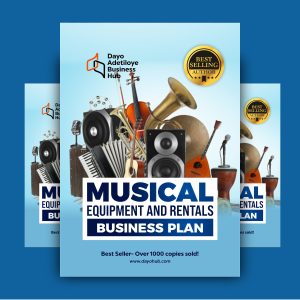 Click here to access my free E-book and newsletter on Grants opportunities in Nigeria and other business opportunities and information to help you discover, develop and fulfil your business potential
Click to buy MUSICAL EQUIPMENT RENTALS Business Plan and template now & download it immediately.