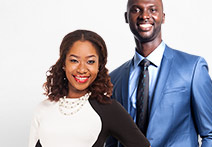 How To Answer The Etisalat 2 Million Naira Business Grant Questions
Hello My Dear Millionaire Friend,         
Happy day to you!
I believe you are making daily progress in your endeavours. It is my sincere desire that as many people reading this mail to build competency and capacity on how to turn labour into wealth. People are earning money buy they are not multiplying money.
Your financial greatness is in your seed not your income.
Income invested is a seed.
Skill you pay money to learn is a seed.
When you give to God's work is a seed.
A seed store somewhere is not going to multiply until you sow it to the ground. Your savings in bank will just be there without multiplication until you invest it.
I want to use this medium to sincerely appreciate all the people that have joined Leverage Caller Club, where we sell the special etisalat SIM through network marketing, by Investing just N11,500 and expect to make millions when you introduce people.
I am glad to let you know that people have joined from different parts of the country: Ijebu-ode, Abuja, Osogbo, Benin, Lagos, Balyelsa, Ile-Ife, Ibadan etc. Thanks for the trust and the interest in doing the business by introducing just 5 people to expand this network. Download this free e-Book http://dayoadetiloye.com/lcc.pdf to join this week.
HOW TO ANSWER THE ETISALAT QUESTIONS
Before you learn how to answer the etisalat question, there are some important steps to take. Remember I said, I participated in the first edition where I won a phone. We produced up to 20 people that entered top 200 and about 2 enter top 50. They won laptops, office equipment and business training.
The 1st step is to get your easy business/elite world SIM, without this SIM, you cannot participate
To get this SIM, you have 3 options.
Join Leverage Caller Club with your N11,500 where we sell the special SIM through network marketing. Download this free e-Book http://dayoadetiloye.com/lcc.pdf to join.
Go to etisalat office and request for the SIM. You can only buy three at a time.
If you have any etisalat CUG(Close User Group)sim you can use it
Step 2,
Simply recharge your easybusiness line with N3000. Dial *345*3# to pay for 3 months' subscription upfront
Then text YES to 5885 to receive a unique code and URL to submit your business idea
Step 3
You will now see where to register and fill the question.
You will see something like this
Top of Form

Easybusiness Millionaires Hunt 2 Application Form

| | | |
| --- | --- | --- |
| | | |
| First Name* | | |
| Last Name* | | |
| Gender* | | |
| Address* | | |
| Mobile Number* | | |
| Email Address* | | |
| Current Etisalat Products* | | |

Bottom of Form
Business Name*
Preferred Telecom Service*
Please paste your business idea in the space below:
(not more than 250 words)
*
The question is to describe your ideal in 250 words.
Here you go; you need to summarize your entire business plan in 250 words. This is what we advise:
You can summarize your YouWiN4 write-up or Tony elumelu write up. Ensure that all aspects of the business plan are well represented.
What we can do for you, for a token, is to summarize your YouWiN4 business plan for you in 250 words.
Or we help you review your 250 words if you write it yourself.
For the people that have join Leverage Caller Club and has been calling me for free and other member of the network.
You have 50% discount for any of the services.
To read the full information on the etisalat grant competition, click here http://dayoadetiloye.com/n20million-etisalat-business-grant-for-best-business-ideas-apply-now/
I will like to hear from you.
Till then,
Keep succeeding!
Dayo Adetiloye (B.Agric, MBA)-
AUTHOR – CONSULTANT – SPEAKER – ENTREPRENEUR – BUSINESS COACH
Helping men to discover, develop and fulfil their business potential.
…Raising 100 Young Millionaire Entrepreneurs in Five Years… since July 2012
08060779290, 08174584556
Important Reminders
N

10,000 March Bonanza

to set up your own blog like dayoadetiloye.com Closes by 31st of March. After, the price change back to N60,000.
I am happy that some people are taking advantage of this opportunity.
See some lucky ones here:
YouWiN4

is close but is still technically open.
The portal is still open. You can still encourage new people to participate
Note: We can sell to you the

N3000 etisalat airtime

to activate your 3 months subscription of the etisalat SIM for the competition.
Just make payment to any of our accounts and send the details to Rofiat on 08144382968 You will be credited in less than 10 Mins. Thanks
Join the leverage Caller Club

.
Sow your N11,500 to join and water it by introducing it to people, and you see might hand of God bring the increased results you desire.
Click and download this e-book to join this week.
http://dayoadetiloye.com/lcc.pdf
Our Company MTN and Etisalat Data

business is still very much active,
Click here to see our prices and buy from us today.
http://dayoadetiloye.com/cheapest-etisalat-data-plan/
Thanks