N20million etisalat Business Grant for Best Business Ideas. Apply Now!
etisalat Business Grant has a lot of benefits and opportunities for us in Nigeria
you need this easy business sim to participate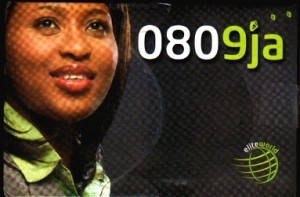 To get the special etisalat sim to do the etisalat business grant competition.
Call me now or send whatsaap chat on 08060779290 and apply for just N7,000 before it ends in June 12, 2015
or
Join Leverage Caller Club LCC where you can turn your N11,500 to N500,000 in  Six (6) Month in Nigeria by selling this special etisalat sim in a network marketing system.
Download this e-book to join http://dayoadetiloye.com/lcc.pdf
We will also guide you on how to write a convincing business plan that can win the etisalat Business Grant which is 2 Million Naira
We produce 2 people that entered the 1st 50 in Nigeria in last edition.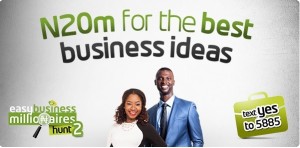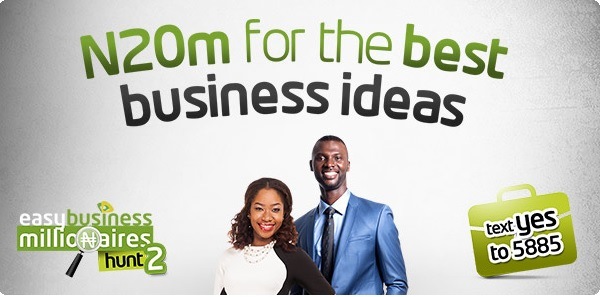 Easybusiness millionaires Hunt Season II 
The easybusiness millionaires hunt is a support initiative designed to empower top 10 SMEs with the most innovative business ideas through a N2 million financial grant each.
Benefits
Top 10 business ideas will be rewarded with 2 million naira each.
Top 50 business ideas will be rewarded with brand-new office equipment and 1-week entrepreneurship training at the prestigious Enterprise Development Centre (EDC) of the Pan Atlantic University, Lagos!
3 phones will be up for grabs daily throughout the entire call-for-entry period.
5 all in one scanner, printer and copier will be won every month during the call for entry period
Related: Cassava Farming and Processing Business Plan in Nigeria
Subscription details
To participate, simply recharge your easybusiness line with N3000. Dial *345*3# to pay for 3 months' subscription upfront
Then text YES to 5885 to receive a unique code and URL to submit your business idea
If you have already subscribed to the easybusiness package for a minimum of 3 months in advance, you are also eligible to participate.
*Please note that this opportunity is only available on easybusiness; Premium, complete, insure, Super BB and Super Data. 
Pricing & Tariffs
Premium Plan – 1,000 monthly subscription
Complete Plan – N1,000 monthly subscription
Compact Plan – 500 naira monthly subscription
Super BB Plan – N2,300 monthly subscription
Super Data Plan- N2,300 monthly subscription
FAQ 
How do I opt into the easybusiness millionaires hunt?
Simply texts YES to 5885 from your easybusiness line, you will receive an SMS with a unique ID and URL(Web) where your business idea is submitted.

 


Can any etisalat subscriber opt in to the promo?
You must be on an easybusiness package to participate e.g. Premium, Complete, Insure, Super BB, Super Data. If you are on another etisalat package, you will have to migrate to any of these easybusiness packages.
What are the conditions to be fulfilled to be eligible?
You must belong to a Closed User Group (CUG)
You must have an active easybusiness CUG subscription
You must pay his or her easybusiness CUG subscription in advance for 3 months
what are the prizes up for grabs?
3 Phones daily for 3 lucky subscribers that opt in to the promo
5 office equipment monthly for 5 lucky subscribers that submitted their business ideas online
Top 10 finalists win N2m naira cash grant at the end of the promo
How can I get on easybusiness?
Pick up a minimum of 3 easysim lines, register and dial 200 to activate, on the voice select 4 to choose easybusiness package
To migrate to easybusiness from existing etisalat sim, dial anu of the preferred activation code below, the first migration is free, subsequent migration cost N100
To submit your Business Plan for etisalat Business Grant after you have received your Easy business SIM with 3 month subscription and your Unique Code, click here
Source of etisalat Business Grant information: etisalat.com.ng
Send me a Whatsaap chat for further enquiries 08060779290 or add me on BBM.
My BB PIN is 7EFFE8D6
| | | |
| --- | --- | --- |
| Easybusiness variant | Activation code | Amount |
| Premium | *246*4*1# | N1,000 |
| Complete | *246*4*2# | N1,000 |
| Insure | *246*4*8# | N1,000 |
| Super BB | *246*4*5# | N2,300 |
| Super Data | *246*4*6# | N2,300 |