How to Make N2.4M Monthly Organizing Free Seminars In Nigeria Without Using Any Paid Adverts.
In this article, I will be revealing to you a business venture that you can do, and will make you at least N2.4 million within 30-days; all without doing any MLM, building websites, doing any affiliate marketing or robbing the bank.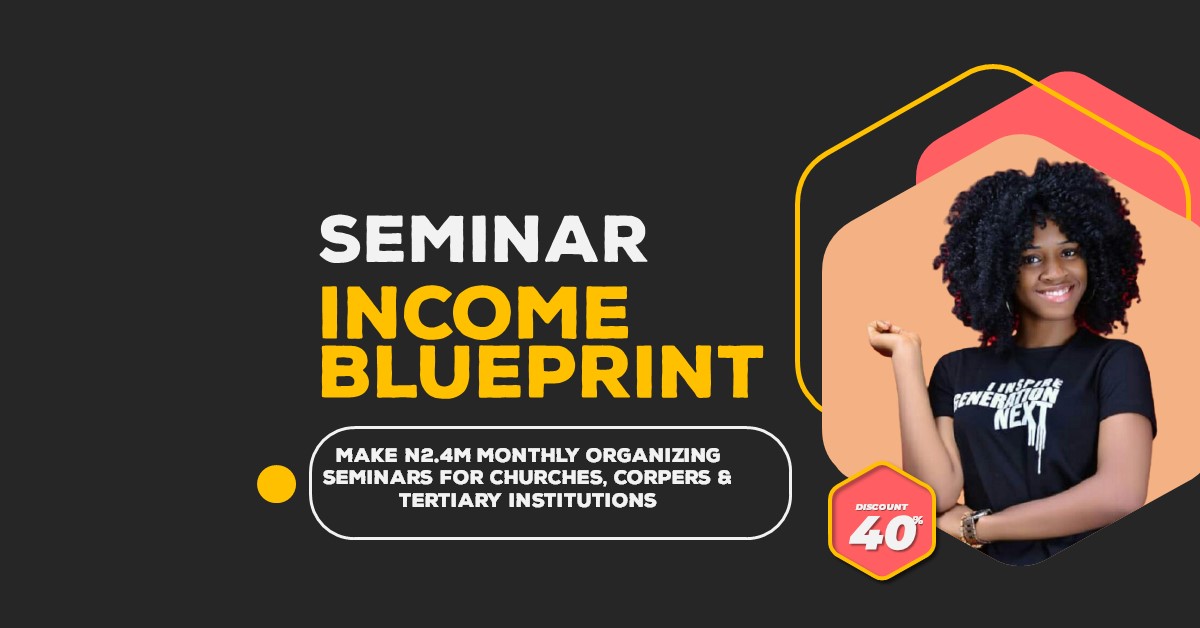 I know you might be doubtful or even shock, and then wonder if there is any SERIOUS legitimate business like that still existing in Nigeria or anywhere in the world.
Well, get ready as am about to blow your mind!
To be frank, I was doubtful myself the very first time my business partner, Daniel Ogbeifun, told me about this business and how he has been using it to bank millions into his bank account like clockwork, and at the same time building his company and reputation nationwide.
When he revealed this business to me, I was truly amazed at how legit and smart the model of business is, and of course, I was truly interested in it myself, and at the same time, I knew that my readers and clients would also need this.
Now, what business model have I been going on and on about?
It's the business of holding seminars in tertiary institutions like Universities, Polytechnics and Colleges of Education in various states of the federation, as well as for churches, corporate bodies and Corpers.
You know what, nobody is actually doing the business of running seminars and workshops in tertiary institutions, churches, and corporate bodies. Often times, when companies want to hold seminars and workshops, they print banners, flyers, handbills, and do adverts.
While this is not a bad thing in itself, the company could end up spending a whole lot and passing the expenses in terms of costs for the training.
However, the way Daniel Ogbeifun organizes his seminars, with his brand, MegaRich Networks and Consults LTD, is that the seminars are made absolutely FREE of charges, there is no flyers or handbills or adverts whatsoever; and still, end up making N2.4 Million before the seminar day from the seminar participants.
Can anyone actually run seminars in Nigeria, especially with Covid – 19?
What if I can't address an audience?
What will I even teach people?
Do I need to have a registered company to hold seminars?
I will be answering all these questions and even more, and you will get to see that this is the business that you should be involved in…. especially in this information age.
In the Seminar income Blueprint training course, everything relating to holding successful free seminars that bring in nothing less than N2.4 million naira every single month is exposed.
You should know that the seminar business is so lucrative that billionaires and big shots are even holding seminars and making millions of $s from it.
Donald Trump, the present US President, and a Billionaire holds seminars where people pay thousands of dollars to learn from him.
Robert Kiyosaki does the same thing and thousands have paid just to learn from him as well.
Same thing with the Billionaire Warren buffet. Thousands pay to learn from his pool of investment knowledge.
If you own a business, or have a skill, there are millions of people who are willing to pay just to learn from you!
The seminar business is a multi–million–dollar industry, and very few smart individuals are cashing in on it right now.
Its not a new venture, but has been going on for decades. It's just that many Nigerians don't know how it works; and how to go about it.
This is what the Seminar Income Blueprint tends to solve, as you get to learn from someone who has been holding seminars across the country for about 13 years now, and has made millions from the venture, and even built a company around it.
Who Is The Seminar Income Blueprint Meant For?
The Seminar Income Blueprint is meant for anyone seeking to step out of the rat race of a paid job; or for anyone seeking financial freedom, while at the same time helping thousands of people build and grow their business in the process.
Job seekers – for the undergraduates, graduates, and unemployed, the seminar Income Blueprint would be a welcome relief, as the training will lead you by the hand and show you how to get started building a business that will pay you for life.
With the knowledge here, and the actionable steps and strategies, you would never need to work for anyone ever again.
Underemployed – these are the people that are already working but are grossly underpaid, or are not happy with their pay package and need something; a business, real business; that can make a whole lot of positive difference to their bank account.
Investors – entrepreneurs will find this a welcome relief, as it outlines a real business, they can kickstart and build; helping Nigerians while at the same time making a pile load of cash in the process.
Small business owners – for those who already own a business or company, then you should consider adding seminars to what you already do. No matter the industry or niche, holding seminars in one way of building your brand and reputation, and making money as well.
Trainers, coaches and public speakers – if you are already a coach, trainer or public speaker, then this is the course you definitely don't want to miss out on. This will take the skills you already have and teach to a whole new level, and bang some real cash to your bank account.
Newbies, and serial buyers – all those who are new to the investment world, whether online or offline, and who buy courses that promise heaven and earth, but never seem to deliver will find real value in this training course.
Perhaps, for the very first time, you will get a course that you can act on and finally make money online.
And the good news is that it doesn't actually require capital investment to get started!
But, How Can Holding Seminars Make You Money?
That's the big question, and why the training is a must have!
The secrets and strategies revealed is so actionable that it will take you just about 3 days to start getting results.
There is no training like this at present anywhere online. This is something you don't want to miss out on.
To learn more about the SEMINAR Income Blueprint, check out the link below and get all your questions answered.
https://expertnaire.com/manager/product/6752754464/6821970141
Have a great day, and this is me wishing you all the best.
Ciao!