Organizing Seminars for Profit In Nigeria and Making Millions Monthly
Organizing seminars for profits in Nigeria is an income stream that many investors and entrepreneurs are not aware of; and one that has the potential of making you millions of naira every single month.
Seminar business is so lucrative that even millionaires are constantly holding one seminar or the other, and hundreds of people pay to attend such seminars and tap into the knowledge of the facilitators.
Billionaire and multi-millionaires like Donald Trump, the United States President, and Robert Kiyosaki of the Rich Dad, Poor Dad fame are constantly holding seminars and people attend.
Even Warren Buffet organizes seminars that attract top business persons from across the globe.
In this article, am going to be showing you how to organize seminars for profit, and showcase a training course to you that will take you by the hand and provide strategies that will ensure you make at least N2.4 million monthly just from organizing seminars in Nigeria.
However, there is a TWIST to what I will be sharing with you in when ti comes to organizing seminars and earning from it. I will show you how to organize seminars for FREE and without doing any SINGLE adverts, and yet earn millions monthly from such seminars.
Sounds strange and impossible, right?
Well, let's get started.
What Are Seminars – And Who Is It Meant For?
Seminars are an environment where a group of people is pulled together in an offline event for special training. It requires a physical meeting point as compared to a webinar where the meeting is virtual and takes place online.
Seminars offer much more opportunity for brand building, and execution of deals and making sales as it's easier to build trust with seminars compared to a webinar.
With a seminar event, the participants have the opportunity of meeting with the speakers and facilitators and ask live questions as well as relate with them on a more personal level.
Nothing builds trust better than a seminar event when done right!
With a seminar, when done right, you have the potentials of selling more of your products and services very fast. Seminars convert a whole lot better, as the participants trust you more as they have had a taste of what you can deliver.
You can sell physical and digital products during a seminar, and months and years after you have held a seminar to the same audience if you follow certain laid out strategies that I will reveal shortly.
But, why even consider holding a seminar? Why not just do an online event as everyone seems to be doing?
Also, why go through all the stress of holding a seminar and spending a lot of money on expenses?
The answer to all the above is that seminars convert so much better and when done right have the potential of taking your income and business to an entirely new level.
Seminars are meant for businesses that want to get more sales, whether for digital or physical products while building trust and branding in the process. It doesn't matter whether you are an online marketer or brick and mortar business. Seminars just simply work, and it's an added extra source of income.
With this, let me introduce you to the Seminar Income Blueprint, a video training done by Daniel Ogbeifun, founder of MegaRich Networks and consults LTD, where he reveals the strategies, he uses in organizing FREE seminars that bang and brings in N2.4 million every single month without doing any single adverts.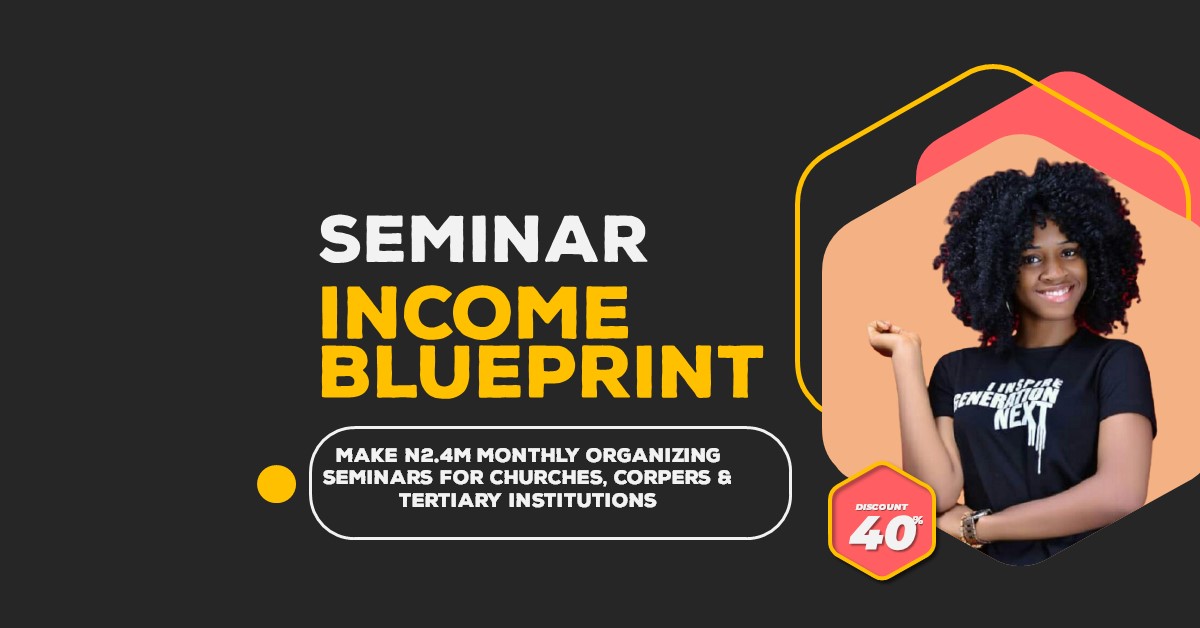 As a matter of fact, he has been doing it for about 13nyears now and has built a company around it.
Seminar Income Blueprint – Strategies For Organizing Seminars That Makes At Least N2.4 Million Every Month
If you are interested in changing your financial status for the better, whether you are earning zero at the moment or earning millions, then you seriously would want to consider adding organizing seminars into your business model.
That is where the Seminar Income Blueprint training comes into play.
The Seminar Income Blueprint video training course shows you everything you would ever need to start cashing out with organizing FREE seminars really fast.
The Seminar Income Blueprint video course comes in a 4-part video package, with each part detailing what you need to succeed with this novel business venture.
The training course is so structured that ANYONE can easily take the course and start earning with it in a very short while. When I went through the course myself, I was shocked at the amount of information and strategies given and wondered why I have not inculcated it in my business before now.
If there is anything I noticed from the training, it is that anyone can make money with this course, even a job seeker. You are even given an option to partner with the company so they do all the work for you while you just relax and earn.
Even multi-millionaires and top firms would find the strategies outlined very useful to bring more returns and profits to their business.
All documents, strategies, even mistakes that Daniel Ogbeifun made during the course of 13 years he has been holding seminars are given as a bonus for getting the course.
In conclusion
You will not find better training out there that takes you by the hand, revealing all the strategies and tricks needed to growing your business or even making you money right from the get-go anywhere.
On a serious note, I advise you get the course ASAP.
>>>>> get the SEMINAR Income Blueprint here <<<<<<<<