Invitation: Beyond Salary Conference, Osogbo, Osun state
Dayo Adetiloye Live Seminar
in conjunction with
Beyond Salary Consulting
Present
Beyond Salary Conference
Click Here To Listen or Download the Audio Invitation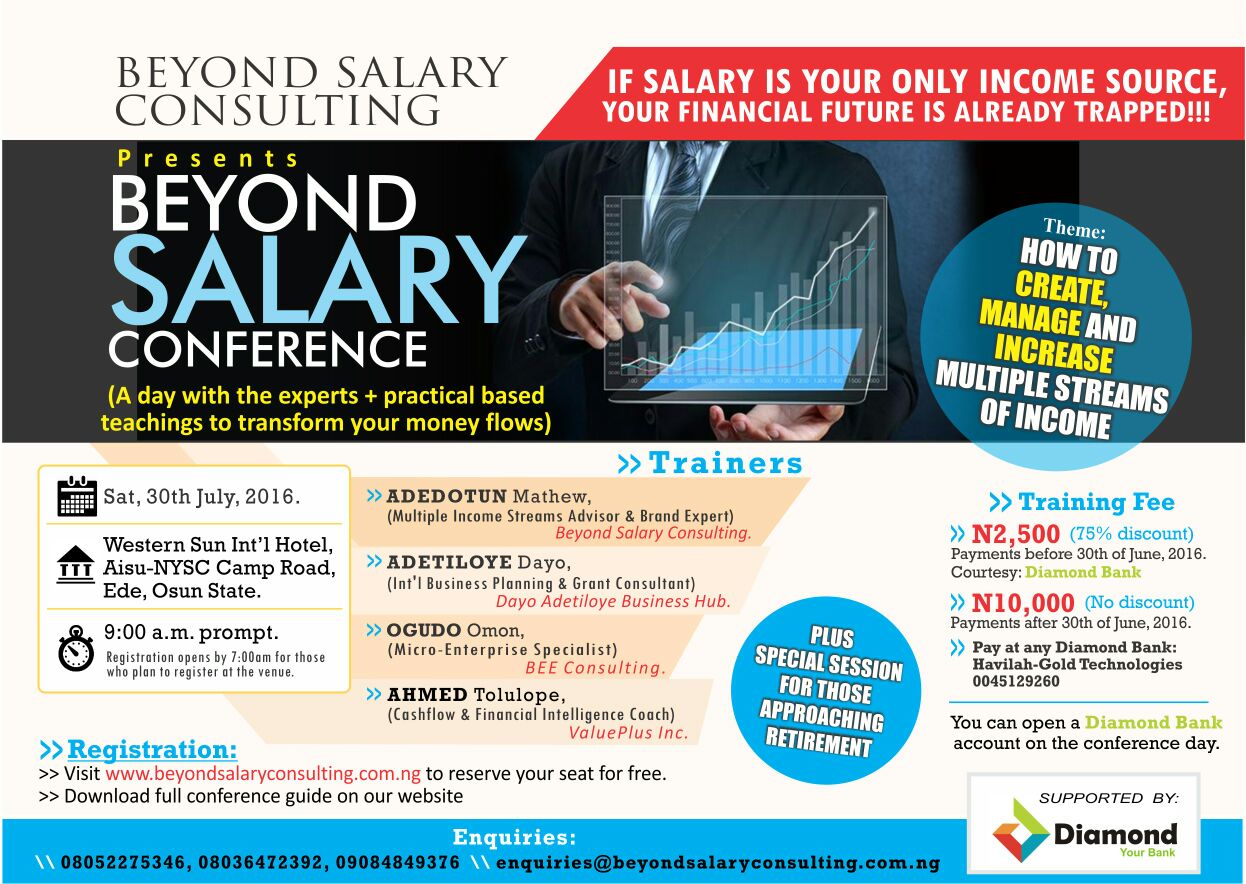 Date: SAT. 30th July, 2016
Venue: Western Sun Int'l Hotel, Aisu-NYSC Camp Road, Ede, Osun State
Time: 9:00 am
Gate Fee: N2,500 for first Hundred Participants
Call /Whatsaap me on 08060779290 to Register
Theme: How to create, manage and increase multiple streams of income.
A day with the experts + practical based teachings to transform your life + special session for those approaching retirement.
"If salary is your only income source, your financial future is already trapped."
About BSC
Beyond Salary Conference is a day event to train people to put their financial destinies in their hands. The conference has its specific goals and participants will learn:
How to CREATE
How to MANAGE, and
How to INCREASE multiple streams of income.
It is a practical-based (not theories or sweet talks) conference which will put in your hands something practical and specific to start doing that will start giving you more income streams than you already have. Everything at the conference will be exposing the participants to the three things listed above. Everyone who thinks he needs another source of income should make an attempt to come for this conference, and should actually come.
The conference will be featuring five (5), not just speakers, but trainers and coaches who will show you practical steps to take in the direction of creating, managing and increasing multiple streams of income for yourself and your family.
There will also be after-conference assistance for participants on a one-on-one basis, or in groups, all in the direction of helping people to achieve multiple financial flows in their lives.