Entrepreneurship is the new thing, the new socio-culture for getting a job, being active as a youth and make a contribution to economic development in Nigeria.
The federal government is encouraging Made In NIGERIA product likewise the state governments are encouraging Nigerians to embrace the Entrepreneurial culture.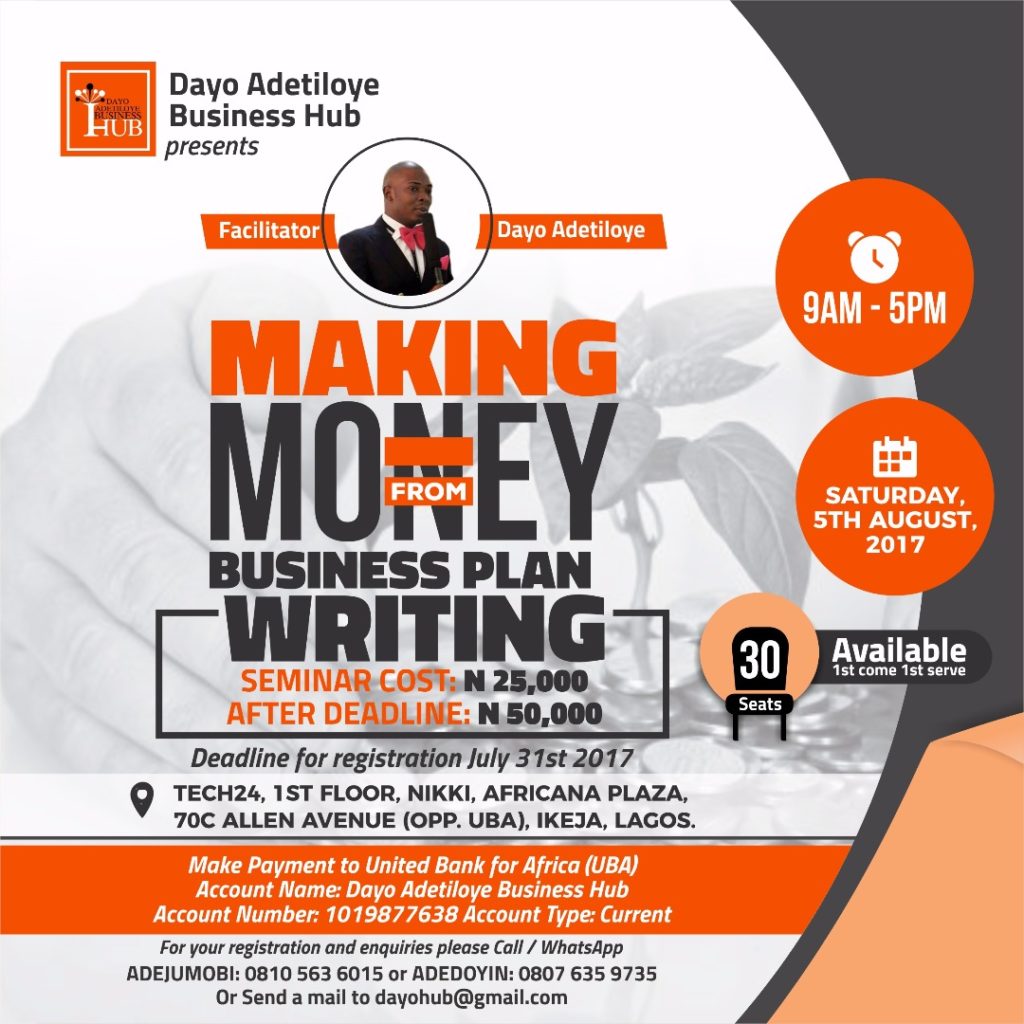 To be successful as an Entrepreneur and business start-up, you need a business plan.
Is simple, if you fail to plan, you have already plan to Fail.
For the last 5 years or so, business plan writing for others has been the main source of income in my company.
And I can confidently tell you, there is no waking day I don't make money; I mean good money from business plan writing.
Now, I'll not just be teaching you how to write the business, I'll give you some of my own business plans too and most of all, teach you how to make money practically from it!
Guaranteed, you will be getting my over 5 years' experience in just one day at little or no cost.
Now just 30 seats are available and 5 seats have been booked already!
The Training Course outline
1. How to write a comprehensive business plan for Bank loan, investors and grant opportunities with free samples and templates.
2. Starting and Building a business around Business Plan writing.
3. How to get your first client.
4. 3 free samples of a Business plan from hot sectors.
5. How to secure partnership and relationship with other consultants.
6. How to use the internet to market your business plan writing services.
7. How to position for business grant writing opportunities.
8. 2 recommended books for a business plan writing consultant.
9. How to recruit other business plan writers.
10. Financial Model, Business Canvass and / financial planning template.
11. The legal aspect of business plan writing.
12. How to profile businesses for traction to access funding opportunities for start-ups.
13. How to arrange and sign business contracts with clients.
COST: N 25,000 / AFTER DEADLINE: N 50,000
Deadline for registration July 31st, 2017
Date: Saturday 5th of August 2017
Time: 9am- 5pm
OTHER BENEFITS
Certificate, Workshop Materials, Lunch, and Tea Break
[mailmunch-form id="526179″]
For your registration and inquiries please call/Whats App
Adejumobi: 0810 563 6015
or
Adedoyin: 0807 635 9735
Or
Send a mail to dayohub@gmail.com