#MillionaireBossin15seconds – Win 1 Million Naira for your Legit Hustle from Charles Okpaleke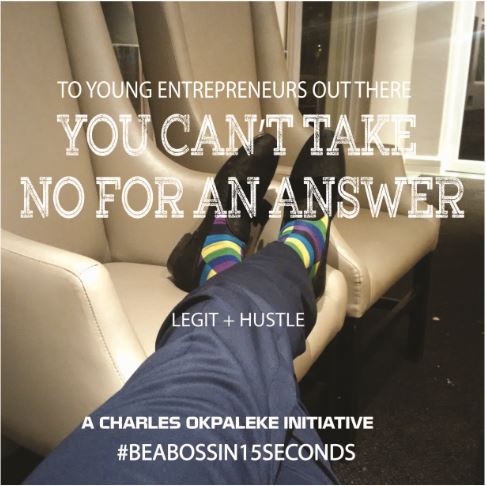 #MillionaireBossin15seconds – Win 1 Million Naira for your Legit Hustle from Charles Okpaleke
Ok, so we love the fact that this is not your typical entrepreneurship competition! Read on…
***
They say, "A journey of a thousand miles begins with a single step". My name is Charles Okpaleke, and I'm here to inspire a young entrepreneur by providing him/her means to take that 'first step' in starting and growing a successful business.
By God's grace, I'm an entrepreneur today. I am one of the directors of Play Entertainment Network and its subsidiaries.
I am aware that raising start-up funds is one of the most challenging aspects of starting a new business. I am here to strengthen your motivation and desire to succeed by offering 1,000,000 naira business grant to a young entrepreneur with the best business idea. All you need to do is pitch it to a team of judges in 15 seconds. Yes, 15 seconds.
You must not necessarily have a grand proposal with an intricate business plan; a small lucrative idea that addresses a real and demonstrated public need is what I am are looking for. We all hustle to get to the next level. "Realizing that anyone can do it is the first step. The next step is figuring out how you're going to do it".
How to Enter:
Follow @playnetworknigeria on instagram
Make a 15seconds instagram video summarizing your business plan
Post the video on your own instagram page with the hash tag #millionairebossin15seconds and tag @playnetworknigeria
Your video will be reposted on @playnetworknigeria instagram page and you will be tagged
If your video (business summary) makes the top 5 videos with the highest number of likes (not paid likes), you will be invited to Abuja to meet with the judges
If you're invited to Abuja you will be given the opportunity to explain in detail your business plan, and if yours is the best you're taking the 1,000,000 naira home
Contest begins TODAY and ends on October 31st!
Source: www.bellanaija.com