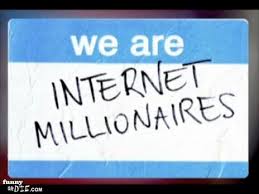 FREE GIFT FROM MY ONLINE MENTOR ON USING BLOGGING TO MAKE MONEY IN YOUR CAREER AND BUSINESS IN NIGERIA AND BECOME AN INTERNET MILLIONAIRE.
Hello,
My Dear Nigeria Internet Millionaire friend,
Quickly, let me introduce to you the free gift I have for you from my online mentor.
About two years ago, I used to have the same competencies and skills I have now, but I was not making good enough money out of it because I can only access few customers that needed my skills and services.
NIGERIA INTERNET MILLIONAIRE
Until I met my online mentor Mr Adekunle Kazeem, who then set up a blog for me at www.dayoadetiloye.com to become  Nigeria Internet Millionaire
This singular step has revolutionized my career and business. My business activities, my consulting services and my personal branding have taken a quantum leap.
I personally thank God for this blogging system.
I persuaded my Online Mentor to put these ideas in a book form for people to understand how it works and how they can apply it to their own business, career, ministry and anything you might have to do and become Internet Millionaire in Nigeria.
Now I introduce the free book to you,
7 Strategic Secrets of Successful Nigeria Millionaire Bloggers.
Have you ever wondered how this people make money from blogging in Nigeria.
e.g
Name: Linda Ikeji Website: http://LindaIkeji.blogspot.com,
Name: Pastor Sam Adeyemi Website: http://www.successpowermedia.com,
Name: Japheth Omojuwa Website: http://Omojuwa.com,
Name: Uche Pedro Website: http://www.BellaNaija.com,
Name: Jide Ogunsanya Website: http://www.OgbongeBlog.com
And my humble self Dayo Adetiloye website:www.dayoadetiloye.com.
How can you start your own money making machine like them and also be climbing the ladder to become a millionaire?
What is your interest? If you study the people above, you will discover that they are not doing the same thing.
You will learn more from the free gift from my online mentor.
This gift is not for everybody, but those who have interest in making money online and people that want to be informed about the system in which the online money making machine works.
To get the free book and become NIGERIA INTERNET MILLIONAIRE, follow these steps,
STEP 1- You need to click the link below and drop your name and the special email address you want to be using for online business to become an Internet Millionaire .
STEP 2- Once you submit it, you have to go to the e-mail and confirm your subscription
Now click this link: https://app.getresponse.com/site/thesecretsbloggers/webform.html?u=SuQl&wid=7017202
After you have read the free gift, reply my mail and let's see how we can help you set-up your own online money making machine.
Till I hear from you,
Keep Succeeding!
Dayo Adetiloye- Nigeria Youth Entrepreneurship Ambassador
…Raising 100 Young Millionaire Entrepreneurs in Five Years… since July 2012
08060779290, 08174584556
www.dayoadetiloye.com
NB: Note that, any platform that can build you a system to start your money making machine, I will always introduce it to you. I know that everybody will not win GRANTS for their businesses. But, we all still need to start our business and leverage online and we can be an Internet Millionaire in Nigeria .
Thanks.