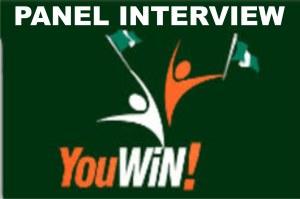 Permit me to use this medium to congratulate and celebrate with all the selected YOUWIN3 applicants for the final round of the YOUWIN3 Business Plan Competition.
I know you have been praying to get to this stage, thank God; your prayer is now answered.
For non-selected applicants, I understand how you are feeling right now. It is not easy not to be selected. I also thank God for your life. Where there is life, there is hope. I will encourage you to keep on with your entrepreneurial interest and drive.
Failure is never final. You are not selected not necessarily that you did not write it well but because only 1200 applicants must be selected. As we access other business and grants opportunities, we will let you know.
The Big Question?
How do I prepare to scaled through the Youwin panel interview?
This  Youwin Panel Interview is  a new introduction to the YOUWIN competition.
Because of our various entrepreneurship mentoring activities, we have trained, mentored and coach CEOs that have been at panel interview and have attended a number of pitching sessions to defend their business plans, with tremendous success.
From our experience with raising YOUWIN winners and our activities with panel interview at different levels including such that has been organized at EDC, we present you the following instructions and assistance.
FOR NEW BUSINESS
Ensure you register your business with C.A.C. The nature of the business you register must be the same with the one in your YOUWIN application. Don't go and register an agricultural business when it was a fast food restaurant plan you submitted to YOUWIN.
Have a valid means of identification e.g International passport, National I.D Card, Driver's license, Voter's card. Pls, they must be valid.
Your must have a birth certificate that proves you are not more than age 45. Any certificate above 45 years of age would lead to automatic disqualification.
Have your post secondary school certificate ready. For this, you can use what you use to gain access to the 2nd stage training. If you are not a graduate, i.e you are still in higher institution, you can get ''to whom it may concern'' from your school. You can also use vocational training certificate or computer training certificate.
Raise enough money to transport you to anywhere in Nigeria for the interview especially Abuja.
For your business plan:
1. Be able to summaries everything in 250 words and be able to fully talk about it in 5 mins.
2. Be very familiar with your costing and expected sales returns
3. Know exactly when your business will breakeven
4. Know your location and be able to demonstrate the knowledge of the business environment and the viability of your business.
5. Pray! Pray!! Pray!!!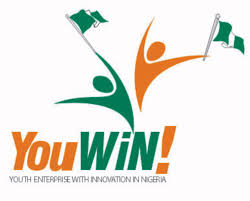 FOR EXISTING BUSINESS
You have a lot to do and you must not disappoint the whole Nigeria at this stage.
If your business is not yet registered with C.A.C. go and do so now.
The name approved with C.A.C, use the name to come up with receipt for the business. You will go to the interview with atleast 2copies. You also issue this receipt to all your previous customers. Remove the receipt to leave the duplicate. The dates of issuing the receipt must be like six month before the start of YOUWIN3 application.
You also have to know how many years your business has been running and it has to reflect in your presentation
You have to show receipt from your suppliers and some of the dates must show last year. E.g for poultry business- receipt of your vaccines, rent of your location, the feed purchased, the carpenter that worked in construction of your cage, receipt of other equipments you bought. Another example for school business- the receipt for your stationery like biro, pencil, ruler, books, textbooks, white board, markers, rent of the school. Etc.
You have to present the company bank account statement.
Once you have registered your business, walk up to a bank and open a bank account for it. If you can do one or two transaction on it before the interview day do and print the statement.
Another good alternative is to use your own personal account and print the statement and explain to the panel that you have been saving the transaction of the business to your personal account.
Get a valid means of identification
Present your birth certificate not more than 45 years
Have your post secondary school certificate.
If you pay tax, you can also hold the tax identification number and certificate ready at hand.
For your business plan:
Be able to summaries everything in 250 words and be able to fully talk about it in 5 mins.
You must know the current number of workers working with you and how much you pay them per month.
You must know your annual turnover i.e how much you make in a year.
Be handy with the challenges facing your business
You must be able to sell your product right before the panel
If you have physical product, bring it along.
Generally note:
YOUWIN will send you subsequent e-mails on what to bring when coming to the Youwin panel interview. Also the date, time, and venue. Surely, everybody will not do at the same time. Please check your email every day both morning and evening.
For us that our names were not selected, Don't ever! I said Don't ever!! I repeat Don't ever!!! Give up on Your Business Dreams. Another opportunity is coming our way.
I want to celebrate once again with the selected winners, as you receive your first tranche in the next few weeks. Start preparing mentally, physically, spiritually, socially to take your business dream to another level.
For more personal coaching on the Interview and Other information to help you become the winner of your dream.
Call me on 08060779290, 08174584556 or send email to dayoadetiloye@gmail.com
We have prepared some wonderful professional assistance to help you start strong, grow deep and expand your business at record time.
Our past winners have enjoyed a lot of this professional assistance, no wonder they receive their tranches on time and their turnover now is so encouraging.
For  tips on the Explanation of this  YouWiN! 3 PANEL REVIEW GUIDELINES and other information to win youwin 3 interview,
We hereby introducing you to:
THE YOUWIN 3 MOCK PANEL INTERVIEW REPORT AND THE YOUWIN3 TEMPLATE GUIDE.
What are the contents of the report/guide?
30 Possible questions that the interviewers can ask you on your business plan for both existing and new business.
20 Tips to survive YOUWIN 3 Panel Interview
22 Preparation Check list for the panel interview.
Explanation on how to fill YOUWIN 3 PANEL REVIEW GUIDELINES.